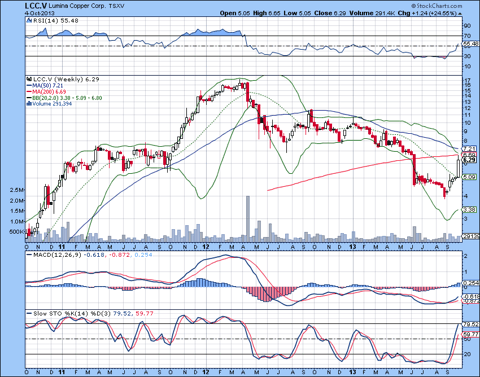 Lumina Copper has become one of our main success stories this summer which we have shared with our fellow travelers. As you know, we are not giving any investment advice here and our observations of the markets and trends will stay only observations until Mr Market will make up his mind. Please read our full legal disclaimer.
With Lumina Copper we have noticed the catalyst when Ross Beaty has increased his 22% in the company and bought 1 million worth of shares this summer. For us it is our "Dream Team" with Tenke Mining all over again: one of the best mining leaders at the helm with his personal wealth at stake, goods are there - safely in the ground - and the valuation is extremely distorted by the political risk perception.
The dive in commodity prices did not help the valuation in the first half of the year either. The fear of dramatic slowdown in China was hanging over the market. Then we have news start to flow from Clencore:
Ivan Glasenberg Selling Las Bambas Mining Project In Peru Bids Could Reach $5 Billion
Don Coxe has stepped in with his observations:
Don Coxe: "The Trend Has Shifted" For Commodities GDX, GDXJ, MUX, TNR.v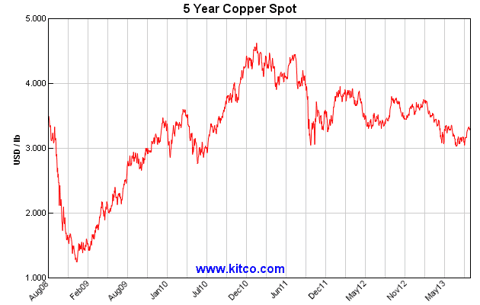 And Lumina Copper has taken off from August Low of CAD3.86 and surged 63% to CAD6.29 printed last Friday. The trading is very thin and we hope that the news from the company will confirm this run. Company has reiterated its intention to sell Taca Taca copper this year and 9 companies has been visited the property according to the updated presentation.
CIBC has reaffirmed its stock rating for Lumina Copper in September with CAD15.00 target price and it will put the valuation of Taca Taca Copper deposit at $650 million. Nobody knows whether the company will reach this valuation again, but it is moving in the right direction with elections scheduled in Argentina by the end of this month.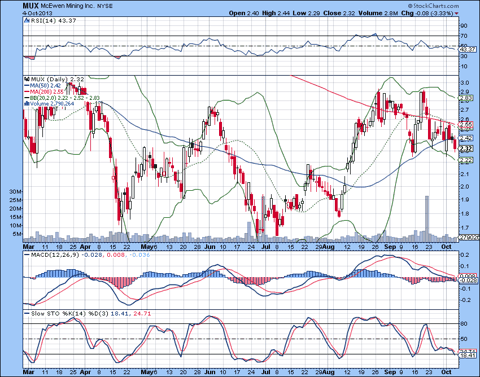 The recent bidding war from 3 state owned Chinese companies for Glencore Xstrata Las Bambas copper project in Peru is driving the new interest to the industry. Newmont Mining and Silver Wheaton were in the news in relation to this project as well. One can argue that you can not translate the heating bidding war for Peru based Las Bambas copper directly into Los Azules copper project valuation in Argentina and that is why recent market action with Lumina copper is so important development for McEwen Mining and TNR Gold.
McEwen Mining has its own dramatic recovery from this summer Low, but it looks like Lumina Mining recent advance has been under the radar so far: majority of the MUX shareholders are following Rob McEwen for Gold and Silver investment theme and take Los Azules asset almost like liability.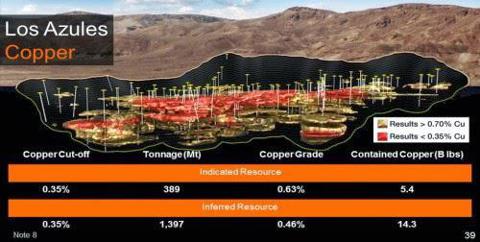 All slides are from McEwen Mining September presentation.
Here where we are expecting the next Catalyst. With further Las Bambas news from sale process developing and Lumina Copper news supporting this recent run, Los Azules will be on the industry's radar screens. McEwen Mining has just recently released updated PEA and we are waiting for the analysts to produce the research reports on McEwen Mining reflecting the new Los Azules valuations. Any potential developments with Los Azules and sign of coming interest for it from third parties will provide the new driving force for the market of still very heavily shorted McEwen Mining.
There are only few assets of this magnitude are available in the world and only one bidding party will succeed buying Las Bambas project, other will start to look at other opportunities left in the market.
"The results from the PEA demonstrate that Los Azules has the potential to become one of the largest, lowest cost copper mines in the world. In addition, there remains excellent exploration potential to further expand the size of the existing mineral resource."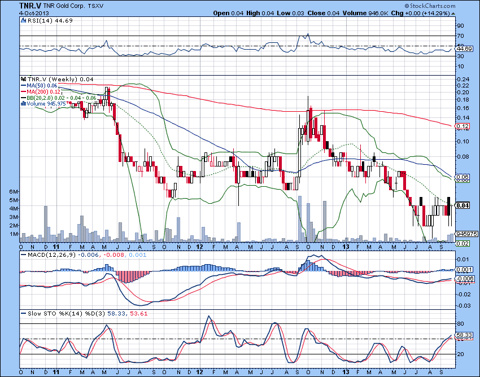 TNR Gold has been showing some signs of life recently as well and is highly leveraged to McEwen Mining performance.
Rick Rule On Gold & Resources: "The Stage Is Set For An Absolutely Dramatic Recovery" TNR.v, MUX
"TNR Gold provides even more risky and leveraged special situation play and now depends on Rob McEwen's Midas Touch -company holds 1 million shares of McEwen Mining and have back-in right into the part of Los Azules project. Insiders are accumulating the company shares, holding the majority stake in the company and provided long term debt which has financed Shotgun Gold project 43-101 resource estimate in Alaska this year."
McEwen Mining & TNR Gold: Las Bambas Copper Bidding From China Heats Up TNR.v, MUX, LCC.v, GDX, CU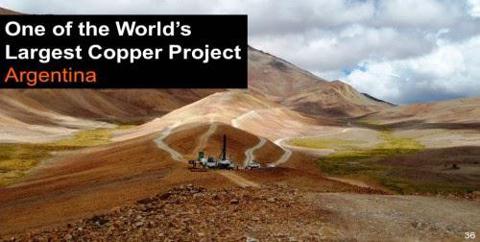 "It is a good choice to invest in mining assets, which is a much better choice than investing in one government's bonds - especially when this country cannot guarantee to pay even its own employees"
Gu Liangmin, head of copper at Minmetals.
"The quote above can be the one of the year and you can spot the trend now. It is getting more interesting by the day: Mining.com reports that now third Chinese company has entered the bidding "Art of War" for "Glencore Xstrata's (LON:GLEN) much-coveted Las Bambas copper mine."
Situation is getting more and more industry attention now and Lumina Copper closed yesterday at 4 month's high of CAD5.72. We are waiting when the market and analysts will pick up this story and translate Los Azules Copper project value for McEwen Mining and TNR Gold.
Update: Lumina Copper has printed CAD6.55 today - we hope to hear some good news from the company soon.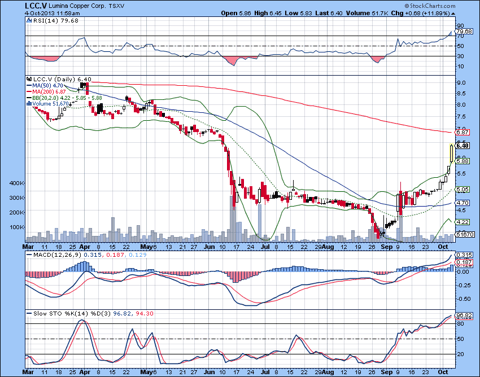 McEwen Mining & TNR Gold: Chinese Miners Compete for Glencore's Copper Project in Peru MUX, TNR.v
"With all doom and gloom surrounding commodities this summer it is easy to miss the big picture. China is still on track of the state level long term plan to secure strategic commodities for its growth. Now we are receiving more confirmation with the news from different fronts in this modern "Art of War": engagement in building of lithium supply, seeking for investments in Gold and Silver with Eric Sprott and now these bidding war for the copper assets in South America. Interesting to note the report from Financial Times that Newmont Mining is looking at the same copper asset as well.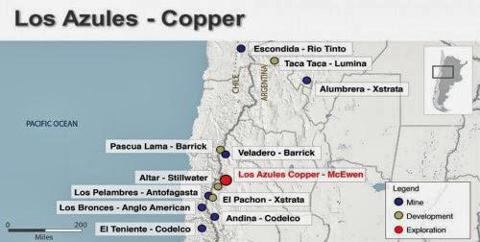 McEwen Mining and TNR Gold will receive more attention now to Los Azules copper project in Argentina. Rob McEwen has just released the new PEA on Los Azules with improved economics in last week of September and we are expecting research notes to be released with new valuations of this project.
Lumina Copper with its Taca Taca copper deposit has received a better market treatment recently and was moving steadily higher with the last print of CAD5.42 on the tape. With elections to be held in Argentina later this month the country risk perception can change dramatically.
Please Note our Legal Disclaimer on the Blog, including, but Not limited to:
There are NO Qualified Persons among the authors of this blog as it is defined by NI 43-101, we were NOT able to verify and check any provided information in the articles, news releases or on the links embedded on this blog; you must NOT rely in any sense on any of this information in order to make any resource or value calculation, or attribute any particular value or Price Target to any discussed securities.
We Do Not own any content in the third parties' articles, news releases, videos or on the links embedded on this blog; any opinions - including, but not limited to the resource estimations, valuations, target prices and particular recommendations on any securities expressed there - are subject to the disclosure provided by those third parties and are NOT verified, approved or endorsed by the authors of this blog in any way.
Please, do not forget, that we own stocks we are writing about and have position in these companies. We are not providing any investment advice on this blog and there is no solicitation to buy or sell any particular company.