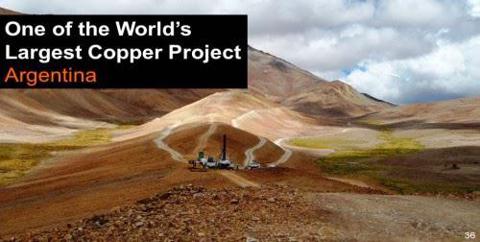 With Chinese economy in the recovery mode quest by Chinese companies for the best mining assets is ongoing worldwide. Lumina Copper is getting some bids today again and Los Azules copper will be getting on the investors' radar screens with the changing political landscape in Argentina again.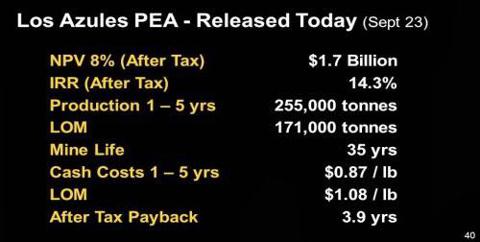 All slides are from McEwen Mining presentations.
Los Azules Copper: McEwen Mining & TNR Gold - Opposition leader Sergio Massa wins Buenos Aires midterm MUX, TNR.v, LCC.v, ILC.v
"We have the very good news from Argentina elections today! Maybe now Argentina will get the blessings and its proud people will get the much better life they deserve.
We are monitoring the situation. Monday will be very interesting trading day now! Our Watch List: TNR Gold, McEwen Mining, Lumina Copper, International Lithium and Rodinia Lithium."
"In these particular Investment Plays we are substituting geological risk with geopolitical. It is our Tenke 2.0 with Lukas Lundin all over again. Now the "Chief Owner" is Mr Gold Corp - Rob McEwen with his stake of 25% in McEwen Mining. At stake is Los Azules Copper project with its almost 20 B lb of Copper safely kept under the ground in the great country of Argentina.
Lumina Copper with its Taca Taca deposit in Argentina is in a break out mode with closing above CAD6.29 today and indicates that proud Argentines deserve a better economical life as well and we can witness return of very pragmatical political approach to the mining very soon now. Lets dig out what these Elections are actually all about."
Copper M&A: Minmetals To Bid For Glencore Xstrata's Las Bambas Copper Project Valued At About $5 billion LCC.v, MUX, TNR.v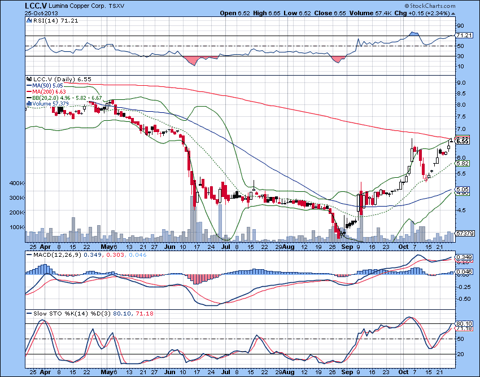 We have another confirmation in the report from Bloomberg on ongoing bidding and valuations of Las Bambas copper project in Peru. All this information must be confirmed by the official companies' releases, but we can get the big picture already. China is implementing its long term state level plan to secure strategic resources and diversify from US Dollar denominated assets.
Lumina Copper is trading above CAD6.00 again and the company talks about 9 companies visited the property during the DD stage. Company has risen from August low more than 60% on prospect of the potential sale this year to the Copper producer, according to the company presentation.
Investors of Lumina Copper, McEwen Mining and TNR Gold are watching closely the midterm elections due this weekend in Argentina. There is a hope that recent improved valuation of Lumina Copper is signalling the return of more pragmatic approach to the mining sector in Argentina."
WSJ:
Peru Officials Meeting Chinalco, Minmetals This Week on Las Bambas Bids
Peruvian mining officials are meeting this week with state-owned metals giants Aluminum Corp. of China, or Chinalco, and China Minmetals Corp. to evaluate rival bids by the companies' units forGlencore XstrataGLNCY +0.38% PLC's Las Bambas copper asset, Peru's energy and mines minister said Monday.
The government delegation will also meet officials from China's largest copper smelter, Jiangxi Copper Co.600362.SH -0.26%, but discussions with that company may not include Las Bambas, Jorge Merino Tafur told The Wall Street Journal on the sidelines of an industry conference.
The Wall Street Journal reported last month that Minmetals' unit MMG Ltd.1208.HK +0.58% and Chinalco Mining Corp. International remain in the running for Las Bambas, but Jiangxi Copper had not entered the second round of bidding. However, Jiangxi Copper already owns 40% of Northern Peru Copper Corp., another copper asset in the country.
"We are going to talk [this week] not only [about] Las Bambas, but also all the projects" in Peru, Mr. Tafur said.
Global mining giant Glencore Xstrata PLC put its $5 billion Las Bambas property up for sale in May as part of a condition imposed by Beijing for Glencore's merger with Xstrata PLC."
Please Note our Legal Disclaimer on the Blog, including, but Not limited to:
There are NO Qualified Persons among the authors of this blog as it is defined by NI 43-101, we were NOT able to verify and check any provided information in the articles, news releases or on the links embedded on this blog; you must NOT rely in any sense on any of this information in order to make any resource or value calculation, or attribute any particular value or Price Target to any discussed securities.
We Do Not own any content in the third parties' articles, news releases, videos or on the links embedded on this blog; any opinions - including, but not limited to the resource estimations, valuations, target prices and particular recommendations on any securities expressed there - are subject to the disclosure provided by those third parties and are NOT verified, approved or endorsed by the authors of this blog in any way.
Please, do not forget, that we own stocks we are writing about and have position in these companies. We are not providing any investment advice on this blog and there is no solicitation to buy or sell any particular company.