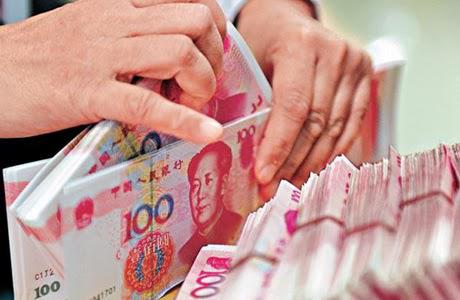 At the first glance you can ask yourself why on earth BC is issuing its debt obligations in the currency which is getting stronger vs USD and not in US Dollars at the record low interest rates? But after a further consideration one can come to the conclusion that it is the sign that ability to sell any debt in US Dollars is coming to the end at this artificial record low interest rates. FED is busy to buy the Treasuries from US Government with foreigners cutting their holdings and any further talks about The Taper will pose the simple, but very serious question - who will be left holding the bag and who will buy "assets" most certainly going down in price? Any interest rate spike following this situation will lead to further deterioration of the fiscal situation with U.S. Debt at record level over 17 Trillion dollars and rising Interest Expense.
On another side Buyers are looking for diversification and now they have new debt instruments denominated in Yuan. It is another step in the state level military precision Chinese plan of US Dollar diversification and integration of Yuan not only in the Trade operations all around the world, but extending it as the Currency for Savers. We are witnessing this year the end of US Dollar as the Reserve Currency of Choice.
China, India, Turkey and Thailand Buying Record Amount of Gold - What Do They Know The Others Don't? GLD, MUX, TNR.v, GDX
Chris Martenson: FED, QE And The Taper
"Chris Martenson comes here with one of the most simple and elegant explanations: why The Exit from QE is all but impossible without total rupturing of the market. Everybody is happy when FED buys - it means that they are coming in almost every time at the higher prices. But to whom are they going to sell, when this process means more supply and Lower prices for sure? Or who is going to buy when FED will start To Taper and reduce its buying?"
CaixinOnline:
Canadian Province Issues Offshore Yuan-Denominated Bonds
British Columbia officials says plan was to sell 500 million yuan worth, but oversubscribing pushed the amount raised up five times
By staff reporter Wang Liwei
(Beijing) - Canada's western province of British Columbia said on November 5 it had completed the issuance of one-year offshore yuan-denominated bonds and raised 2.5 billion yuan.
This is the first time a foreign government has issued offshore yuan bonds. Mike de Jong, finance minister of Canada's westernmost province, said officials had intended to raise only 500 million yuan but the bonds were largely oversubscribed.
Central banks and foreign institutions snapped up 62 percent of the bonds. Fund asset managers bought 18 percent. Investors in Hong Kong took 46 percent of the bonds, and 40 percent went to U.S. investors.
The bonds carry a yield of 2.25 percent. This is 10 to 15 basis points lower than bonds sold by the Chinese government, said HSBC, the sole book runner of the issuance. The bonds will be listed in Luxembourg.
Jim Hopkins, assistant deputy minister of British Columbia's finance ministry, said earlier that the province wanted to be an early entrant in the offshore yuan market, which is expected to grow rapidly and benefit participants in terms of lower trading cost with China and more diversified financing and investment channels.
An official with the ministry said the offshore yuan bond market was weighted down a bit in the second and third quarters of this year because of the anticipated impact of the U.S. Fed slowing its so-called quantitative easing policy. He expected the market to improve as investors change their opinions.
Meanwhile, China's Ministry of Finance said on November 5 that it will sell dim sum bonds worth 10 billion yuan in Hong Kong on November 21. This will be the second issuance this year. This first was in June, when 13 billion yuan worth of the bonds were sold.
Hong Kong residents will be able to buy up to 3 billion yuan worth of those bonds through banks and, for the first time, through the former British colony's bourse, the ministry said. Institutional investors will get the rest."