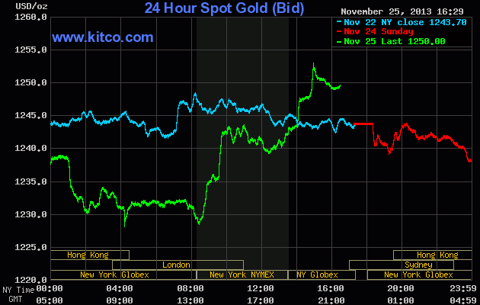 We have a very interesting print in the Gold market today. After the news about Iran Nuclear Deal over the weekend somebody was very much inclined to put a very negative Gold and positive US Dollar spin on it. After dumping 1500 contracts overnight the Gold was in a waterfall mode again and reached low of the day at $1225.80. US Dollar was levitating above 81.00 at some point with Dow and Nasdaq printing new Highs again.
But by the beginning of the trading day in NY Gold has started its vertical reversal and is trading Up $8.30 now at $1252. US Dollar is Up for the day, but down from its intraday highs to 80.90
As we have mentioned before, US Dollar has printed a number of bearish candles on the daily chart last week and we will continue to monitor its action. What will happen next here will determine the direction for the Gold. Is it the bullish flag in the making or Double Top Reversal from the upper band of the recent downtrend line? Momentum indicators are pointing lower now on the USD chart below.
Shellbomb announcement from China about its new policy towards reserves and Yuan appreciation are still making its rounds under the mainstream media radar. Once they sink into the market the inevitable QE Taper will be questioned again, particularly when people will remember that markets can Go Down As Well. No Bears are left in the Equity markets and No Bulls are left in the Gold market - everything is set up for the big surprise as usual. What will trigger that surprise? Maybe the chart below with the NYSE Margin Debt can give us some clues. Please note that Margin Debt Amount normally peaks before the Stock Market. Any move towards Taper will raise Interest Rates and we can have the Top in Margin Debt very soon if not already.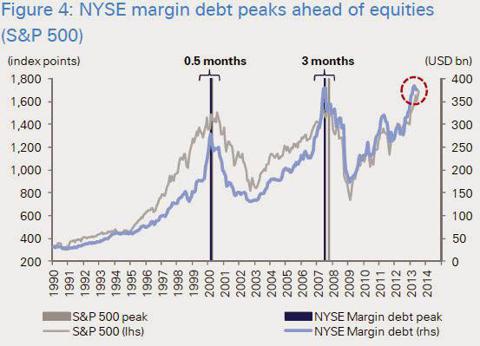 We would like to note that Gold / US Dollar and Equity Markets are back to their "Normal relationships" now. Rising Equity prices are going with Rising USD and inversely correlated with Falling Gold again.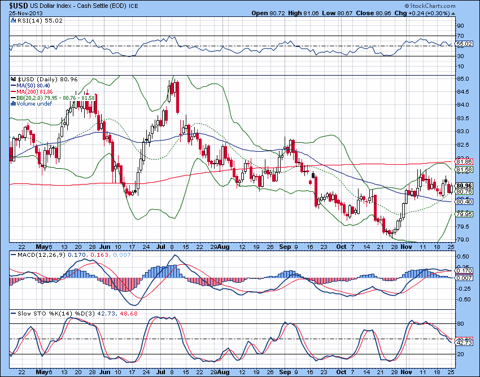 The Coordinated Effort To Suppress The Gold Price GLD, MUX, TNR.v, GDX

"We have another view - from Europe this time - on the ongoing Gold manipulation, its mechanics and the motivations behind it. UK financial authorities have launched the investigations in the Gold market manipulations now. We do not hold our breath here, but hope that they will get at least this information for consideration.
Manipulation is conducted on everyday basis with the aim to drive the Gold fixing price in London down and get access to physical Gold, which could be sold at a premium at the next trading day in Asia. "This arbitrage" was a normal source of profit for LBMA banks, but now starting from April of this year we have the additional waterfall smashing of Gold in order to manipulate the QE inflation expectations in the market. As ZeroHedge has reported today:
Gold Hammering Leads To Another Overnight Gold Market Halt
"Shortly after 1amET this morning, someone with no apparent fiduciary duty to their client's for best execution or any apparent trade allocation expertise decided it was time to dump 1500 contracts into an entirely illiquid gold futures market. The 150,000 ounce notional sell order ($184.5 million), captured graphically by Nanex, sent the price down $10 instaneously, tripped the exchange's circuit breakers and halted the market's trading for 20 seconds (once again). This is now the 4th market halt in the past 3 months (and this time on no news whatsoever), as the manipulative monkey-hammerings from who knows whom (BIS?) is becoming increasingly obvious."
Peter Schiff: On Taper, China's Bombshell Announcements For Treasuries, Dollar And Gold GLD, MUX, TNR.v, GDX

"Peter Schiff talks about the bombshell of the year - China has announced the Mother Of All Tapering - PBOC Says No Longer in China's Interest to Increase Reserves. China is ready to reduce its balance sheet and they do not have to sell any US Treasuries - during the operation Twist they have used the golden opportunity and rolled over the long term treasuries into the shorter maturities. China can just allow US to repay maturing US Treasuries. We do not think here that they will accept Bitcoin. They have made this announcement after the record buying of Gold and some people are estimating that official Gold reserves are much higher than officially recognised today."
Chinese Gold Demand And The World Gold Council's Estimates GLD, MUX, TNR.v, GDX

"Alasdair Macleod provides very good explanation for the difference between Eric Sprott calculations and WGC estimates, which are dramatically underestimating the real demand for Gold from China this year."