ZeroHedge reports that fly of Gold from the West To East continues at unprecedented rate and all the hype with Bitcoin and "Gold 2.0" can be safely put aside now. China uses every opportunity to accumulate the real physical Gold at these prices. Another surprise comes when China will report its Gold reserves. All Gold manipulation in the West just made the Fractional Gold Reserve System vulnerable to the Bank Run, when people will demand physical delivery. Bitcoin bust will bring this day very soon. There will be a very significant problem - There Are 69 Owners Per One Gold Oz at COMEX now.
Alasdair Macleod: There Is Too Little Gold in the West GLD, MUX, TNR.v, GDX

"Alasdair Macleod provides a very comprehensive account of what is really happening in the Gold market and why developing world is accumulating Gold right now. China is buying record amount of Gold this year and warns its citizens about the dangers of speculating in the Project Gold 2.0 for 99% - Bitcoin. Bitcoin is taking notice and Bubble is crashing these days. This burst will bring people back to the real values of tangible assets like Gold and Silver."
"Bitcoin has crashed to $542 low at BitStamp overnight on reports that China Telecom has taken Bitcoin logo down from its web page. It is time to pick another Gold Substitute: Gold 3.0 - Litecoin Gold 4.0 Peercoin and others to chose from 43 listed here. The supply is limited ... only to your imagination and money invested in the technology and Pump.
It always boils down to the question: what is it better - to look like idiot before the Bubble burst or after that? China is protecting its citizens and encourages them to accumulate Gold. Gold is holding well today after all positive economic news and Bitcoin bust will ignite the new Gold Bull Leg Up breaking its free of any snake oil competition. Next few days will place this experiment for distraction of 99% from the Real Value into perspective for all involved parties."
ZeroHedge:
China October Gold Imports Surge To Second Highest Ever
Overnight, China reported its biggest trade surplus in almost five years, when November net exports hit $33.8 billion, up from $31.1 billion in October, and 50% above the $21.2 billion consensus estimate. This was driven by a surge in exports which rose by 12.7% (more than the 7% expected), while imports rose by a slightly disappointing (5.3% vs Exp. 7.0%). Of course, when it comes to Chinese trade data, the numbers are so notoriously manipulated that even the big banks threw up on them as recently as last year forcing China to admit everything was more or less made up. Regardless, the ongoing influx of US Dollars means that the Chinese FX reserves of $3.66 trillion in Q3 will swell even more. The bigger question is what will China do with the surplus: will it buy more Treasurys - something it hasn't done in over a year - or invest in alternative commodities.
Such as gold.
According to Hong Kong customs data, in the month of October (with the usual one month delay), China imported 148 total tons of gold in a month in which the price of gold, once again plunged. Curiously, unlike momentum chasers of paper ETF promises to get gold delivery, China continues to BTFD in gold, and the 148 tons of import in the past month was the second highest monthly import ever through Hong Kong, second only to the 224 tons imported in March of 2013. Compared to a year ago, when the price of gold was over 30% higher, China has imported over 200% more than the 48 tons it bought through Hong Kong a year ago. At least someone is grateful for plunging gold prices.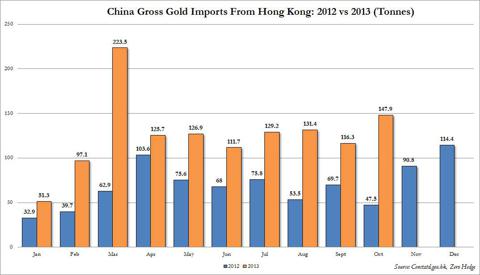 On a net basis, October was also the second busiest month for Chinese gold imports, soaring to a near record 131.2 tons, second only to March's 136.2 tons, and represents the sixth consecutive month in which China has imported more than 100 tons of gold net of exports.
These numbers of course exclude gold procured in China using other means, such as imports via other venues, as well as internally produced gold.
In total, China's gross YTD imports now amount to just over 1260 tons, while the net gold imports from Hong Kong are a record 982 tons.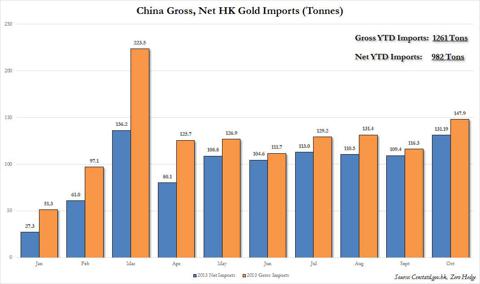 Finally, putting the total number of imports in perspective since our September 2011 expose in which we noted that it was now China's explicit strategy to confidentially hoard gold, China has imported a whopping 2380 tons of gold in the past 26 months. Throughout this period the PBOC has never updated its new official holdings number. However, one thing is clear: the more the price of (paper?) gold drops, the more the Chinese purchases of physical gold become. And yes, that is 26 consecutive months of positive (and increasing) gold imports.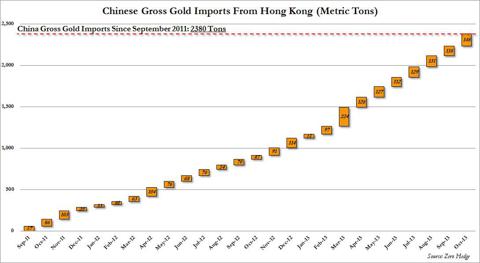 One thing is certain: the number of China's official gold holdings, which has not been updated in nearly five years since early 2009, is now hopelessly inaccurate.