Watch the video:
Peter Schiff: Gold Even More Bullish Under Yellen Than Bernanke or Greenspan! MUX TNR.v GDX RGLD ABX
Peter Schiff continues his battle with the bubble media and discusses the solid values of Gold. Economic data is getting softer day by day now and Taper for The Taper is on the agenda again. Meanwhile gold stocks are leading this rally. Barrick Gold is breaking to the upside on the analyst upgrade yesterday, Royal Gold is going up anticipating the Gold price action and McEwen Mining has printed The Golden Cross.
McEwen Mining El Gallo 1 Mine Expansion Nears Completion MUX TNR.v GDX
Goldcorp: Argentina Issues Easing, Cerro Negro On Track For Mid-2014 Production GG MUX TNR.v ILC.v LCC.v

"Argentina is slowly coming to its senses with its relationship with the mining industry. The most important is not what we can read in the government proclamations, but the real progress on the ground. Goldcorp reports about its progress with Cerro Negro Gold-Silver mine in Argentina and that operating in the country is getting easier. FT reports that "Repsoil poised to sign $5bn compensation deal with Argentina." "...the settlement is also likely to provide a boost to Argentina, which is trying to rebuild its credibility with international investors ..."
Companies on our watch list should enjoy the better valuations with the improved investment climate in Argentina. McEwen Mining has exploration properties in the area of Goldcorp's Cerro Negro Gold-Silver mine, operating J/V on the San Jose mine with Hochschild Mining in Santa Cruz and world class Los Azules Copper project in San Juan. TNR Gold is involved with McEwen mining in Los Azules copper project with its back-in right and holds shares of McEwen mining.International Lithium is working on Mariana Lithium brine project in Salta with Ganfeng Lithium strategic partner from China. Lumina Copper is looking for a buyer on its Taca Taca copper project in Salta as well."
Gold Breaks 1,320: The Mother Of Short Squeeze Has Arrived TNR.v MUX GDX GLD SLV RGLD ABX GG
"Gold is sending its Happy Valentines to all Gold Bugs today and breaks $1320 on the massive short squeeze. Gold shorts will have their Blood Friday now. The real reason for this move is the realisation of the groundbreaking shift in the structure of the Gold market with the unprecedented demand of 2,181 tons of Gold from China in 2013.
Janet Yellen testimony has opened the possibility To Taper The Taper and James Rickards is calling for the Taper Pause in June. US dollar is going down very close to 80.00 level again. This level will be protected, but should the US Dollar break down below 80.00 Gold and Silver will go vertical towards $1,500 and $25 respectively.
Our short Squeeze watch includes McEwen Mining and TNR Gold. McEwen Mining had 26.8 million shares sold short or 8.6 days to cover, according to NASDAQ. MUX.to has rocketed from December low of CAD1.80 to CAD3.27 close yesterday. Gold breakout will push shorts into the corner, but explosive move in Silver will have even more effect on this company.
TNR Gold is still day dreaming, but move in McEwen Mining should pull out this junior out of its misery. Los Azules Copper development will be next to watch on the back of recent M&A activity in the sector and CRB - commodity index breakout to the upside."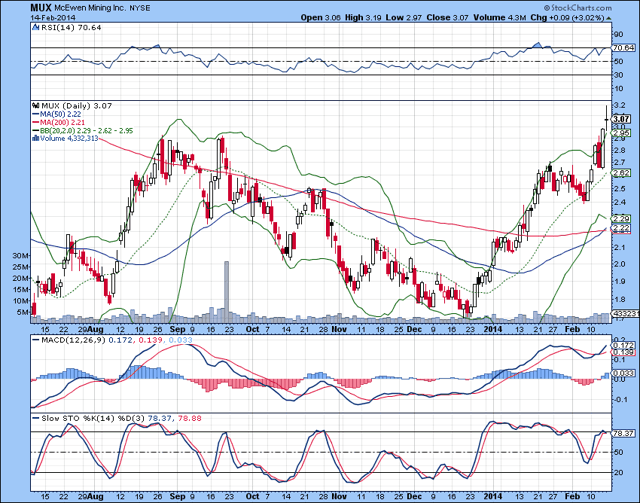 McEwen Mining has printed The Golden Cross!