Watch the video:
Lithium Catalyst: 100,000 Electric Cars Target Of Chinese Car Sharing Project ILC.v TNR.v LIT TSLA KNDI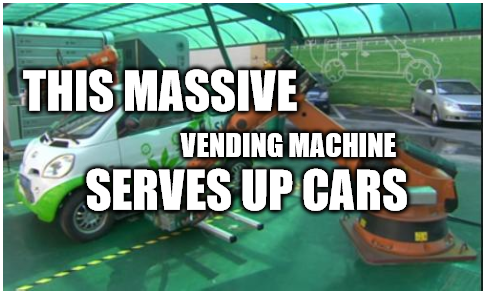 China finally moves in the right direction rolling out Electric Cars with the necessary scale matching the size of the pollution problem. The urban mobility in China is only possible with the mass market for electric cars being implemented. Now we have all conditions to make it happen. Lithium technology has advanced enough and Tesla Motors has shown how it could be done. Chinese automakers and Lithium Industry is moving fast now into the area of future growth supported by the government. Watch closely further developments in this sector - this next explosive investment trend is finally taking off for real.
Lithium: A Long-Term Investment - Buy Lithium! ILC.v TNR.v LIT TSLA AAPL RM.v
"Investment letter writers are jumping on the Tesla Gigafactory news and are spreading the word about Lithium as Strategic Commodity. OTC stocks with the word Lithium are exploding - be very careful there: over the counter market is totally unregulated and the word Lithium maybe the only thing related to this metal in those stocks. Always do your own DD. You have plenty to chose from in the real Lithium Industry starting with producers and going as far as Lithium Juniors. We are talking here about those that we know, please read our full disclaimer. We Look for those with strategic partners - Lithium End Users, like International Lithium with Ganfeng Lithium who can provide Capital and Expertise to develop new projects."
International Lithium Newsletter ILC.v TNR.v LIT
Tesla Battery Gigafactory, Lithium Materials And Lithium Miners ILC.v TNR.v LIT TSLA

"Time is to study the Tesla Gigafactory plans and its implications for the Lithium materials industry and Lithium miners. Euro Pacific has produced a very good report on the Lithium industry last summer. Now you should adjust Lithium demand estimates with Tesla Gigafactory news and LG Chem plans for the battery factory to be built in China. Please make sure to check companies mentioned in the report for all latest details and news for the updated status."
"Tesla Gigafactory is driving a lot of interest to the Lithium sector these days. Lithium stocks were surging last week and it is time to find out who is who in this investment mega trend and separate the wannabes from serious players with projects, technicals teams and, the most important here, strong strategic partners available to provide capital and expertise to develop those projects. If this strategic partner, like in the case with International Lithium and Ganfeng Lithium from China, happen to be one of the leaders among Integrated Professional Lithium Producers in the world it should deserve your attention. Do your own DD and always kick the tires - we will provide you with the initial information."
Earth Techling:
100,000 Electric Cars Target Of Chinese Car Sharing Project
What could someday be one of the world's largest public electric vehicle sharing systems has begun to quietly unfold in the large eastern Chinese city of Hangzhou. If all goes according to plan, residents in that metropolitan region could, within five years, have access to up to 100,000 self-serving EV rentals and related supporting infrastructure.
At the heart of this extremely ambitious project looks to be Kandi Technologies, who will likely be pumping out electric cars at a fast and furious rate to meet what's been scoped out, both on its own and also in partnership with another auto manufacturer known as Geely. The agreement for the company's involvement in the "Self-driving Electric Vehicle Rental for Public Transportation in Hangzhou Project" was only inked in August of 2012, and what's followed after that in the last year plus timeline is pretty amazing.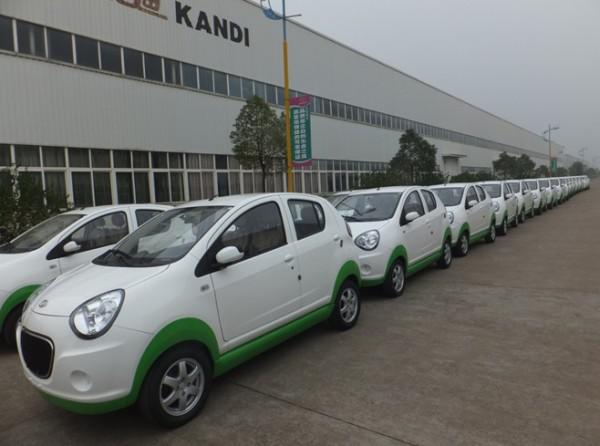 image via Kandi Technologies
Following the initial deal signing, the first of a multitude of "smart vertical parking and charging" facilities began construction this past June. It was to be one of over 30 such buildings to be erected by year's end, helping to host between 5,000 and 10,000 Kandi electric vehicles "within one year from the initial launch of the smart vertical parking and charging facility." In rapid efficiency, it was built and operational by late July, at which time trial operations commenced making use of the first 100 cars to be assigned to the program.
Afterwards, in August, it was noted by Kandi in a progress update there would be five of this EV rental structures up and running very shortly, with the goal of 30 to 40 still being seen as possible to be completed by the time 2013 was over. And, in a more recent development, 200 four-passenger electric cars were soon to be delivered into the vehicle sharing circuit.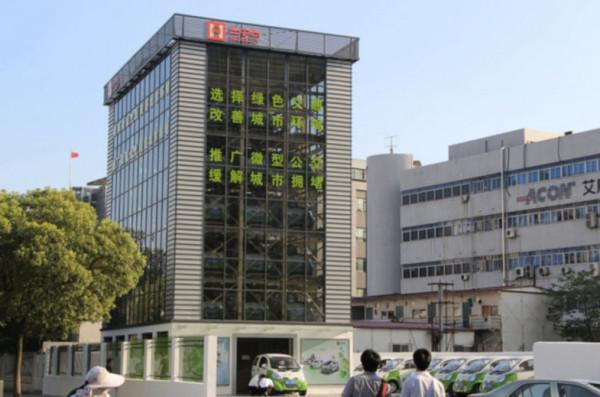 image via Kandi Technologies
Not surprisingly, this project is being seen as a possible national model. Kandi noted that since it proposed this new business idea of
pure EV sharing for public transportation, it has been very well received by many cities in China. In addition to Hangzhou, Shanghai City, Chengdu City, Jiangsu area, and Hainan area are also actively pursuing to adapt to this new mini-transportation model in their areas. It is very likely that, in coming year, these cities will begin building of pure EV smart parking and charging facilities. Kandi plans to expand into these new markets when the local supporting infrastructures are ready.
One key element to the possible success of this model is what's described as "an automated mechanical parking system, equipped with automatic charging stations." Also of note in the proposal was the small footprint of the previously mentioned rental facilities, which would reportedly would only need 0.5 square meters of space for each electric car, or, "in other words, 200 vehicles will be able to park in 100 square meters of space."
There's been some mention that the program has been well received by consumers thus far. Local governmental officials seem to believe in it very strongly, with one feeling "it will provide the citizens [a] more convenient commuting environment" and that it "will also make urban transportation different."
In a related development, Kandi seems as well to be involved in a government subsidized EV leasing program in the same region with a target goal of 20,000 cars."
Please Note our Legal Disclaimer on the Blog, including, but Not limited to:
There are NO Qualified Persons among the authors of this blog as it is defined by NI 43-101, we were NOT able to verify and check any provided information in the articles, news releases or on the links embedded on this blog; you must NOT rely in any sense on any of this information in order to make any resource or value calculation, or attribute any particular value or Price Target to any discussed securities.
We Do Not own any content in the third parties' articles, news releases, videos or on the links embedded on this blog; any opinions - including, but not limited to the resource estimations, valuations, target prices and particular recommendations on any securities expressed there - are subject to the disclosure provided by those third parties and are NOT verified, approved or endorsed by the authors of this blog in any way.
Please, do not forget, that we own stocks we are writing about and have position in these companies. We are not providing any investment advice on this blog and there is no solicitation to buy or sell any particular company.