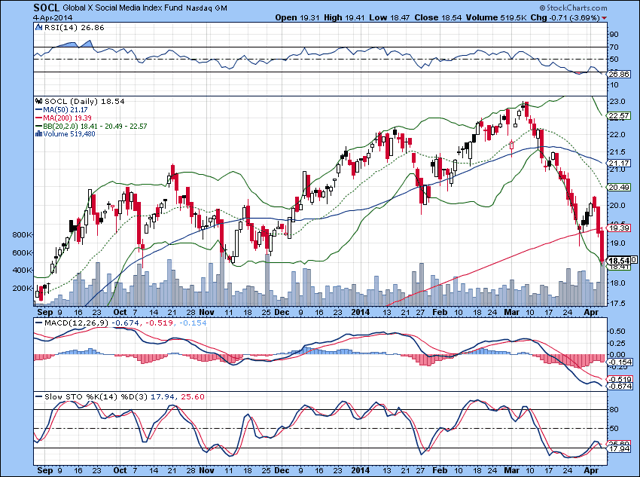 WEB Bubble 2.0 is bursting and SOCL - Social Media ETF on the chart above is the very good representation of what is happening with the hot plays of 2013. SOCL ETF is just a notch away from the official bear market with 19.4% decline from its top so far. As we have noted before, the hot IPO market is another sign of the important top in the equity markets, when insiders are selling out at the valuations totally disconnected from the real underlining economic situation.
WEB Bubble 2.0 - KING IPO Crushed KING SOCL TWTR FB LNKD
"Carl Icahn with his warning about the big sell down coming can be right on the money. KING IPO is crushed today and Web Bubble 2.0 can be very close to the major correction. Social Media darlings are sliding down recently as we can see on the chart above.
We are just wondering has all world gone totally nuts or it is only virus spreading in the West? Mobile games are the most important thing right now judging by the Valuations and The Bubble Media buzz, only "stupid" Chinese are buying all Goldthey can get and the best Copper and Lithium projects around the Globe. We will see who will be right in the end."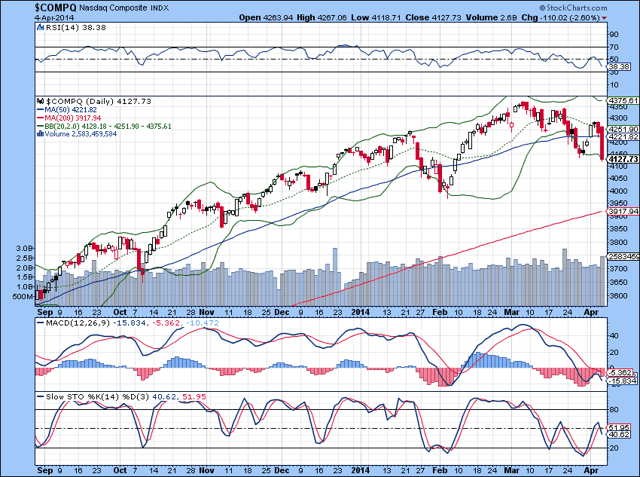 NASDAQ has experienced the meltdown session last Friday and chart does not look good at all now. We have the Head And Shoulder bearish reversal in the making.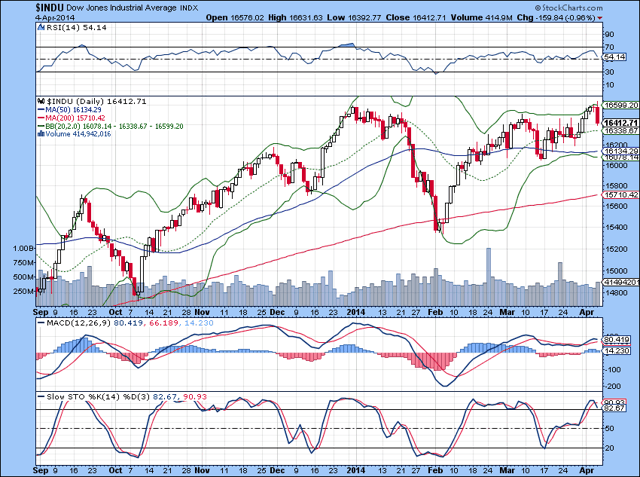 If Social Media space has provided for us the first indications of deterioration for NASDAQ, technology plays represented by NASDAQ itself indicate the weakness building up in the DOW now. DOW can build up the Double Top bearish reversal with further weakness.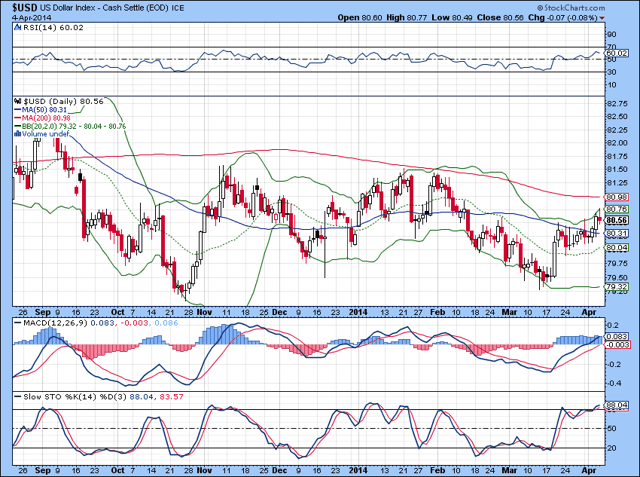 US Dollar after all Taper action and talk about the strength of the economy has risen from the Low printed in March, but hesitates now with the reversal candle printed on Friday - after the miss in NFP numbers.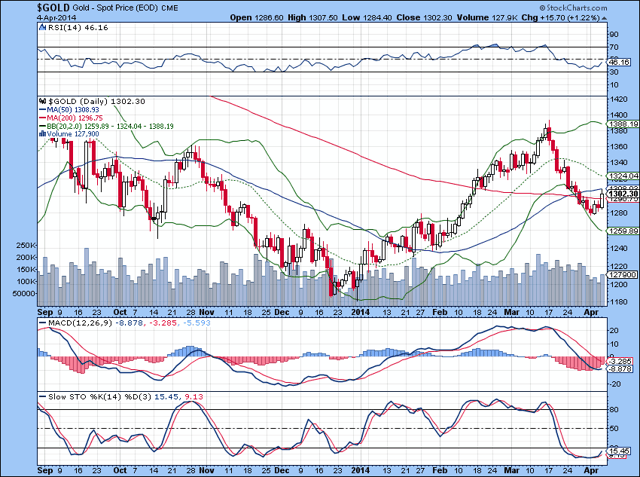 Gold, contrary to the equity markets we have discussed above, is gaining strength now after the correction following the very impressive advance from December 2013 Low.Golden Cross is still intact and Gold had very strong session on Friday during the meltdown session in Dow and NASDAQ and has managed to close above $1,300 which is above its 200 MA.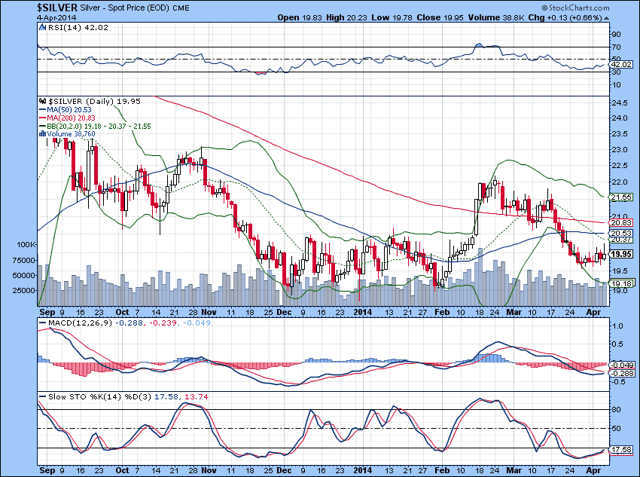 Silver is building its own bullish reversal on the chart above and momentum indicators are turning positive.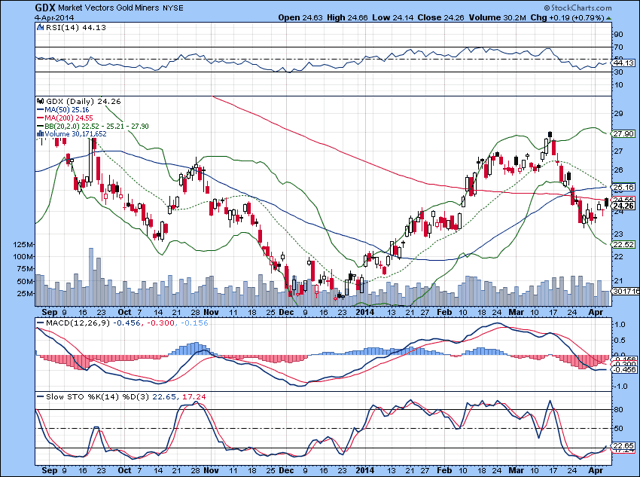 GDX - Gold Miners ETF is showing the very similar picture to the Gold chart we have discussed above and is ready for the next Leg Up in this Gold Bull market.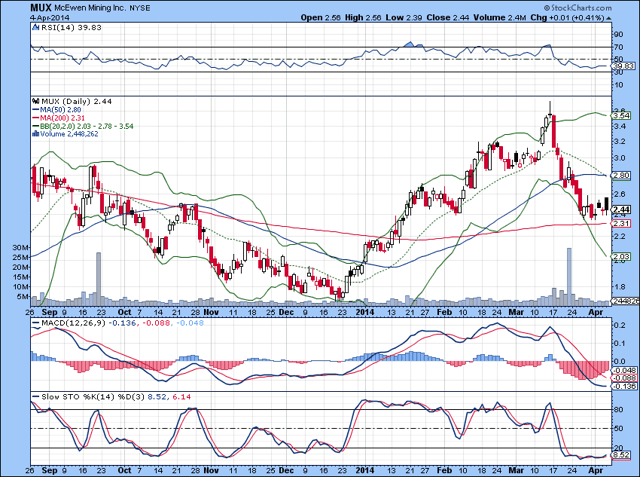 McEwen Mining, our star performer in 2014 from its December Low, has had its own sharp correction, but stays above its MA 200 and is ready for the next Leg Up following the next move by Gold.
TNR Gold Investor Presentation Lithium, Gold And Copper. TNR.v MUX GLD GDX LIT CU

"Kirill Klip has posted today the new TNR Gold presentation. Company has 100% of Shotgun Gold project in Alaska, Los Azules Copper Back-in right and shares of McEwen Mining, and strategic stake of 25.5% in International Lithium with Ganfeng Lithium holding 17.4%. Please do your own DD as always, contact the company and enjoy the ride, hopefully in your own Electric Car."
Please Note our Legal Disclaimer on the Blog, including, but Not limited to:
There are NO Qualified Persons among the authors of this blog as it is defined by NI 43-101, we were NOT able to verify and check any provided information in the articles, news releases or on the links embedded on this blog; you must NOT rely in any sense on any of this information in order to make any resource or value calculation, or attribute any particular value or Price Target to any discussed securities.
We Do Not own any content in the third parties' articles, news releases, videos or on the links embedded on this blog; any opinions - including, but not limited to the resource estimations, valuations, target prices and particular recommendations on any securities expressed there - are subject to the disclosure provided by those third parties and are NOT verified, approved or endorsed by the authors of this blog in any way.
Please, do not forget, that we own stocks we are writing about and have position in these companies. We are not providing any investment advice on this blog and there is no solicitation to buy or sell any particular company.