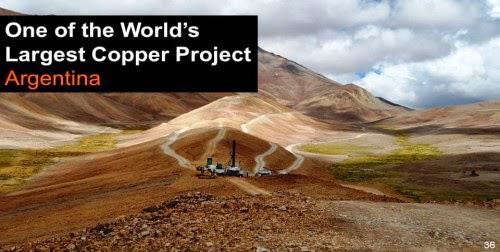 McEwen Mining has achieved the very important goals in 2013 and was our top performer in 2014 from its December Low. Now the company is ready to participate in another Gold Bull Leg Up and higher Gold and Silver prices will guide its performance. Los Azules Copper project can provide the catalyst to Rob McEwen's story and make his dream about S&P 500 viable again.
Copper M&A: Glencore Xstrata Close to Sale of Its Las Bambas Peruvian Copper Project MUX TNR.v LCC.v

"According to the report China is closing the next mega deal in the resource sector in order to secure the supply of strategic commodities. This time it is copper. Another Chinese company - China National Gold is reported to be in talks with Ivanhoe on DRC Copper mine. We guess that the end of the world will be postponed again and China is using any opportunity to buy the real assets at the cheapest price possible. China is executing the state-level plan to diversify its reserves out of US Dollar and is buying assets in Gold, Copper and Lithium. We have mentioned before the rumours about Barrick Gold being in talks over its huge Pascua Lama with CITIC from China and are monitoring the sector for the conformation."
Rumour Mill: "CITIC Buying Into Pascua Lama" - Can Argentina Mining Really Make Its Come Back? TNR.v MUX ABX LCC.v
"Is this rumour too good to be true for the proud people of Argentina? Can Argentina ever make its come back in mining? On the one hand we have still the very strong perception of the high political risk and on another hand we have reports from the ground about the changing environment in the country:
"Situation in Argentina is changing for the better with recent developments on Repsol compensation. Goldcorp was talking about "Argentina issues easing" and Pan American Silver CEO has recently sated:

"Meanwhile, when asked by an analyst to comment on the future of the Navidad project, PanAm CEO Geoff Burns said he sees signs of noted improvement "in our operating environment and in the attractiveness of making investments" in Argentina.

"There was a new chief of cabinet installed…now a couple of months ago," he observed. "And he certainly seems to be driving a more business-friendly environment, or at least, pushing for a more business-friendly environment."

"I was down there [in Argentina] just a couple of weeks ago, and I would say I am more optimistic than I have been in the last couple of years about the future of Argentina and the future of mining investment in Argentina," Burns advised."

Rob has mentioned as well that Argentina is changing for the better now: "Profits are coming out of the country now and political change will happen within next one and a half years. We have very large Los Azules Copper project in Argentina. Last year large projects went out of favour, we are sitting on it now. Copper prices are above 3 dollars now and we had the new PEA last Fall. It is our source of liquidity in the future."
The reports provided on the links below are suggesting that this particular move by Barrick Gold could not be so far fetched: company has confirmed that it is working on strategic partnerships on Pascua Lama and that partners from China are of a particular interest for the company. Argentinean government has even organised negotiations with Chile in order to bring Pascua Lama project back to life. We will not rush ahead to the conclusions and will wait for the official confirmations about these talks, but the trend is quite apparent for the industry insiders and we had discussed it before.
After the bidding war for Las Bambas Copper in Peru there are not so many world class copper assets left. M&A activity in Copper sector is heating up with ongoing deals on Glencore's Las Bambas, Hudbay's acquisition and OZ Minerals talks with potential partners. Now the projects like Los Azules copper will get more industry attention. We are following McEwen Mining and TNR Gold involved in this project, please read carefully all our disclaimers and do your own DD, as usual.
"TNR Gold is still the sleeping beauty: company holds shares in McEwen Mining after the settlement on Los Azules and Back-In right into Los Azules Copper project in Argentina. Among other assets TNR Gold holds 100% of Shotgun Gold project in Alaska with first resources announced last year and strategic stake in International Lithium."
TNR Gold Insiders report: CEO And CFO Buying Shares.
Among other beneficiaries of improved investment climate in Argentina we should name Lumina Copper with its Taca Taca copper deposit and International Lithium developing Mariana Lithium brine project with its strategic partner Ganfeng Lithium.
We will closely monitor the situation with these developments around Pascua Lama and you can find additional information for your research on the links below.
More."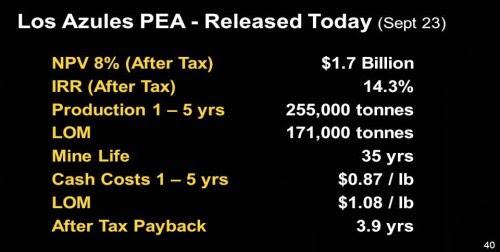 McEwen Mining:
Toronto, April 7, 2014 (ABN Newswire) - At December 31, 2013, McEwen Mining (

TSE:MUX) (

NYSE:MUX) had cash and liquid assets of $25.6 million, comprised of cash totaling $24.3 million and gold and silver of $1.3 million. The Company remains debt free. In addition, McEwen Mining is owed $11.6 million from the Mexican government in the form of a tax refund. The Company believed the refund would have been received by year-end. Due to delays by the Mexican government, the Company now expects to receive all or part of the refund in Q2. Subsequent to year-end McEwen Mining received $4.0 million in dividends from the San José mine with the majority having been repatriated back to the Company's head office in Canada.
Major expenditures in Q4 included $0.7 million for the El Gallo 1 mine expansion, $2.8 million in exploration costs, $0.5 million in annual land payments and $3.1 million in general and administrative expenses.
Gold Miner, McEwen Mining Video Presentation by President Ian Ball
TNR Gold Investor Presentation Lithium, Gold And Copper. TNR.v MUX GLD GDX LIT CU

"Kirill Klip has posted today the new TNR Gold presentation. Company has 100% of Shotgun Gold project in Alaska, Los Azules Copper Back-in right and shares of McEwen Mining, and strategic stake of 25.5% in International Lithium with Ganfeng Lithium holding 17.4%. Please do your own DD as always, contact the company and enjoy the ride, hopefully in your own Electric Car."
Please Note our Legal Disclaimer on the Blog, including, but Not limited to:
There are NO Qualified Persons among the authors of this blog as it is defined by NI 43-101, we were NOT able to verify and check any provided information in the articles, news releases or on the links embedded on this blog; you must NOT rely in any sense on any of this information in order to make any resource or value calculation, or attribute any particular value or Price Target to any discussed securities.
We Do Not own any content in the third parties' articles, news releases, videos or on the links embedded on this blog; any opinions - including, but not limited to the resource estimations, valuations, target prices and particular recommendations on any securities expressed there - are subject to the disclosure provided by those third parties and are NOT verified, approved or endorsed by the authors of this blog in any way.
Please, do not forget, that we own stocks we are writing about and have position in these companies. We are not providing any investment advice on this blog and there is no solicitation to buy or sell any particular company.