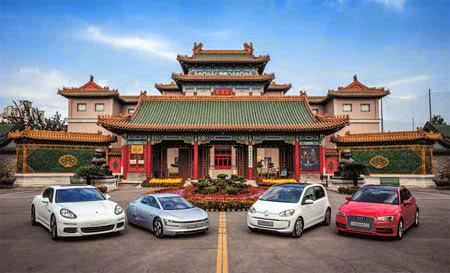 Now Volkswagen joins Tesla Motors' Elon Musk with his dreams about the huge market share for Electric Cars in the largest auto market in the world in China. The largest number of the most populated and, unfortunately, most air polluted cities is situated in the same geographical place and Chinese government has announced the war on pollution. Electric Cars and China are destined for each other.
This move from the largest European automaker shows that risk of losing their proprietary technology can not stop automakers from entry in the most lucrative market. China is ready for it and is building Vertically Integrated Lithium Battery Business and waiting for the access to the best latest Electric Cars technology. Electric Cars are benefiting from government incentives only if they are produced in China. Daimler was one of the first to show the way with its Denza Electric Car - product of the J/V with BYD - Shenzhen BYD Daimler New Technology Company. Lithium Materials producers are keeping ear close to the ground in China and ramping up its production facilities already now.
Strategic Partner, Ganfeng Lithium, Receives Approval to Purchase Interest in International Lithium's Mariana Brine Project, Argentina ILC.v TNR.v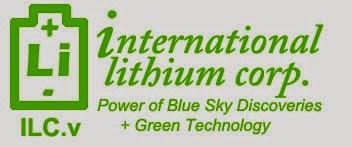 International Lithium: Ganfeng Lithium Is Halted Pending Major Acquisition ILC.v TNR.v LIT TSLA KNDI

"We are following International Lithium here with its strategic partner from China Ganfeng Lithium. Elon Musk with his Tesla Gigafactory has brought a lot of attention to the Lithium strategic commodity story and Asian companies are coming into the spotlight as well now. LG Chem is talking about building major Lithium battery plant in China and Lithium Materials Industry is getting the green light from the Chinese government in its efforts to curb the horrible pollution.
"Kirill Klip, president of International Lithium (TSXV:ILC), views the announcement of Tesla's Gigafactory as a "groundbreaking development."

Tesla "brought attention to what Elon Musk has accomplished," Klip told Lithium Investing News. "He showed to everyone that electric cars are not toys anymore - they are for real."
International Lithium's Strategic Partner, Ganfeng Lithium, Takes Large Stake in Mariana and a $10 million Option on the Blackstairs Projects ILC.v TNR.v LIT
"Mar 19, 2014 (ACCESSWIRE via COMTEX) -- Vancouver, B.C. / ACCESSWIRE / March - 2014 / International Lithium Corp. (the "Company" or "ILC") announces several major transactions with strategic partner GFL International Co., Ltd. ("Ganfeng Lithium" or "GFL")."
AutoBlogGreen:
Volkswagen Could Build Plug-in Hybrids In China
When you're Europe's largest automaker and your largest global market happens to be the one most notorious for its pollution (China), some solutions just present themselves. Volkswagen may be heeding that call. During the upcoming Beijing Motor Show, the company is expected to announce plans to produce plug-in hybrid electric vehicles in China, Reuters says, citing sources within the company.
Few details have emerged, though the plug-ins will likely be produced at VW's Foshan factory in South China, which currently makes the Golf and Audi A3 and has plans to eventually make 600,000 vehicles annually. News has been percolating for a while, as Oliver Schmidt, general manager engineering and environmental office for Volkswagen Group of America, said last March that the company was planning at least two plug-in hybrid lines under the VW badge (and another three with its Audi and Porsche affiliates), including possibly a Touareg and Jetta PHEV. VW said late last month that it was looking to speed up development of "particularly eco-friendly models" made by Shanghai Volkswagen as well as developing a "new, very eco-friendly vehicle" with First Automotive Works (FAW).
Earlier this year, VW unveiled its Golf GTE plug-in hybrid at the Geneva Motor Show. That model has a 1.4-liter turbocharged four-cylinder engine and an electric motor to provide 201 horsepower and 258 pound-feet of torque. The car can travel as many as 81 miles on electric power alone."