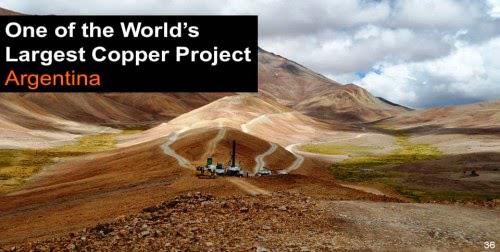 Argentina slowly comes to its senses and welcomes mining business back these days. Argentinian government is negotiating with Chile the ways to bring development of Pascua Lama back on track and China is already waiting for it, according to some rumours. Captains of the mining industry are allocating new investments in mining projects in Argentina and Yamana Gold has announced that it will focus on its Cerro Moro Gold and Silver project in Argentina along with Canada Assets.
Los Azules Copper is waiting for its hour to come into the industry spotlight and Pascua Lama development will do the trick. Both projects are located in the same San Juan province in Argentina. Shareholders of TNR Gold and McEwen Miningfinally will be rewarded for their patience one day. And now this day is coming closer with every positive development in Argentina.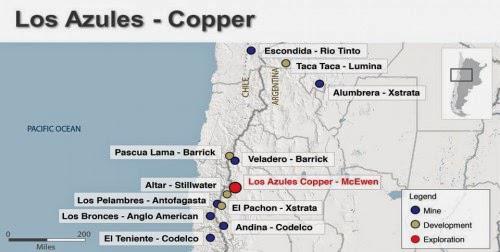 TNR Gold And McEwen Mining: Chinalco Mining Sets Sights On Copper Projects in Latin America TNR.v MUX FCX NEM ABX

"CS. With Las Bambas deal secured in Chinese hands and Pascua Lama and CITIC rumours still circling in the industry, another industrial group from China is searching the Globe for the best Copper projects left. We have discussed before, that M&A activity in this case signifies the very important bottom in the mining cycle. Barrick Gold talks with Newmont Mining in Gold and Las Bambas purchase by Minmetals Group in Copper.
Western Central Banks are anxious with "the lack of Inflation" - all "official" Inflation measures in US (if you are not eating, paying insurance or rent) are dangerously low, if you consider the unprecedented amount of the freshly printed money in the system. ECB is talking about the new "whatever-it-takes" war on Deflation and Copper is sensing the upcoming change already. Prices of Copper are up last week.
With this report from China Los Azules Copper is very well positioned to bring the Catalyst to TNR Gold and McEwen Mining. Rob McEwen is talking about it as "One of the best Copper projects in the world" and industry's M&A activity will bring it on the investors radar screens again."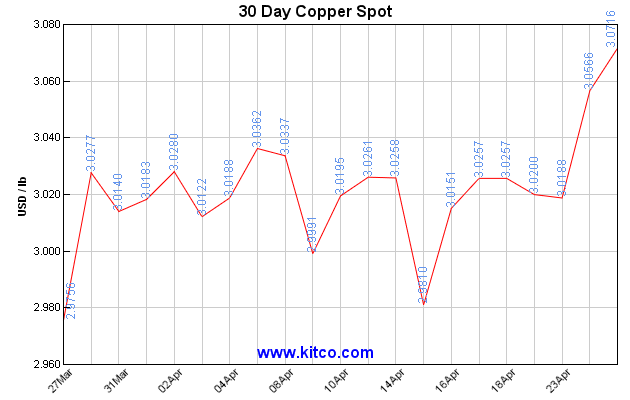 Las Bambas Purchase Shows China Is Still in the Hunt for Copper MUX TNR.v LCC.v CU

"We have narrowed it down from the Wall Street headline: the best Copper projects are going to those who can think about the economic development with the long term view. We have been discussing Las Bambas Sale for quite a while here and other our stories could be coming to fruition now as well. Security of supply is the major issue during the next stage of the Rising Power and Chinese companies are scooping the Globe for the best projects available."
Copper M&A: Glencore Xstrata Close to Sale of Its Las Bambas Peruvian Copper Project MUX TNR.v LCC.v
"According to the report China is closing the next mega deal in the resource sector in order to secure the supply of strategic commodities. This time it is copper. Another Chinese company - China National Gold is reported to be in talks with Ivanhoe on DRC Copper mine. We guess that the end of the world will be postponed again and China is using any opportunity to buy the real assets at the cheapest price possible. China is executing the state-level plan to diversify its reserves out of US Dollar and is buying assets in Gold, Copper and Lithium. We have mentioned before the rumours about Barrick Gold being in talks over its huge Pascua Lama with CITIC from China and are monitoring the sector for the conformation.
Rumour Mill: "CITIC Buying Into Pascua Lama" - Can Argentina Mining Really Make Its Come Back? TNR.v MUX ABX LCC.v

"Is this rumour too good to be true for the proud people of Argentina? Can Argentina ever make its come back in mining? On the one hand we have still the very strong perception of the high political risk and on another hand we have reports from the ground about the changing environment in the country:
"Situation in Argentina is changing for the better with recent developments on Repsol compensation. Goldcorp was talking about "Argentina issues easing" and Pan American Silver CEO has recently sated:

"Meanwhile, when asked by an analyst to comment on the future of the Navidad project, PanAm CEO Geoff Burns said he sees signs of noted improvement "in our operating environment and in the attractiveness of making investments" in Argentina.

"There was a new chief of cabinet installed…now a couple of months ago," he observed. "And he certainly seems to be driving a more business-friendly environment, or at least, pushing for a more business-friendly environment."

"I was down there [in Argentina] just a couple of weeks ago, and I would say I am more optimistic than I have been in the last couple of years about the future of Argentina and the future of mining investment in Argentina," Burns advised."

Rob has mentioned as well that Argentina is changing for the better now: "Profits are coming out of the country now and political change will happen within next one and a half years. We have very large Los Azules Copper project in Argentina. Last year large projects went out of favour, we are sitting on it now. Copper prices are above 3 dollars now and we had the new PEA last Fall. It is our source of liquidity in the future."
The reports provided on the links below are suggesting that this particular move by Barrick Gold could not be so far fetched: company has confirmed that it is working on strategic partnerships on Pascua Lama and that partners from China are of a particular interest for the company. Argentinean government has even organised negotiations with Chile in order to bring Pascua Lama project back to life. We will not rush ahead to the conclusions and will wait for the official confirmations about these talks, but the trend is quite apparent for the industry insiders and we had discussed it before.
After the bidding war for Las Bambas Copper in Peru there are not so many world class copper assets left. M&A activity in Copper sector is heating up with ongoing deals on Glencore's Las Bambas, Hudbay's acquisition and OZ Minerals talks with potential partners. Now the projects like Los Azules copper will get more industry attention. We are following McEwen Mining and TNR Gold involved in this project, please read carefully all our disclaimers and do your own DD, as usual.
"TNR Gold is still the sleeping beauty: company holds shares in McEwen Mining after the settlement on Los Azules and Back-In right into Los Azules Copper project in Argentina. Among other assets TNR Gold holds 100% of Shotgun Gold project in Alaska with first resources announced last year and strategic stake in International Lithium."
TNR Gold Insiders report: CEO And CFO Buying Shares.
Among other beneficiaries of improved investment climate in Argentina we should name Lumina Copper with its Taca Taca copper deposit and International Lithium developing Mariana Lithium brine project with its strategic partner Ganfeng Lithium.
We will closely monitor the situation with these developments around Pascua Lama and you can find additional information for your research on the links below.
More."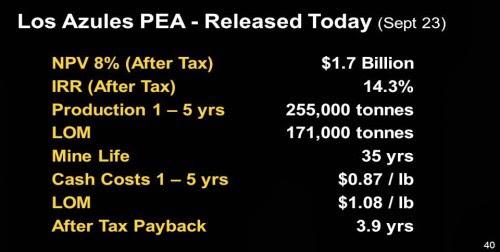 BN Americas:
Argentina's Caem optimistic over Pascua Lama future
By Juan Andres Abarca
Martín Dedeu, president of Argentina's private sector mining chamber Caem, is optimistic that the Pascua Lamagold-silver project of Canadian miner Barrick Gold (TSX, NYSE: ABX), located in the border of Argentina and Chile, will move forward, despite its current suspended status.
"I'm an absolute optimist that even though the project is facing a slowdown, it will go ahead," he told BNamericas.
Dedeu acknowledged that the status of the project is a concern in Argentina. In March, the country's mining minister Jorge Mayoral said the government was willing to engage in talks with Chile over the future of Pascua Lama.
"It's a subject that is obviously worrisome. But we've found ways to diminish the impact of the project's suspension in San Juan province," Dedeu told BNamericas.
The binational project was officially suspended by the company in October last year, following a series of judicial, regulatory and social setbacks on the Chilean side over environmental issues and breaches of its environmental resolution (NYSE:RCA).
In addition to the suspension, the project is now facing a multimillion dollar fine from environmental regulator SMA, following an order issued by the environmental court to rewrite the resolution that imposed a fine, saying that the document included a number of "errors and illegalities."
In May 2013 SMA ordered Barrick to pay 16,000 of the country's annual tax units (UTAs), some US$16mn, and ordered the suspension of construction of Pascua Lama due to what it called very serious breaches of the project's RCA regarding alleged damage to the area's water resources.
Following SMA's decision not to challenge the court's decision, Barrick filed a motion with the Chilean supreme court contesting the environmental court's ruling. The court has not viewed the case yet.
Dedeu said that "every country has the right, obviously, to make the decisions it believes to be fair. But I think it would be a shame that our first binational project should fail."
"An agreement needs to be reached that is fair and reasonable and that won't cancel the most important binational project that has ever been developed between the two countries."
Please Note our Legal Disclaimer on the Blog, including, but Not limited to:
There are NO Qualified Persons among the authors of this blog as it is defined by NI 43-101, we were NOT able to verify and check any provided information in the articles, news releases or on the links embedded on this blog; you must NOT rely in any sense on any of this information in order to make any resource or value calculation, or attribute any particular value or Price Target to any discussed securities.
We Do Not own any content in the third parties' articles, news releases, videos or on the links embedded on this blog; any opinions - including, but not limited to the resource estimations, valuations, target prices and particular recommendations on any securities expressed there - are subject to the disclosure provided by those third parties and are NOT verified, approved or endorsed by the authors of this blog in any way.
Please, do not forget, that we own stocks we are writing about and have position in these companies. We are not providing any investment advice on this blog and there is no solicitation to buy or sell any particular company.