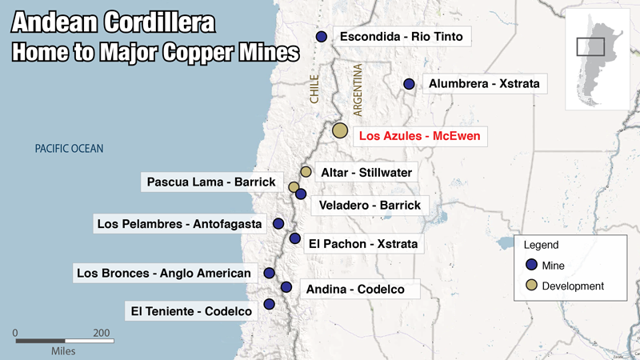 As you remember, Los Azules Copper project is located in San Juan province in Argentina. Barrick Gold's Huge Pascua Lama project is located in the same province on the Boarder of Argentina and Chile. This ongoing development will be very positive for Argentina mining and Los Azules Copper project, providing the catalyst to TNR Gold and McEwen Mining.
Kirill Klip.:
Copper M&A, Mining In Argentina And TNR Gold's Los Azules Copper Back-In Right.

"Copper is staging a small rally last couple of weeks on the news from China and expectations that capital market reforms there will bring stability to the market. If you believe in the global economy's recovery - Copper is the right place to be. Dr Copper was hesitating lately and must have been reading the wrong websites, once it will start to subscribe to CNBC it should be moving steadily up."
Financial Post reports: "Barrick Gold Seeks To Restart Suspended Pascua-Lama Project After Meeting With Top Chilean Officials":
"SANTIAGO - Barrick Gold Corp, the world's No. 1 gold miner, has met with Chilean officials and is keen to move forward with its suspended Pascua-Lama gold and copper project, in which it has already invested more than US$5 billion, Chile's new mining minister told Reuters."
This new push from Barrick Gold to restart Pascua Lama signifies the very important momentum for the company, rumours about potential Chinese involvement could become true one day. It looks like company knows now what to do with this huge large scale project and Argentinean government is lobbying Chilean officials as well.
Lumina Copper with its Taca Taca copper project is moving to the upside again recently and has retaken CAD6.00 level. Investors must be taken all recent developments in Chinese Copper M&A positively and they are warming up to Argentina Copper assets.
Rumour Mill: "CITIC Buying Into Pascua Lama" - Can Argentina Mining Really Make Its Come Back? TNR.v MUX ABX LCC.v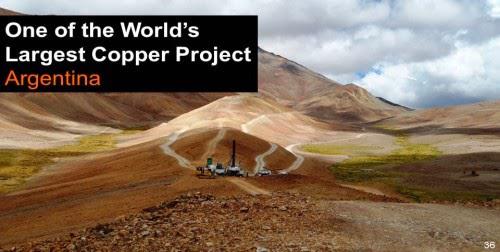 "Is this rumour too good to be true for the proud people of Argentina? Can Argentina ever make its come back in mining? On the one hand we have still the very strong perception of the high political risk and on another hand we have reports from the ground about the changing environment in the country:
"Situation in Argentina is changing for the better with recent developments on Repsol compensation. Goldcorp was talking about "Argentina issues easing" and Pan American Silver CEO has recently sated..."
McEwen Mining has held its AGM meeting and you can find a lot of information about the company in its AGM Presentations and Videos. We find it very positive that Rob McEwen moves Los Azules project forward now and conductsAdditional Metallurgical Testing and Examines Potential For Smaller / High Grade Mine. It should help to reduce the CAPEX, payback period of the project and will allow to further improve its economics potentially.
McEwen Mining Announces Sudden Resignation of Ian Ball, President MUX TNR.v GDX GLD

"Ian was credited with El Galo mine development and Gold discovery in Mexico and his story, as we hope, will stay the positive chapter in McEwen Mining story. McEwen Mining is very well positioned, in our opinion, for the change in Gold and Silver prices.
We have only one question and concern, as you know. Why McEwen Mining is not properly working with Los Azules Copper project now? It is the world-class asset and "One of The World's Largest Copper Projects" according to Rob, why there is no appropriate marketing of it? Its proper sale will solve all capital problems which McEwen Mining is facing now in order to grow further.
We all have noticed the change in the company's goal - now S&P 500 target is not possible by 2015, but it is the great company with the great leadership, why Los Azules Copper has not being promoted properly so far?
TNR Gold is moving forward with its Los Azules Copper Back-In Right asset and nobody is going to sell it cheap as it looks like now, so why is McEwen Mining not using the better climate in Argentina and rising Copper prices to tell its story? The irony is here that: "soft Gold and Silver prices are due to the economic recovery" - what can be better hedge from "such an adversary" for the Gold Miner as Copper World-Class asset in this case? We would take it any day now as Chinese may one day."
TNR Gold And McEwen Mining: Argentina's Caem Optimistic Over Pascua Lama Future TNR.v MUX ABX GDX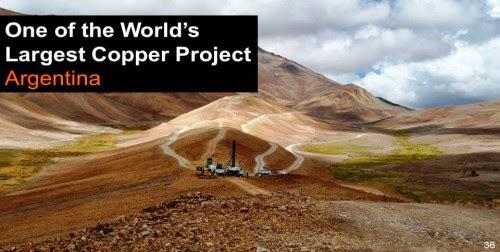 "Argentina slowly comes to its senses and welcomes mining business back these days. Argentinian government is negotiating with Chile the ways to bring development of Pascua Lama back on track and China is already waiting for it, according to some rumours. Captains of the mining industry are allocating new investments in mining projects in Argentina and Yamana Gold has announced that it will focus on its Cerro Moro Gold and Silver project in Argentina along with Canada Assets.
Los Azules Copper is waiting for its hour to come into the industry spotlight and Pascua Lama development will do the trick. Both projects are located in the same San Juan province in Argentina. Shareholders of TNR Gold and McEwen Miningfinally will be rewarded for their patience one day. And now this day is coming closer with every positive development in Argentina.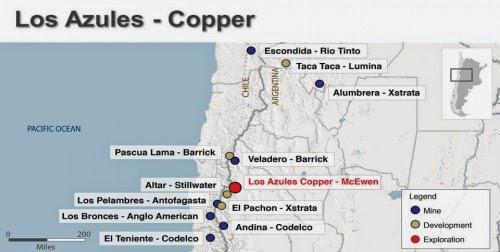 TNR Gold And McEwen Mining: Chinalco Mining Sets Sights On Copper Projects in Latin America TNR.v MUX FCX NEM ABX

"CS. With Las Bambas deal secured in Chinese hands and Pascua Lama and CITIC rumours still circling in the industry, another industrial group from China is searching the Globe for the best Copper projects left. We have discussed before, that M&A activity in this case signifies the very important bottom in the mining cycle. Barrick Gold talks with Newmont Mining in Gold and Las Bambas purchase by Minmetals Group in Copper.
Western Central Banks are anxious with "the lack of Inflation" - all "official" Inflation measures in US (if you are not eating, paying insurance or rent) are dangerously low, if you consider the unprecedented amount of the freshly printed money in the system. ECB is talking about the new "whatever-it-takes" war on Deflation and Copper is sensing the upcoming change already. Prices of Copper are up last week.
With this report from China Los Azules Copper is very well positioned to bring the Catalyst to TNR Gold and McEwen Mining. Rob McEwen is talking about it as "One of the best Copper projects in the world" and industry's M&A activity will bring it on the investors radar screens again."
Please Note our Legal Disclaimer on the Blog, including, but Not limited to:
There are NO Qualified Persons among the authors of this blog as it is defined by NI 43-101, we were NOT able to verify and check any provided information in the articles, news releases or on the links embedded on this blog; you must NOT rely in any sense on any of this information in order to make any resource or value calculation, or attribute any particular value or Price Target to any discussed securities.
We Do Not own any content in the third parties' articles, news releases, videos or on the links embedded on this blog; any opinions - including, but not limited to the resource estimations, valuations, target prices and particular recommendations on any securities expressed there - are subject to the disclosure provided by those third parties and are NOT verified, approved or endorsed by the authors of this blog in any way.
Please, do not forget, that we own stocks we are writing about and have position in these companies. We are not providing any investment advice on this blog and there is no solicitation to buy or sell any particular company.