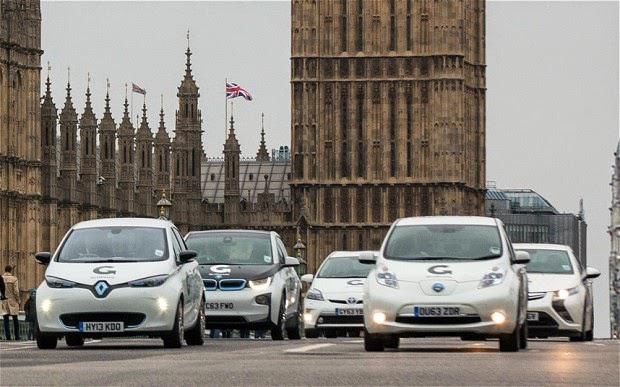 Kirill Klip provides interesting view on the recent developments in UK, which seems to be wakening up with its new plan to invest $850 million in Electric Cars. Tesla is moving forward with the first Tesla Model S deliveries and Superchargers and BMW i8 and BMW i3 are fighting for the hearts and wallets now.
Kirill Klip.:
Elon Musk To Occupy Mars, But First UK With Tesla Model S And Superchargers.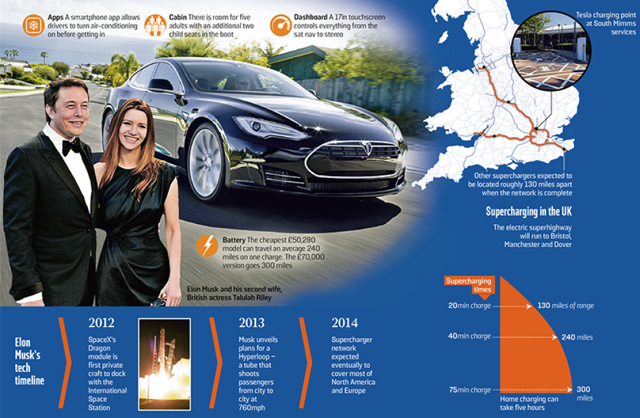 The Sunday Times.
"Finally, our Island is getting the proper attention from Elon Musk! On his mission To Occupy Mars he has made the small diversion to save the humanity from suffocating. UK is just destined to be the Electric Cars Capital of the world. Distances are not so vast, population is quite wealthy to be concerned about the green issues and Britain was always famous for its love to technology and innovation. We were just lacking the good electric cars. G-Wiz parked at the Berkeley Square apposite the Bentley Shop was always the testament to the Green Enthusiasm, but it was hardly any improvement in our driving experience.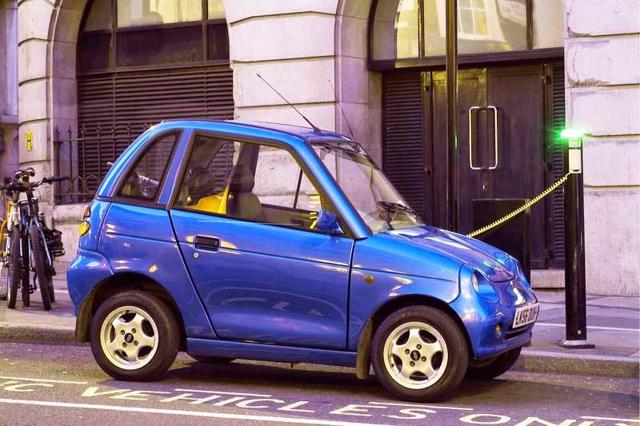 Nissan Leaf has introduced "the affordable electric mobility" for early adopters and now "Vacuum Cleaners on Wheels" crowd will be seriously jealous with every passing Tesla Model S (Sorry all Pioneers!). Elon Musk promised that you can cross UK in Tesla Model S with just single recharge 20 minutes stop at one of his Superchargers. Finally, we can talk about Electric Cars coming to UK which are "Like Normal ICE Car, but Better"! "News: Tesla Supercharger Highway Powers Up Electric Cars In The UK.":
"STATIONS THAT can charge Tesla electric cars in 20 minutes - far quicker than most owners of electric cars are used to - are being installed on Britain's motorways by the billionaire entrepreneur Elon Musk.

The first supercharging stations are due to be unveiled within weeks by Musk, who is advising the government on electric car technology. Ministers hope his electric superhighway will transform the way drivers view electric cars, and energise their sales. The Sunday Times."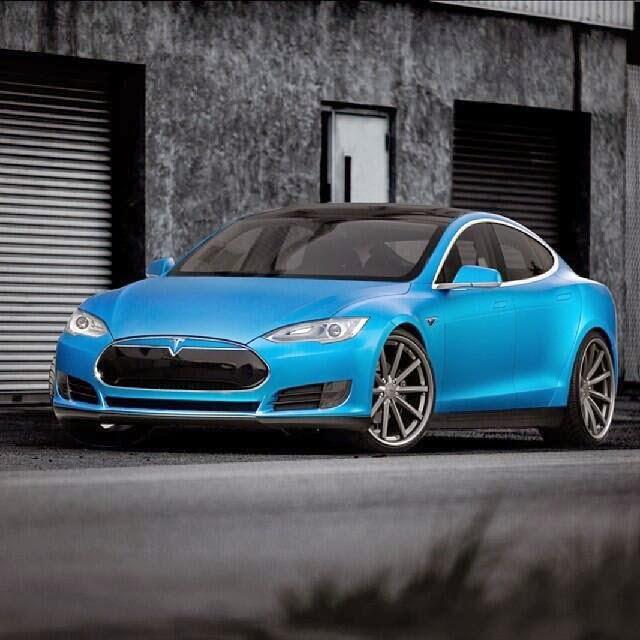 This toy will not be for every one, but it will turn heads and show to everybody that Lithium Technology for Electric Cars is here. Now CITY boys, footballers wives and Harrods clients will play with different colours for Tesla Model S to amuse the crowd. And it is very good - every Tesla Electric Car will be the best advertisement that we can stop drive the last century technology using "Controlled Explosions Of Extract From Dinosaurs Poop" under the hood and it will be not necessary any more to send our daughters and sons to liberate Oil in the future.
We need just the mass market for Electric cars now. Tesla Gigafactory as Elon Musk promises us, will make it possible with the increased volume of Lithium Batteries production that technology and safety can be improved. Elon Musk talks about 400 miles range for Tesla Model S and X and $35k price tag for Tesla Model E with 200 miles range now! "Tesla Battery Gigafactory, Lithium materials Industry and Lithium Miners":
"We live in the exciting times during Electric Cars rEvolution. Tesla's plans to build Lithium battery Gigafactory have ignited interest to all our industry. They have received further confirmation now with the announcement that Panasonic has signed the letter of intent to participate in the project. Elon Musk has announced that Gigafactory Site Will Break Ground next month.

Due to the unique specific chemical qualities Lithium based chemistry for the batteries has become the automakers' industry standard for their Electric Cars. Decades of research and billions of dollars invested in Lithium Technology have made it possible now. Tesla will invest 5 B in the Gigafactory and there are recent reports projecting the Lithium Battery growth into 26 B industry within next decade. Goldman Sachs estimates that Gigafactory will potentially consume 17% of the current Lithium supply. Add to it Nissan and its partner Renault, BMW, Mercedes, VW Group, GM, BYD, KANDI and other names from China, which we are going to hear more and more - you will get a picture of dramatic increase in Demand for High Purity Battery grade Lithium."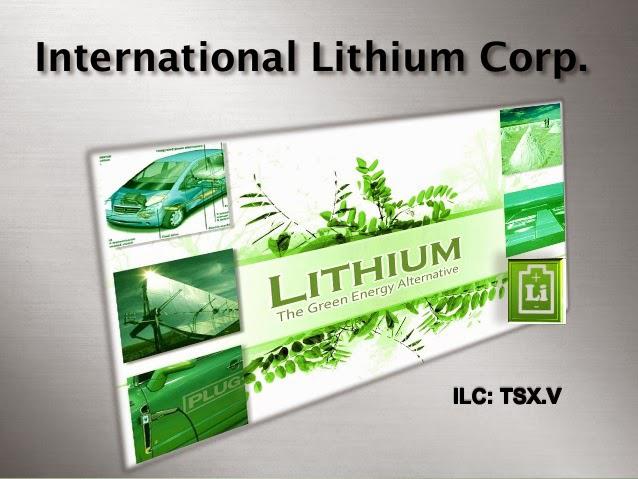 We at International Lithium are making our part of heavy lifting our projects into development stage with our strategic partner Ganfeng Lithium. New supply of Lithium will make this Electric rEvolution happening for real. China provides the opportunity to make mass market fro Electric Cars reality within a few years time. Recent news from China and Elon Musk's plans to start production of Tesla Model S in 3-4 years are very encouraging.
"We have discussed with you my personal vision of the Market for Electric Cars and Lithium Industry developments yesterday. I might be very "responsibly conservative" for the prospects of our Lithium Battery Industry after all! Today you get the bold vision from our Electric rEvolution leader-in-chief Elon Musk. AutoBlogGreen reports: "Tesla CEO Elon Musk Expects "Hundreds" Of Battery Gigafactories."
You can visit our website to find more about International Lithium or give us a call to discuss our opportunities. Join the rEvolution and spread the news on Electric Cars and Share this blog if you like what I am doing here. Thank you!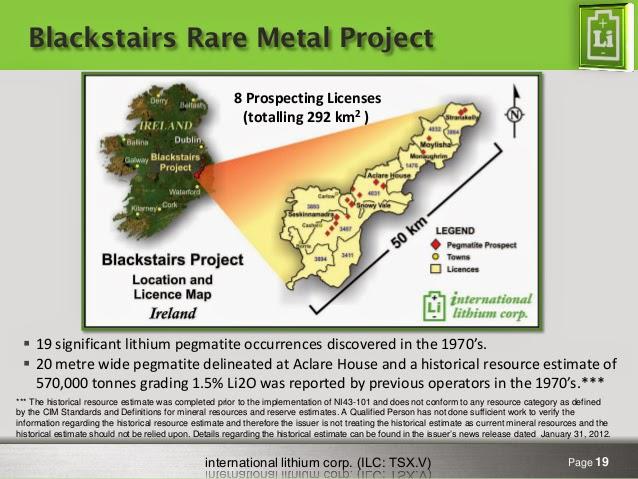 I will share these developments with the great crowd at Wentworth PGA Golf Tournament today as well. What can be suited better than Top Golfers and Top Electric Cars? BMW i8 and BMW i3 are on display here. You can follow my reports on my Twitter Feed. The future is here and UK goes Electric these days. Join the rEvolution!"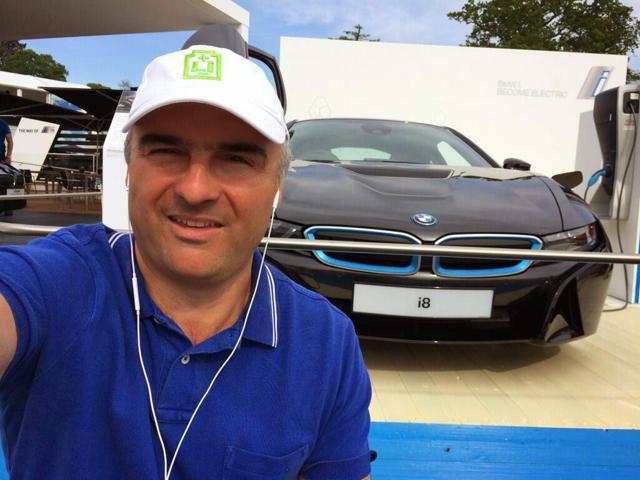 Please Note our Legal Disclaimer on the Blog, including, but Not limited to:
There are NO Qualified Persons among the authors of this blog as it is defined by NI 43-101, we were NOT able to verify and check any provided information in the articles, news releases or on the links embedded on this blog; you must NOT rely in any sense on any of this information in order to make any resource or value calculation, or attribute any particular value or Price Target to any discussed securities.
We Do Not own any content in the third parties' articles, news releases, videos or on the links embedded on this blog; any opinions - including, but not limited to the resource estimations, valuations, target prices and particular recommendations on any securities expressed there - are subject to the disclosure provided by those third parties and are NOT verified, approved or endorsed by the authors of this blog in any way.
Please, do not forget, that we own stocks we are writing about and have position in these companies. We are not providing any investment advice on this blog and there is no solicitation to buy or sell any particular company.