Please watch videos and presentations:
http://sufiy.blogspot.co.uk/2014/08/tnr-gold-acquires-critical-element-ree.html#

Kirill Klip:
TNR Gold Acquires Critical Element REE Project in Labrador.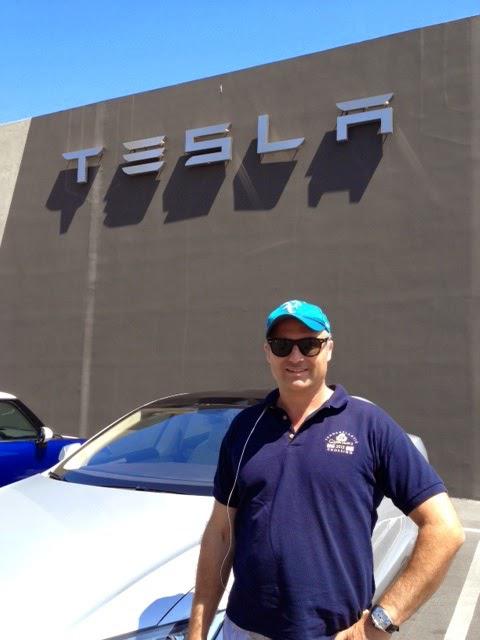 2014 Report On the International Rare Earth Metals Market - Forecast to 2018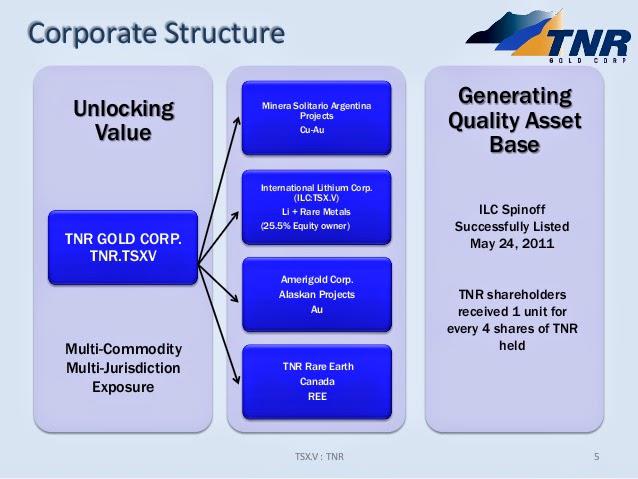 At TNR Gold we are involved not only in Lithium with our stake in International Lithium, but also in REE projects development. We are following closely the changing landscape and identifying new opportunities in this very important market of Strategic Critical Materials. Their applications are spread from Electric Motors to Solar and Wind Power generation and to the Displays of your Mobile Devices.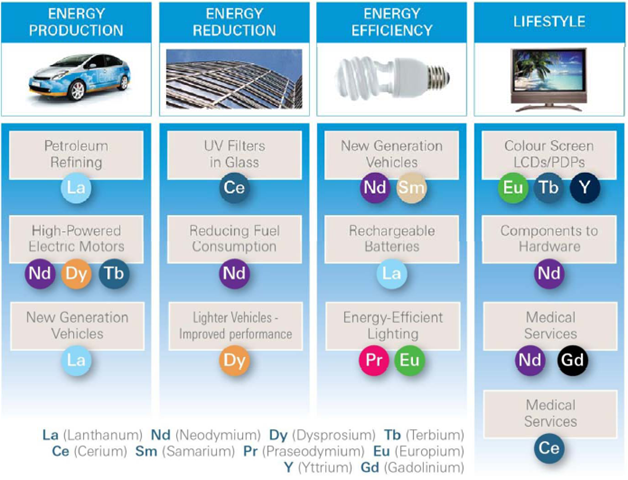 TNR Gold Acquires Critical Element REE Project in Labrador
Vancouver, B.C. / TNW-ACCESSWIRE / August 11, 2014 / TNR Gold Corp. (the "Company" or "TNR) (TSX VENTURE:TNR.V ) has acquired through staking mineral exploration rights totalling 2,050 hectares within the Flowers River Igneous Suite located in Newfoundland and Labrador, Canada. The project area is approximately 25 kilometres from tidewater and 50 kilometres west of the community of Hopedale, Labrador.
TNR Gold, through its "lead generator business model", identified the Nuiklavik project as highly prospective for rare earth elements ("REEs"). TNR successfully applied the project generator strategy most recently in 2010/2011 when the Company identified theMariana lithium brine and Blackstairs lithium pegmatite projects, that became key to International Lithium Corp. (TSX VENTURE:ILC.V), a Lithium metals focused company spun out of TNR and currently partnered with a prominent lithium products producer, Ganfeng Lithium International Ltd., Co., based in China.
The Nuiklavik project area was briefly examined in the 1950s by Brinex, but saw no further exploration until Altius Resources Inc. ("Altius") targeting volcanic hosted uranium-type mineralization from 2006 to 2008. Altius sampled several rare earth occurrences, complementing earlier mapping and sampling work by the Geological Survey of Newfoundland and Labrador ("GSNL") in the 1980s and 1990s. All samples reported to date are grab samples and have returned assays of up to 1.4% zirconium oxide, 1.27% yttrium oxide, 1.15% niobium oxide and 1.1% total rare earth oxides with heavy REEs accounting for up to 67% of the total rare earths (Rare Elements Resources press release dated January 7, 2010). Grab samples are by nature selective and therefore may not be representative of mineralization on the property. Altius sold the project to Rare Element Resources Ltd. ("RER") in 2010. In 2012 RER made a decision to no longer maintain the mineral claims in favour of focusing on the exploration and development of their Bear Lodge REE Project.
"The Nuiklavik project is the next step in TNR's strategy to identify and generate projects of high value ahead of the curve. Several countries around the world have conducted research and identified potential future supply constraints of certain metals, naming them "critical metals". These are elements that are deemed essential to manufacturing industries in these countries. TNR is focussed on generating projects hosting critical elements needed for certain high tech and renewable energy industries. These elements are usually produced as by-products from other mining and industrial activities. A number of the rare earth elements which includes both heavy and light rare earths, are on the "critical" list. The supply chain from China is expected to decrease over the next few years and many REE sources outside China are dominated by the non-critical REEs. TNR has also recognized that many of the advanced stage REE exploration projects face significant cost challenges specifically related to infrastructure (as projects tend to be quite remote) and metallurgy (extracting individual rare earth oxides). TNR's team believes the geology and geochemistry of the Nuiklavik volcanics indicate the potential to host mineralization that is enriched in critical elements. The Property location, only 25 kilometres from tidewater, potentially gives it an infrastructure advantage. As done with International Lithium Corp., TNR is seeking a strategic partner with the technical expertise and end-use demand to facilitate the advancement and if warranted, the development of the project." Mr. Kirill Klip, Non-Executive Chairman of TNR.
TNR Gold Investor Presentation March 2014 from Kirill Klip
OTHER NEWS
Further to the Company's June 13, 2014 news release announcing a grant of stock options, the Company has cancelled 1,125,000 stock options on June 13, 2014.
ABOUT TNR GOLD Corp. (www.tnrgoldcorp.com)
Over the past twenty-one years TNR, through its lead generator business model, has been successful in generating high quality exploration projects around the globe. With the Company's expertise, resources and industry network, it is well positioned to aggressively identify, source, explore, partner and continue to expand its project portfolio.
TNR Gold recently reported an inferred mineral resource at the Shotgun Gold project in Alaska containing 20,734,313 tonnes at 1.06 grams per tonne ("g/t") gold for a total of 705,960 ounces gold ("Au") using a 0.5 g/t Au cut-off (see news release dated 22 April 2013).
TNR is also a major shareholder of International Lithium Corp. (TSX:ILC.V) ("ILC"), a company created by TNR to advance its internationally acquired lithium prospects. TNR currently holds about 25.5% of the outstanding shares of ILC.
At its core, TNR provides significant exposure to gold and copper through its holdings in Alaska and Argentina and is committed to continued generation of in-demand projects, while diversifying its markets and building shareholder value.
John Harrop, PGeo, FGS, is a "Qualified Person" as defined under NI 43-101 and has reviewed and approved the technical content of this news release.
For further details please see our website at http://www.tnrgoldcorp.com/s/NewsReleases.asp
On behalf of the board,
Gary Schellenberg
President
Neither the TSX Venture Exchange nor its Regulation Services Provider (as that term is defined in the policies of the TSX Venture Exchange) accepts responsibility for the adequacy or accuracy of this Q&A. Statements in this Q&A other than purely historical information, historical estimates should not be relied upon, including statements relating to the Company's future plans and objectives or expected results, are forward-looking statements. Q&A may contain certain "Forward-Looking Statements" within the meaning of Section 21E of the United States Securities Exchange Act of 1934, as amended. Forward-looking statements are based on numerous assumptions and are subject to all of the risks and uncertainties inherent in the Company's business, including risks inherent in resource exploration and development. As a result, actual results may vary materially from those described in the forward-looking statements.
Please Note our Legal Disclaimer on the Blog, including, but Not limited to:
There are NO Qualified Persons among the authors of this blog as it is defined by NI 43-101, we were NOT able to verify and check any provided information in the articles, news releases or on the links embedded on this blog; you must NOT rely in any sense on any of this information in order to make any resource or value calculation, or attribute any particular value or Price Target to any discussed securities.
We Do Not own any content in the third parties' articles, news releases, videos or on the links embedded on this blog; any opinions - including, but not limited to the resource estimations, valuations, target prices and particular recommendations on any securities expressed there - are subject to the disclosure provided by those third parties and are NOT verified, approved or endorsed by the authors of this blog in any way.
Please, do not forget, that we own stocks we are writing about and have position in these companies. We are not providing any investment advice on this blog and there is no solicitation to buy or sell any particular company.