Desjardins Capital Markets came out with interesting research note on Canada Zinc Metals, company has posted the new presentation and looks like very busy with the next stage of development. More and more investment banks are talking about the very promising potential for Zinc market in the nearest future.
From Haywood Securities:
March 5, 2012
Morning Shot…
Today's Speakers:
Stefan Ioannou: PDAC Commodity Talks Summary
Yesterday's PDAC agenda included the commodity outlook session. Overall zinc stood out as the metal with most (medium-term; +2013) potential - in line with our published commentary. Nickel is arguably also an 'interesting' longer-term story. Key metal specific notes / 'take-aways' include:
Zinc (Andy Roebuck; Teck)
· Very bullish outlook expected to materialize through 2013 on the back of imminent large scale mine closures (including Brunswick [~2% of global supply] and Century (~4% of global supply]).
· Chinese demand expected to increase materially as middle class 'develops' / demands higher quality products (i.e., galvanized autos, etc.).
· Zinc treatment charges (TCs) now at ~US$60/DMT (vs. +200/DMT 'historically' [less than 2 years ago]) - note recent Glencore/Trevali transaction underpinned by 'nil' TCs.
Desjardins Capital Research:
Mines, Metals & Fertilizers Weekly
PDAC-three companies that generated interest
AQM Copper-gearing up for a preliminary economic assessment at the Zafranal copper project in Peru
Canada Zinc Metals-close to infrastructure and in a neighbourhood of zinc assets in BC
Intrepid Mines-large copper-gold project in Indonesia
Prospectors & Developers Association of Canada (PDAC) annual conference in Toronto
This week, the world of base and precious metals, bulk commodities and industrial products gathered in Toronto for the annual PDAC conference. Attendance appears to have set a new record (estimated 28,000-30,000) and included investors, producers, consumers, merchants, financial institutions and research groups. Needless to say, Desjardins Capital Markets was there in force.
Several companies appeared to be experiencing higher-than-average attendance at their presentation booth and were the topic of numerous conversations. These companies include:
 AQM Copper Inc.
 Canada Zinc Metals Corp.
 Intrepid Mines Limited
We do not cover these companies and offer no opinion on their shares.
Canada Zinc Metals Corp. (CZX, TSX-V, not rated)
 Shares outstanding: 136.3m
 Market capitalization: C$66.8m
 Project name: Akie
 Commodity: Zinc-lead
 Project location: British Columbia
 Identified resource: 23.6mtonnesoforegrading 7.6%zinc,1.5%lead and13.0g/t silver
 Contained resource:1.8mtonnesofzincmetal,354,000tonnesofleadmetaland8.9mozsofsilver
 Management: Peeyush Varshney, CEO&Chairman
Key asset overview
Canada Zinc Metals is developing its 100%-owned Akie zinc project in northeastern British Columbia. The project is located 260km from the town of Mackenzie and 450km from the port of Prince Rupert (see Exhibit 2).
Exhibit 2: Location of Akie zinc project and local infrastructure
Source: Company website
Resources. According to an NI 43-101 report filed in May 2008 and with a zinc cutoff grade of 5%, the Akie property hosts 23.6m tonnes of ore at an average zinc grade of 7.6%, an average lead grade of 1.5% and an average silver grade of 13.0g/t. Thus, the Akie property hosts 1.8m tonnes of zinc metal, 354,000 tonnes of lead metal and 8.9m ozs of silver. This resource estimate was calculated through 31,059 metres of diamond drilling of 60 different drill holes. A cross section of the deposit is shown in Exhibit 3.
Location and infrastructure. The Akie project is located beside a number of mineral exploration properties and operating mines, including the Driftpile Creek lead-zinc deposit and the Kemess South Mine.
As can be seen in Exhibit 2, the W.A.C. Bennett hydroelectric dam (capacity 2.7GW/yr), owned and operated by BC Hydro, is located close to the project, as are Canadian National Railway's rail lines that lead to the port of Prince Rupert. The Akie site is also served by an all-season road.
Catalysts. A new NI 43-101 report is expected to be released "in the next few weeks", according to Canada Zinc Metals, which should upgrade the current resources to the measured and indicated category.
Major investors. According to the company, Lundin Mining Corporation (LUN, TSX, not rated) and China Tongling Nonferrous Metals Group Holdings Co. Ltd. own ~36% and ~5% of the company, respectively.
Canada Zinc Metals presentation PDAC March 2012
China M&A: Canada Zinc Metals : Bob Moriarty: Think Zinc
Bob Moriarty is taking Canada Zinc Metals as a client - company is going to tell its story now to the wide mining investing audience, normally we should expect visit to the property and more articles to come.
Canada Zinc Metals has reported recently the number of solid results from its exploration program on Cardiac Creek Deposit. Chinese Copper and Zinc giant Tongling Non Ferrous holds a 36% stake in the company now and Canada Zinc has announced that PEA is ongoing on the project. Another significant shareholder in this emerging M&A story in Canada is Lundin Mining.
M&A Watch in Canada: Canada Zinc Metals: Drilling Intersects 14.54% Zinc + Lead over 8.5 metres in A-11-98 on the Cardiac Creek Deposit.
Canada Zinc Metals is very well positioned now to participate in further consolidation in the industry, number of Zinc mines will be coming off line in the nearest future and the player, who can consolidate and unlock this region with Teck Resources and Korea Zinc holdings involved, will benefit the most.
China M&A in Canada: Canada Zinc Metals: Drilling Intersects 10.62% Zinc + Lead over 10.31 metres in A-11-93 on the Cardiac Creek Deposit
"Canada Zinc Metals has come out with another great exploration results, deposit has all chances to grow further. Stock was moving Up strongly from the recent lows couple of months ago fueled by this drill program expectations and constant rumours about Chinese consolidation. Chinese giant Tongling Nonferrous holds 36% in the company and the only question left is when they will move to increase their stake. Lundin Mining keeps all its options open with the strategic stake in the company - these two companies can easily make this Canadian region play into one of the largest Zinc and Lead mines in the world. We can talk about the magnitude of 100 million tons Zinc and Lead above 5% grade combined after consolidating the Korea Zinc and Teck Resources J/V property in the region.
In our small interconnected world Canada Zinc Metals holds strategic stake in TNR Gold with its Lithium, Rare Earths and, now - Iron Ore projects. The most intriguing part is Los Azules litigation TNR Gold vs Minera Andes with more than Half of this "Big Copper deposit in Argentina" at stake now. One day, after Canada Zinc Metals acquisition, Chinese Tongling can be knocking together with TNR Gold on the Minera Andes and US Gold door after their merger.
We have a new report issued on Canada Zinc Metals.
Heart of Zinc.
Company has announced recently its shares buy back in the market - and it is almost like printing money for us. The latest financing was at 0.75CAD and now the stock is trading at 0.38CAD. Company was also granted an exploration permit for the underground drill works and now this promising deposit will enter in the resource definition stage at a much faster pace.
During this market we are looking for the solid value and the ideal special situations when we have the growing asset and the buyer for it. In case of this company we have both - growing deposit in the very important elephant scale deposit region due to consolidation and Chinese giant Tongling which is holding 36% of the company."
Please, do not forget, that we own stocks we are writing about and have position in these companies. We are not providing any investment advise on this blog and there is no solicitation to buy or sell any particular company here. Always consult with your qualified financial adviser before making any investment decisions.
321gold:
Think Zinc
Bob Moriarty
Archives
Feb 22, 2012
I've been on the road for six weeks now without the opportunity to write up the several wonderful projects I have been visiting so look forward to a number of pieces coming out shortly.
It should be no surprise to anyone reading the web; China is slowing down after 15 years of record growth. It would not be foolish to believe copper and the base metals should have a pullback based on a reduction in future demand. For one base metal, any demand reduction will be more than met by a more massive supply reduction. That commodity is zinc.
Zinc is the fourth most commonly used metal in the world after iron, aluminum and copper. Two major mines are starting to shut down in 2013 including Xstrata's Brunswick zinc mine in Canada and Minmetals' Century zinc mine scheduled for shut down in Australia. Between those two mines, there will be a 765,000 metric ton loss of zinc production in the next three years.
One of our new advertisers has a mine with great potential in British Colombia, Canada Zinc. (CZX-V)
In a piece in the Financial Times on February 15, 2012, Macuarie's commodity research team picked zinc as the top base metal pick with estimates of price increases up 50% from current levels. Regardless of demand changes.
Canada Zinc is perfectly positioned to respond. Their 100% owned
Akie project north of Prince George
had a 43-101 resource released in 2008 showing 23.6 million tonnes in the inferred category at a cutoff grade of 5% zinc. I have shown a picture of what the rock in the ground is worth in theory below.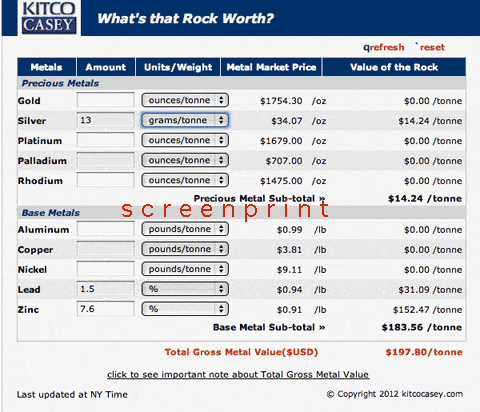 At $197 rock, the deposit has almost $4.64 billion dollars worth of rock. Interestingly, the deposit is very sensitive to grade. If you lower the cutoff grade to 2% zinc, the theoretical rock value drops to $137 per tonne but the tonnage more than doubles. In theory, the metal in the ground would be worth just short of $7 billion.
There has been a lot of drilling done by the company since the resource came out in 2008. In 2011 they drilled an additional 5,667 meters with results of up to 14.54% combined lead/zinc over 8.5 meters.
The company will be at PDAC and that would be a good time to talk to them and now would be a great time to invest. They expect to release a new 43-101 resource the week of March 12.
Canada Zinc is a new advertiser and we are biased. As always, you are solely responsible for your own investment decisions. We share neither in your profits nor your losses.
Canada Zinc Metals Corp
CZX-V $.53 (Feb 21, 2012)
CZXMF-OTCBB
136.2 million shares
Canada Zinc Metals website
###Bob MoriartyPresident: 321goldArchives"
Related articles