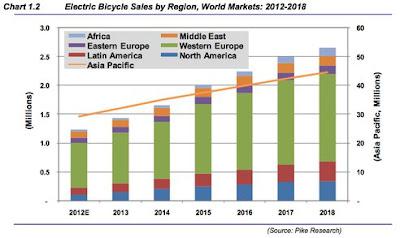 treehugger:
Annual Sales of Electric Bicycles to Surpass 47 Million by 2018
Resource Investing News:
By Dave Brown - Exclusive to
Lithium Investing News
A trend toward the adoption of electric cars may be foreshadowed by the growth of electric bicycles and the global shift in transportation that has already demonstrated an impact on the lithium industry. A recent report from Pike Researchforecasts that the global market for electric bicycles will climb at an estimated compound annual growth rate of more than seven percent over the next six years, which could reflect global annual sales of over 47 million vehicles by 2018.
Lithium battery technology is currently used in 65 percent of operating electric bicycles in Western Europe, compared with North America at 56 percent and Asia at four percent. Demand for electric bicycles in Western Europe is expected to climb at an annual rate of 11.8 percent over the next six years for an estimated total of 1.5 million electric bicycles sold in 2018.
Alternative power source
The majority of the electric bicycles sold in China use sealed lead acid batteries; however, the report forecasts that global penetration of lithium batteries will grow from six percent this year to twelve percent over the next six years. The primary limit will be set by cost pressures on sealed lead acid batteries in Asia through this decade. Last year China represented approximately 41 percent of global lead demand. Pike Research believes that once manufacturing efficiencies have driven down the costs of lithium battery technology, the market will start to see the decline of sealed lead acid as the battery of choice in electric bicycles.
Demand driver
Electric bicycle sales volumes are being driven by macroeconomic trends, such as the growth of urbanization, in addition to the need for convenient, low-cost transportation in developing markets. This point is of interest since more than 1.5 billion individuals in China and India are still living in rural areas, which in recent history have often been considered the most dominant economic development contexts.
The research report anticipates that in six years Chinese demand for electric bicycles will account for 42.4 million, with an estimated 89 percent of the total global market share. The total number of electric bicycles currently operating in China is estimated at between 120 and 140 million, compared with total automobile ownership of approximately 72 million passenger cars.
Potential risk
In an interview with Lithium Investing News, Dave Hurst, senior analyst at Pike Research, discussed the repercussions of a possible economic slowdown in China for the county's adoption rates. Hurst conceded that "a slowdown or contraction would have to include unemployment and a decrease in the population growth of some of China's cities. Most e-bicycles are purchased for commuting and transportation, so an economic slowdown could have one of two effects: it could decrease the purchase of e-bicycles as there is less need for transportation in the cities, or alternatively, it could shift some of the car demand to e-bicycles, which are significantly less expensive to operate." Under the premise that Hurst developed, "this result would likely be a wash. We could see demand slow as unemployment creeps higher, but then you would have some additional demand return from those that still need transportation replacing that lost demand."
Impact for lithium producers and exploration companies
Hurst explained a muted positive benefit for both lithium producers and junior exploration companies, commenting that "the upstream implications for the lithium market will be positive, but not huge. The batteries in e-bicycles are small in comparison to other forms of transportation, and the largest market, China, will be still dominated by lead acid for the next several years. As a result, I anticipate that the demand for lithium-ion battery storage is going to grow at a healthy, yet not phenomenal, rate of 22 percent, growing from one million kilowatt hours of batteries in 2012 to 3.4 million kilowatt hours by 2018."
Hurst indicated that larger-weighted aggregate demand from automobile manufacturing "is anticipated to reach 3.6 million kilowatt hours this year. So, bottom line, I anticipate that e-bicycles will be helpful early on for some battery manufacturers and lithium producers that need whatever volume they can get, but e-bicycle batteries are not going to be the difference between success and failure for most large lithium producers, exploration companies, or battery manufacturers."
Securities Disclosure: I, Dave Brown, hold no direct investment interest in any company mentioned in this article.