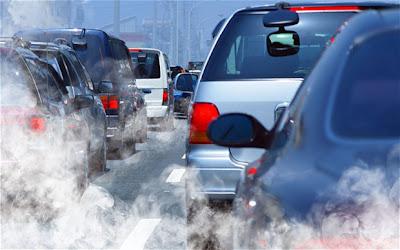 We are talking a lot about the economic benefits of electric cars here, and that they will be the only economically viable solution for our personal mobility after the Oil Crunch. Unfortunately, there is another side of the oil - nobody is talking enough about, oil kills and not only on the battle fields far away during the "liberation" military occupations, but literally on the streets every day. If this price was seriously accounted among the other considerations about electric cars, we think, that our tipping point for the mass market for electric cars would be already here.
We all have the right for the Clean Air, but why not on the streets? We do not think that the air quality in Los Angeles is any better than it is in London - all mega cities in the world are killing thousands of their residents by allowing to drive ICE cars slowly day by day.
Powered by Lithium: McKinsey & Co.: China May Still Become A Global Leader In The Electric Vehicle Industry

"While some people would like to make us all think that electric cars are polluting more than ICE ones, China moves fast with its Electric Cars program. If you have noticed from the Envia news about Lithium Wonder Battery - actual cell production facility is based in...China. Chinese companies are claiming larger stake in Lithium Battery production market now and Lithium Materials production is already a home turf for Chinese companies.
Companies like Ganfeng Lithium are staking their claims in Lithium Supply chain for the Green Revolution by investing in companies like International Lithium with world wide base of lithium projects.
BYD had a very bad publicity last year and now company is coming back. Warren Buffett backs the BYD and latest lithium battery breakthrough can make the very fast adoption rate for electric cars in China. There is the question of not only the higher gas prices, but urban survival with pollution from ICE cars, which is already reaching a very dangerous levels in major cities even with still the very low rate of cars per capita in China. Urban mobility in China and India will be impossible in any meaningful numbers without electric cars now."
AutoBlogGreen: UCS: No Matter Where You Live, Driving Electric Saves Money, Emissions

"AutoBlogGreen sets the records straight with the allegations about "very expensive and polluting Electric Cars" with the help from the UCS report."
Union of Concerned Scientists: State of Charge.
BBC:
Traffic pollution kills 5,000 a year in UK, says study
By Roland PeaseBBC Radio Science Unit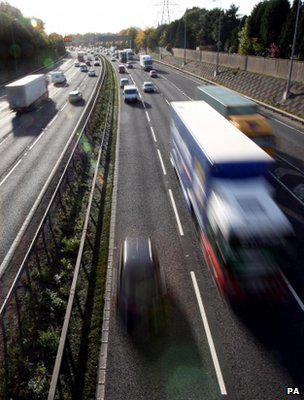 Traffic pollution occurs much nearer to people's homes than industrial emissions, the authors say
Continue reading the main story
RELATED STORIES
Road pollution is more than twice as deadly as traffic accidents, according to a study of UK air quality.
The analysis appears in Environmental Science and Technology, carried out by Steve Yim and Steven Barrett, pollution experts from MIT in Massachusetts.
They estimate that combustion exhausts across the UK cause nearly 5,000 premature deaths each year.
The pair also estimate that exhaust gases from aeroplanes cause a further 2,000 deaths annually.
By comparison, 2010 saw, 1,850 deaths due to road accidents recorded.
Overall, the study's findings are in line with an earlier report by the government's Committee on the Medical Effects of Air Pollutants (COMEAP), which found that air pollution in 2008 was responsible for about 29,000 deaths in the UK.
The new study arrives at a slightly lower annual figure of 19,000, a difference the lead author of the COMEAP study, Fintan Hurley, attributes to differing methodology.
Breaking down pollution
The latest study adds to the debate by breaking down mortality rates according to sector - transport, energy and industry.
The researchers combine models of atmospheric circulation and chemistry with source data and clinical studies to arrive at their independent figures for the health effects of pollution.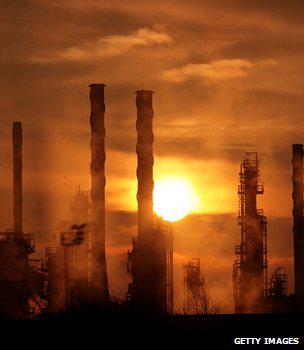 The findings challenge the traditional view that industrial plants are the main source of pollution
Although the popular perception of air pollution involves images of smoke stacks billowing out toxic black fumes into the atmosphere, industry and the power sector turn out to kill fewer than vehicle emissions, the data shows.
"Cars and lorries emit right by where people live and work and so have a greater impact," explains lead author Steven Barrett.
The findings also pinpoint where the deaths happen: 2,200 every year in Greater London, another 630 in both Greater Manchester and West Midlands.
Because the model includes Europe-wide weather patterns, it also reveals how far the deadly effects of air pollution can reach.
Of the 19,000 annual UK deaths estimated, 7,000 are due to pollutants blown in from the continent. In London, European pollutants add 960 deaths each year to the 2,200 caused by UK combustion fumes.
UK metropolitan area
Estimated deaths linked to UK combustion emissions
Estimated deaths linked to UK + EU combustion emission
SOURCE: DR STEVEN BARRETT
Greater London
2,200
3,160
Greater Manchester
630
810
West Midlands
630
820
West Yorkshire
520
700
South Yorkshire
350
480
Yorkshire and Humber
280
390
Merseyside
240
310
But the international trade in deaths goes both ways. More than 3,000 European deaths can be attributed to UK emissions the authors say.
"We are all in this together," agrees Fintan Hurley of COMEAP.
"If one city were to clean up its traffic, it would still be dealing with pollution from traffic elsewhere."
Continue reading the main story
"START QUOTE
We estimate the premature deaths are costing the UK at least £6 billion a year"
Dr Steven BarrettStudy co-author
The propensity for air pollution to straddle boundaries has political, as well as medical, implications.
The UK is currently facing the threat of prosecution by the European Union for serial violations of air-quality standards.
But the new study suggests that 40% of the key pollutant, PM2.5 (particles up to 2.5 micrometres in diameter) comes from abroad.
"The EU-attributable particulates in London are likely to have significantly contributed to the violations, because they raised the background concentration on which local short-term peaks were superimposed," explains Steven Barrett.
Not that these legal niceties are of any help to those most at danger from polluted air. The analysis identifies key improvements that would help reduce the health burden of air pollution.
Practical measures include the reduction of black carbon emitted in car exhausts - especially from older cars that fail to burn their fuel completely.
Reductions in nitrogen oxide (NOx) emissions would also help, though perhaps at a cost of making vehicles less efficient.
Far more effective, experts say, would be to invest in public transport, taking cars off the road altogether.
Such improvements would come at a cost, but so does continuing with business as usual.
"We estimate the premature deaths are costing the UK at least £6 billion a year," says Steven Barrett, "and perhaps as much as £60 billion."
For comparison, Crossrail is projected to cost £14.8 billion to build and expected to remove 15,000 car journeys during the morning peak.
Meanwhile, Steven Barrett is moving his attention to another form of public transport, and hopes soon to conclude a detailed assessment of the health impacts of either a third runway at Heathrow and of the alternative Thames Estuary Airport proposal.