Lomiko Will Drill To Prove Up A Historic Quebec Graphite Target LMR.v
Please Note: Blog posts are not selected, edited or screened by Seeking Alpha editors.
Deep Value, Commodities, Gold
Seeking Alpha Analyst Since 2006
Sufiy is a Seeking Alpha contributor.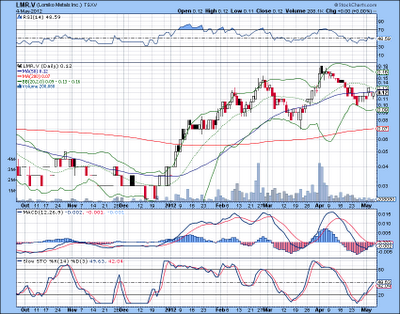 We have more promotion from Lomiko Metals and more colours to the potential of its Graphite project in Canada. Graphite is in the headlines of news letter writers - James Dines has made his pick as well, now the exploration results will separate the pump and the real projects.
Lomiko Outlines 2012 Goals for High Purity, Large Flake Crystalline Graphite Exploration LMR.v
"Apparently, CEO of Lomiko Metals has found the right words to position the company into the "new hot market" - Graphite - at the Toronto conference yesterday. He buys the shares himself and it always helps communication with investors. Now we have more details about the Graphite project and plans for its development to digest."
Venture Capital Radio interviews Lomiko Metal's CEO Paul Gill about Graphite LMR.v
Lomiko to Outline 2012 Drilling Plan for Quatre Milles at Toronto Graphite Conference May 2, 2012 LMR.v
"CEO of Lomiko Metals continues to Buy shares of his company."
Lomiko Metals - Energy Metals: Graphite and Lithium
"Looks like Lomiko Metals has found its new life after it has acquired the Graphite property and engaged in its marketing. Rick Mills has covered the Graphite story recently and we will see who has the goods in the end. So far the stock has a very impressive run from 2 cents to as high as 18. Real exploration program should show the potential of this project."
Resource Clips:
Lomiko Will Drill to Prove Up a Historic Quebec Graphite Target
By Greg Klein
Will history repeat itself at the Quatre Milles Graphite Property? Lomiko Metals TSXV:LMR CEO Paul Gill evidently thinks so. His company nabbed the 1,600-hectare southwest Quebec property in January, partly because of its infrastructure but largely because of impressive historic results. NowLomiko's about to bring those assays into compliance and, with success, develop a flake-graphite resource by December.
The company's Phase I drill program intends to prove up historic work by Graphicor Resources, which undertook prospecting, mapping, geophysics and a 26-hole, 1,625-metre program between 1989 and 1991. Non-43-101 highlights include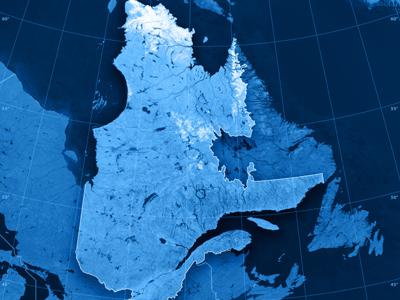 Quebec: Lomiko's Quatre Milles Project is located in the Laurentian region.
8.07% carbon over 28.6 metres
8.07% over 8.7 metres
5.88% over 11.2 metres
8.6% over 7.6 metres
5.99% over 10.3 metres
5.72% over 8.1 metres
4.64% over 9.6 metres
The highest grade was 15.48% over 0.5 metres. Drilling was shallow, with a few intervals beginning less than a metre from surface and the deepest starting at 59.5 metres to reach a depth of 69.8 metres.
"The assays are historic and need confirmation, but we have confidence we'll be able to verify them. Graphicor has done good work and has filed with the appropriate ministries in Quebec and Ontario," Gill says. "One feature is that the drill holes are shallow; the intercepts start almost from surface. All the holes were located between a 300-by-400-metre area over an EM conductor. There is a target there."
Having completed a $903,000 private placement in March, Lomiko's Phase I program will begin late spring or early summer with a $307,000, 16-hole, near-surface program to bring Graphicor's results into 43-101 compliance. "There's no major road building to do, so we anticipate Phase I will take a month to a month and a half," Gill adds.
Contingent on first-phase success, Phase II will consist of a $724,000, 38-hole program, which would take up to two and a half additional months. Work will be done by Consul-Teck Exploration of Val-d'Or, whose VP Project Management Jean-Sébastien Lavallée wrote the 43-101 technical report thatLomiko filed in March.
"Val-d'Or is an easy hour drive away," Gill points out. "There's all that geological talent and skilled personnel there. Our property is 26 kilometres by paved road from the Trans-Canada Highway. There's power in the area. One of the main attractions was infrastructure and access."
Southwest Quebec has hosted about 100 graphite mines since the mid-19th century, the best-known being Timcal Graphite & Carbon's Lac-des-Îles Mine. Now in its third decade of operation, it's the largest of North America's two flake-graphite producers. Simon Moores, a graphite authority who writes for Industrial Minerals, reports that Timcal plans to move its operation to a second, nearby open pit later this year. "They reckon that's good until 2018," he says. Timcal has other targets on its privately owned land as well, the result of ongoing drilling. Lac-des-Îles is about 70 kilometres from Quatre Milles.
Graphite is "not an entirely new direction for our company because we've already been in the sector for minerals used in lithium-ion batteries," Gill explains. Lomiko's Chile property, Salar de Aguas Calientes, is a salt lake with surface brines containing lithium, as well as sulphate and potash. Lomikoowns 1,900 hectares comprising eight of the lake's nine claims. The remaining 400-hectare claim is held by Sociedad Quimica y Minera de Chile, the region's biggest lithium producer. SQM's plant is 70 kilometres away. "We're working on changing that project from exploration claims to exploitation claims," Gill says.
The assays are historic and need confirmation, but we have confidence we'll be able to verify them-Paul Gill
Exploration last year in northern BC's Cassiar Gold Camp found a 122-hectare zinc anomaly on Lomiko's 5,407-hectare Vines Lake Property. In October, the company announced that soil analysis showed results up to 0.28 grams per tonne gold and 19.5 g/t silver. Most of the samples came from the eastern part of the property, adjacent to and surrounded by China Minerals Mining's TSXV:CMVTable Mountain Project. Table consists of three former underground gold mines with some infrastructure remaining on care and maintenance. Vines Lake has year-round paved road access via Highway 37N.
Gill's background includes Norsemont Mining, where he served as VP Business Development, President/CEO and CFO up to 2006, as the company's market cap rose from $1 million to $50 million.
"Lomiko has a very specific mandate," he declares. "We acquire properties where we can buy 100% and continue to explore. We do everything we can to mitigate risk and maximize potential reward for shareholders. We're liquid, and we've traded quite a few shares, so people have the ability to get in and out. We have about 20% insider ownership at this point. If there's a basket of stocks that investors are looking at, I think Lomiko is a well-positioned, valuable play."
Gill's presentation at today's Graphite Express-Conference in Toronto will further outline Lomiko's plans. "I'm absolutely looking forward to it," he says. "We need to get the story out there."
At press time, Lomiko had 66.4 million shares trading at $0.115 a share for a market cap of $7.6 million.
Disclaimer: Lomiko Metals Inc is a client of OnPage Media, and the principals of OnPage Media may hold shares in Lomiko Metals."
Please, do not forget, that we own stocks we are writing about and have position in these companies. We are not providing any investment advise on this blog and there is no solicitation to buy or sell any particular company here. Always consult with your qualified financial adviser before making any investment decisions.
Seeking Alpha's Disclosure: Past performance is no guarantee of future results. No recommendation or advice is being given as to whether any investment is suitable for a particular investor. Any views or opinions expressed above may not reflect those of Seeking Alpha as a whole. Seeking Alpha is not a licensed securities dealer, broker or US investment adviser or investment bank. Our analysts are third party authors that include both professional investors and individual investors who may not be licensed or certified by any institute or regulatory body.