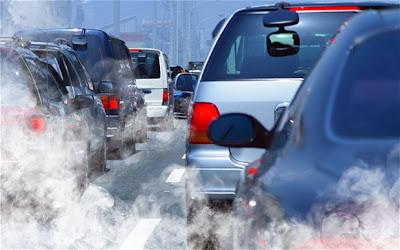 One more reason to Dump The Pump...
Clean Air and Electric Cars: Traffic pollution kills 5,000 a year in UK - Exhaust fumes are twice as deadly as roads
"We are talking a lot about the economic benefits of electric cars here, and that they will be the only economically viable solution for our personal mobility after the Oil Crunch. Unfortunately, there is another side of the oil - nobody is talking enough about, oil kills and not only on the battle fields far away during the "liberation" military occupations, but literally on the streets every day. If this price was seriously accounted among the other considerations about electric cars, we think, that our tipping point for the mass market for electric cars would be already here.
We all have the right for the Clean Air, but why not on the streets? We do not think that the air quality in Los Angeles is any better than it is in London - all mega cities in the world are killing thousands of their residents by allowing to drive ICE cars slowly day by day."
Lithium Rush: The Art Of War In The Markets: China Getting Ready For 5 Million Electric Cars by 2020
"All our estimations about the Electric Cars and their adoption rates will be proven wrong in the end. It have happened with all technology, we can not really predict the future here. We can only estimate the trend. And here is another reason to move to Electrification of our transportation - Clean Air. When you have it - you never need it. Just the look at the picture from Beijing tells you why China is so anxious to move fast in the electric cars space. Question is not only about survival economically in the Peak Oil environment, but about surviving physically in our mega cities and China will have majority of them on its soil very soon."
Clean Technica:
Most-Polluted Cities in US (American Lung Association Infographic), & Find Out Your City's Grade
The American Lung Association (ALA)recently released its latest State of the Air report, State of the Air 2012. To go along with the report, it also published an infographic on the most-polluted cities and the "cleanest city" in the US. That's below, followed by a guest post from Dr. Albert Rizzo, pulmonologist and Chair of the American Lung Association.
But first… in case your city isn't on the infographic below and you're curious about what grade it got, you can enter your zipcode in the widget below and find out your city's grade.
Now, on to the infographic and guest post

GOOD NEWS IS IN THE AIR (AND SOME NOT-SO-GOOD, TOO)

Ever wonder how safe the air is to breathe where you live? As a pulmonologist and as chair of the American Lung Association's National Board of Directors, I'm pleased to share with you the best tool we have for answering that question: the American Lung Association's State of the Air 2012 report.
We just released this, our 13th annual report card on April 25. With the latest report, we found a mix of really good and not-so-good news.
But first, let me give you 5 quick reasons why healthy air should matter to you:
If you have children or teenagers, air pollution can affect how their lungs grow and function. Roughly 80 percent of their lungs develop after they are born, and continue to grow throughout their adolescence. Having lower lung function means they may be at higher risk for developing lung disease-and needing a doctor like me-their entire lives.
If someone in your family has a lung disease like asthma, air pollution can make it worse. Studies show that air pollution can aggravate their asthma, making it harder for them to breathe and increasing the likelihood that they may have to go to the emergency room.
If someone in your family has cardiovascular disease or diabetes, particle pollution may increase their risk of heart attack or increase their risk of emergency room or hospital admission.
If you enjoy working or exercising outdoors, your lungs can be harmed by the pollution without you even realizing it. Healthy lifeguards, police officers, and hikers in the mountains have had measurable reductions in lung function when they were active outdoors during high pollution days.
Most critically, air pollution increases the risk of dying early. Yes, even at levels of pollution in the United States, ozone and particle pollution can kill.

State of the Air 2012 report covers the years 2008-2010, the most recent quality-reviewed data available. So what did we find? Here's the good news:
We are breathing much cleaner air across the nation. We can thank the Clean Air Act for that, because that life-saving public health law has led us to clean up major air pollution sources including coal-fired power plants, diesel engines and even SUVs and pickup trucks.
Eighteen of the 25 cities most polluted by ozone, including cities like Los Angeles, had the lowest smog levels since our first State of the Air report was released in 2000.
Seventeen of the 25 cities with the worst annual particle pollution levels, including Los Angeles, Pittsburgh and Cincinnati, enjoyed the lowest ever levels.

And now, the not-so-good news:
More than four out of 10 of us (127.2 million people) live in areas that received an F for unhealthy levels of either ozone or particle pollution.
More than 5.7 million of us live in areas that failed every pollution test. They had unhealthy levels of ozone, year-round particle pollution and short-term particle pollution.
Air quality standards set by the EPA remain outdated. That means that we're not trying to clean up enough pollution, based on what current research says we should be doing to protect your family's health; and
Some members of Congress continue their efforts to dismantle the Clean Air Actand block our ability to protect your health.

As you can see, we have plenty of work to do to ensure that all Americans, not just some of us, breathe clean, healthy air.
Too many people continue to develop life-threatening health conditions; many even die prematurely, as a result of inhaling dirty air. Unfortunately, some in Congress are steadfast in their efforts to weaken the Clean Air Act.
We urge you to join in our fight for healthy air. Start by finding the grade your community got in our latest State of the Air report. Type in your zip code in the report card above.
Contact your members of Congress and ask them to support the Clean Air Act-including standing up against any actions to weaken, block or delay full implementation of this lifesaving law.
We also want to hear why you want healthy air. Share with us why healthy air means so much to you and your family. Learn more about how air pollution impacts your community by visiting: www.stateoftheair.org.
Together, we can have truly healthy air in our future, but that all depends on our actions today. We look forward to hearing from you.
Albert A. Rizzo, MD
American Lung Association National Board Chair"