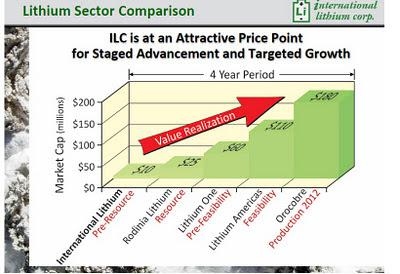 Consolidation Potential for Lithium Juniors GXY.ax, LI.v, ILC.v, ORE.ax, RM.v
"We have been talking here about the security of supply of strategic commodities for quite a while. All major players in Lithium batteries market prefer to keep chips close and bought strategic stakes in lithium developers. Now we have a consolidation in Lithium junior miners started by Galaxy Resources. From the four Lithium darlings we are following here: International Lithium, Rodinia Lithium, Lithium One and Orocodre - Lithium One is taken out now.
James West - the founder of Midas Letter - still has his golden touch.
James West has been talking about Lithium One and International Lithium in his recent Energy Report and now one of his picks in this sector is bought out.
Galaxy move will add Lithium and Potash brine in Argentina to the portfolio of hard rock mining lithium in Australia, lithium chemical plant in China and lithium battery plant in the making in China as well. Can we talk about vertical integration in the Lithium industry already now?"
Mining Weekly:
Galaxy/Lithium One merger completed
PERTH (miningweekly.com) - The merger between ASX-listed Galaxy Resources and TSX-listed Lithium One has now been successfully completed, and an application has been filed to de-listed the common shares of Lithium One from the Canadian board.
Galaxy MD Iggy Tan said on Wednesday that Galaxy had now boosted its global lithium resource base and had become a major global lithium company with assets in Australia, China, Canada and Argentina.
"Galaxy will require more lithium resources over the next few years, and Sal de Vida, along with James Bay, has added to our existing Australian resource inventory. Together with our China processing assets, we now have ample resource to continue to grow the lithium business and drive the long-term value of the company."
Tan noted that with Galaxy's expertise across project development and lithium mining, processing and marketing, the company would be able to fast-track the development of the Sal de Vida operation, as it did at the Mount Cattlin lithium mine and the Jiangsu lithium carbonate plant.
The Sal de Vida lithium and potash brine project, in Argentina, has the potential to produce some 25 000 t/y of lithium carbonate and 107 000 t/y of potash."