There are different angles to analyse a stock:
-fundamentally: how is the profit, the balance sheet, the market, the outlook
-technically: how is the share price behaving.
Lets have a look at BORN, a producer of alcohol for human consumption. BORN is one China`s biggest producers after their recent capacity expansion.
What makes BORN an attractive investment from a fundamental perspective?
BORN is the market leader and the cost leader in their segment. They are one of the biggest producers of alcohol for human consumption.
You can buy shares in this company for a franction of what investors paid before the scare for Chinese stock: More than 80% below the past stock price.
This decline in stock price is mainly due to false rumors and the bad reputation of Chinese companies in general.
Another reason for the big decline is the sale of shares by one of the bigger shareholders after an dispute with the company/management. This sale has been finalized in the past months, eliminating that downward pressure on the price.
The stock trades currently at such a low price that within 2 years the profit ``pays`` for the purchase price, a PE below 2.
BORN has audited financial statements for 2011 and before. A reputable audit firm (BDO) signed off on the financials.
80% of he production capacity has been PRESOLD for 2012.
A substantial part of the raw material (corn) has been purchased for 2012 as to reduce dependency on cornprices.
The Chinese government stopped issuing of new permits for alcohol production.
There is a risk regarding the sales prices.This industry produces a commodity and the sales prices are set on the day of distribution, based on market prices at that time. As one of the most efficient producers of alcohol, the risk is limited because the bottom price for the market will be set by the least efficient producers. Those producers will stop the productions (and limit the supply,so increase the price) once they make losses.
From a technical perspective we can see the stock price seeking its bottom for the past months.
Early 2012 the price sharply increased after the announcement of the booking of 80% of 2012 capacity. Selling pressure (see before) made the price slide back to the 3 dollar area.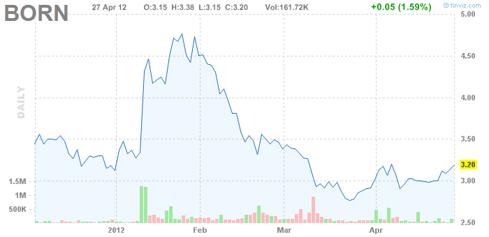 Since mid March 2012 you can see a gradual increase of the stockprice, adding 20% or so.
With a good quality stock, and selling pressure gone, there seems to be a great opportunity for BORN to double or triple in value. A stock like this should easily be valued at a PE of 6, tripling in value.
A 10.000 dollar investment could grow to 30.000 dollar. Do I have your interest now??
Cheers, a toast on the good health of BORN.
Disclosure: I am long BORN.