Newcastle Investments
Newcastle , NCT, is a unique company with unique financial constructions.
Originally, NCT invested in loans backed by real estate, and refinanced these loans.
Example: Company A asks for a 100 dollar loan, guaranteed by an office building. NCT would give them the 100 dollar and would refinance this with a 100 loan from bank B. The deal with the bank is that they only have recourse to this specific loan of company A. So in the extreme case that company A would go bankrupt and all money would be lost, then NCT would not lose money, bank B would need to write off their loan.
So, at time of lending, NCT would have in their balance sheet
Loan to company A at 8 % interest 100 debit
Loan from bank B at 7% interest 100 credit.
NCT will gain money on the difference in interest between the two loans being 1%. If company A would cease to exist, then NCT would eliminate the two loans, no impact on the result.
However, US accounting rules did impact the results: by USGAAP, NCT need to write down the loan to company A if the value of the real estate decreases below the loan value but can not write down the loan from bank B.
So, if the real estate is only worth 50, then NCT need to write down 50 from the loan. This sounds unfair because NCT would never lose on those deals. Anyway, these write downs created a lot of losses for NCT in the past. Somehow these losses will be reversed when loans get paid back to bank B or if the real estate increase in value again. In any case, those paper losses do not impact the cash flow.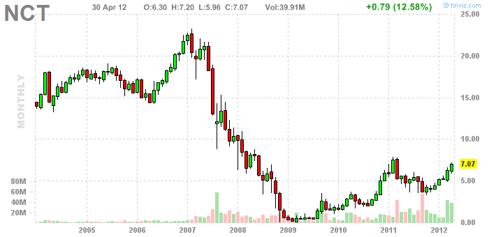 In the meantime, NCT will keep generating cash flow for the difference between interest percentages.
And, as NCT is a REIT for tax purposes, NCT need to pay at least 90% of this cash back to their shareholder. This positive cash flow makes that NCT now pays more than 11% dividend to their shareholders. And this cashflow is solid for the future as the loan portfolio is stable.
NCT recently entered a new business:MSR, mortgage service rights. If in the USA you take a mortgage, the bank owning the mortgage pays a percentage of the interest to a company to ``service`` the mortgage.
Servicing includes collecting interest, handling inquiries etc. Previously, the big banks would handle this service and earned a lot of money with it. Now banks are restricted by laws and regulations, making many banks wanting to sell these MSR. So, many banks offering these MSR against attractive gains, up to 25%. So, companies like NCT can pay the bank 100 dollar to buy the servicing loans, and NCT would earn 25 dollar per annum.
The dividend is now 80 cents per share of 7.07 dollar. The expectation is that the dividend will increase to 1 dollar per year. After this increase your dividend would be close to 15%, or more likely, the share price will increase. In either case you win.
A shareprice increase until 10 dollar per share, an almost 50% increase, would give a future dividend of 10%, not unrealistic. Since October 2011, the share increased from 3.50 to 7.07, a 100% increase. A further increase to 10 dollar seems reasonable given the dividend prospect. Where else can you find a 10% dividend?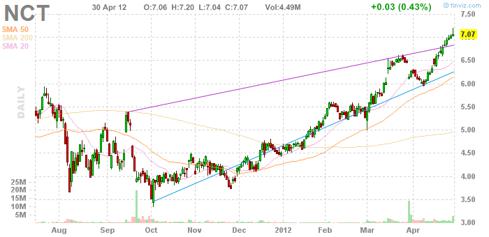 So, buying a share of NCT for 7.07 could give you a dividend of 15% per annum or could make your share increase to 10 dollar and 10% dividend. In either case you win.
Sounds like a good deal??
Disclosure: I am long NCT.