GFOX- A Penny Stock Destined For Pennies
Jan. 21, 2014 10:30 AM ET
GFOX
Please Note: Blog posts are not selected, edited or screened by Seeking Alpha editors.
Seeking Alpha Analyst Since 2014
Short seller on watch for overt fraud
''An EARLY $10,000 INVESTMENT Could Return $282,000 WITHIN WEEKS…''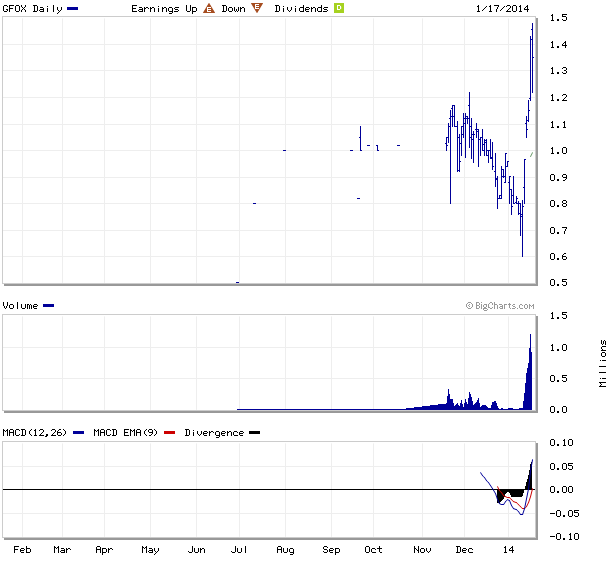 http://grayfoxpetroreport.com/
Or maybe slightly less, to the tune of ''$270,665.34'', if you happen to be the paid author of the report describing the compensation received for writing the glossy report on Gray Fox Petroleum, the hottest Oil and Gas Exploration company to emerge on the pinks since, well NAMG and PSON, the other recently abandoned Tobin Smith Oil and Gas promotions.
The small font disclaimer is evidently tucked away neatly in the bottom of the report with one intention in mind; try not to read it before investing in this company.
''Cenad Ltd. has paid $270,665.34 for the dissemination of this info to enhance public awareness for GFOX''
For those willing enough to reach for a monocle and work through that disclaimer, the truth suddenly becomes a lot less opaque.
Prior to the ticker and name change, GFOX was knows as =VTCH, with a business description of 'interior design and architectural visualization, 3D rendering and architectural animation services'
With no real viable business or assets, come June 7th 2013, the company became Grey Fox Petroleum with the intention to 'explore alternative business opportunities within the oil & gas industry'.
According to the management changes, a Czech gentleman by the name of 'Viatcheslav Gelshetyen' sold 7,000,000 shares to the new 25 year old CEO Lawrence Pemble in consideration of $50,000 in cash.
With the new CEO Pemble owning 78% of the issued and outstanding shares, he became sole director and officer of the Company, Chief Executive Officer, President, Treasurer and Secretary.
Following a 8:1 forward stock split, this resulted in a share structure of:
75,000,000 authorized
34,560,000 Outstanding
18,400,000 shares LP
16,160,000 free trading stock remains
Current market cap: 47.87 mil USD
The accumulated deficit for the company stands at $348,416, negative working capital $22,470. With zero revenues since inception and $6,289 cash on hand at September 30th, 2013, the UK domiciled CEO LP will be paid a base salary of $120,000 and be entitled to receive 3,000,000 shares of common stock issued at various increments.
So with CEO LP at the helm, the one man band was officially created. According to SEC filings, his virtual office is located in Texas- as seen here-
http://www.regus.com/locations/virtual-office/texas-dallas-lee-park-center
Along with a flash new website as seen here http://www.grayfoxpetro.com/, and a business change, all that was left for the transformation to take hold was a real business opportunity.
With that, according to the most recent 10Q, a lease purchase agreement was made to purchase from 'FFMJ, LLC' '22 separate oil and gas leases issued by the Bureau of Land Management' ' for an aggregate price of $250,000'.
With less than $7,000 cash on hand, to complete this transaction a cash injection was required. Step forward a recently incorporated Marshall Island company, 'Rooftop Investments, LLC'.
The Securities Purchase Agreement,
http://www.sec.gov/Archives/edgar/data/1546589/000101968713002684/gray_ex1001.htm
shows 500,000 shares were sold for $150,000 or $0.30c a share.
Thus far the company has paid $175,000 of the purchase agreement to date, with the $75,000 payment due at various increments.
Should GFOX be in a bind and fail to raise the additional funds on the given payment schedule, the ownership of the leases will revert to FFMJ LLC:
The Company must drill a test well with a surface and bottom hole location on the Leases for the purpose of hydrocarbon exploration and production which must achieve a depth of 6,000 feet, or a depth as otherwise agreed to by the parties. If the Company does not begin drilling with a rig capable of total depth on or before July 5, 2015, the Leases will be reassigned to Seller.
The question is why is FFMJ LLC happy to part with the 22 oil and gas leases at such a fire sale price of $250,000 when Tobin Smith sees a '$1 Billion Oil Discovery' possibility? http://grayfoxpetroreport.com/
It would seem FFMJ is set to benefit in either scenario. In all likelihood they sold their asset at fair value, if not more and in the event the final installments are not made, ownership appears to revert to them.
More interestingly, GFOX raised cash via REG S placement with a non US domiciled entity. The listed purchaser on the Marshall Island based, Rooftop Investments, LTD shows the following:
PURCHASER:

 
 
 
 
 

Rooftop Investments Ltd.

,

 

a Marshall Islands Company

 
 
 
 
 
 
 
 
 
 
 
 
 
 

By:

 

/s/ Berlinger Renee

 
 

Name:

 

Berlinger Renee

 
 

Title:

 

Director

 
 

Address:

 

Trust Company Complex, Ajeltake Road

 
 
 
 
 

Ajeltake Island, Majuro

 
 
 
 
 

MH 96960 Marshall Islands

 
 
 
 
 
 
 
Berlinger Renee has signed off on multiple transactions in this jurisdiction. Of the many entities, he appears to have been tied as an 'advisor' to an SEC suspension, US Farms Inc,http://www.sec.gov/litigation/suspensions/2012/34-66232.pdf.
According to the FBI report on CEO Yan K Skwara' US Farms Inc, 'as seen here:
''Skwara, 47, of San Diego, California, was the president of U.S. Farms, Inc., a Nevada corporation that promoted wellness-based products. Skwara pled guilty on April 20, 2012 to engaging in a scheme to pay kickbacks to a pension fund fiduciary to induce the fiduciary to misappropriate money from a pension fund in order to buy restricted common stock at inflated prices. Sentencing is scheduled for July 3, 2012.''
http://www.fbi.gov/miami/press-releases/2012/southern-district-of-florida-securities-and-investment-fraud-initiative-results-in-charges-against-15-individuals-in-12-separate-cases
According to This excerpt taken from the USFM 8-K filed Oct 2, 2008, you can see Rene Berlinger played advisor to Yan Skwara, as seen below:
/s/ Max Riederer
By:
Max Riederer
Its:
Manager
ADVISOR:
SELLER:
/s/ Rene Berlinger
/s/ Yan K. Skwara
By:
Kaper Holdings SA
By:
Yan K. Skwara
Its:
Corporate Director
Its:
CEO
By:
Rene Berlinger
http://www.wikinvest.com/stock/US_Farms_Inc_(OTC:USFM)/Miscellaneous
With Gray Fox Petroleum trading near the post- split highs, and only a bundle of 22 questionable asset leases that could revert in ownership to the seller, it commands a market cap of $47.87 million.
It is quite clear from the various ongoing paid promotions, the current share price is unsustainable. Once the transient efforts of Tobin Smith have tired and eventually expired, it becomes a question of contending with the 16,160,000 million free trading shares, predominantly issued at severe discounts to the current price.
With one 25 year old, UK domiciled CEO, a satellite office in Dallas and unregistered stock being sold to shady offshore entities in the Marshall Islands (note the Rene Berlinger tie to US Farms), it is difficult to envisage a scenario where this company could possibly succeed post promotion.
The Rooftop Investments, LTD, connection with signatory ties to US Farms leaves one with more questions than answers.
To modify contributor Tobin Smith's words, through a font a touch bigger than his disclaimer,
'An early investment in GFOX could very easily create a 100% loss….within weeks.''
Disclosure: I am short GFOX, .
Seeking Alpha's Disclosure: Past performance is no guarantee of future results. No recommendation or advice is being given as to whether any investment is suitable for a particular investor. Any views or opinions expressed above may not reflect those of Seeking Alpha as a whole. Seeking Alpha is not a licensed securities dealer, broker or US investment adviser or investment bank. Our analysts are third party authors that include both professional investors and individual investors who may not be licensed or certified by any institute or regulatory body.