Envirostar is a Miami-based company that distributes commercial washing machines, boilers and dry-cleaning equipment. The 55-year old firm also supplies replacement parts and provides installation and maintenance services for commercial, industrial, and retail clients. According to AnythingResearch.com, the U.S. Commercial Laundry industry has little to no-growth and the recent expansion of the company's backlog indicates firms may have moved up planned purchases to 2017 to take advantage of the tax law changes.
Fiscal 2nd Quarter (Ended December 31st, 2017)
EVI reported a solid fiscal second quarter as revenue improved 8% year over year to $36 million while gross margins expanded to 23% from 21%. Net Income grew 14% to $1.5 million and adjusted EBITDA hit a company-record $3 million. For the six month period ended December 31st, 2017, operating income was $3.2 million on revenues of $62.4 million. However, in the most recent quarter, selling, general and administrative expenses grew a baffling 36.7% year over year to $5.89 million and the diluted share count has grown to 11.07 million from 10.04 million a year ago.
Jaw-Dropping Stock Performance
While the company has generated growth, the share price performance of EVI has been nothing short of unbelievable (see Exhibit A). The stock rocketed 176% in 2017, after rising over 250% in 2016. $10,000 invested in EVI five years ago, would have yielded $240,322 at the time of this writing (not including the recent one-time dividend). Not a bad return... The market value has soared to nearly $415 million.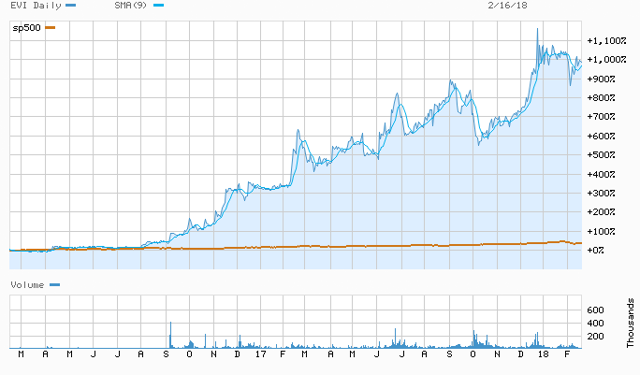 Exhibit A
Growth by Acquisition
Henry Nahmad, Chairman and Chief Executive since March 2015, has pursued an aggressive buy-and-build growth strategy. In just the past four months, EVI has completed the purchases of Tri-State Technical services, AAdvantage Laundry Systems and Sky-Rent LP. Texas-based AAdvantage cost EVI approximately $17 million, in a 50% cash and 50% stock deal. In the year ended June 30th, 2017, AAdvantage generated $27 million in revenues. Profitability numbers were not released. This acquisition also added about 50 additional employees to EVI's headcount.
Overvalued by ANY Measure
Undeniably, the company's growth warrants a premium to the market; however, the valuation has gotten far too stretched. A comprehensive analysis demonstrates that shares have 40-50% downside risk. Return on equity for the last twelve months was 9.2% while return on assets was 4.7%. The truly alarming numbers relate to the price to earnings and price/cash flow ratios. Does acquisition-fueled 8% year over year top-line growth warrant a price/earnings multiple of 120.7? We would argue it most certainly does not. Book value was $3.92 a share, creating a price/book ratio of 11.43 (as of the February 16th closing price of $36.90). Price to Cash Flow was a ridiculous 265.2 times, while profit margin was a meager 3.1%. The numbers are discounting some pretty sporty top and bottom line growth.
Insider Ownership and Holders
Michael Steiner, a Director, Executive Vice President and the Chief Operating Officer owns 500,100 shares (over $18.6 million) while Mr. Nahmad owns 7.34% of the company, 818,738 shares (valued at nearly $30.5 million). Other risks include the class-action lawsuit filed by Purcell, Julie, and Lefkowitz, investigating a potential breach of fiduciary duty by the Envirostar Board of Directors.
Symmetric Capital, a Massachusetts private equity firm, owns over 38% of the firm and instituted the buy and build strategy. Perhaps this has fueled the precipitous rise in EVI shares under the assumption that they are an acquisition target themselves. This seems relatively unlikely in the near-term because of valuation.
Dangers of Small Public Float
Concentrated ownership limits the EVI public float to 3.2 million shares. 18.62% of this float is represented by short interest (approximately 600,000 shares sold short). The average volume is only about 39,000 shares. The danger of acquiring companies utilizing the high-flying stock price is that these new owners could choose to cash out as growth slows. Symmetric Capital obviously only makes money for investors when they sell. As the stock price continues to rise, this could lead to a race for the door at some point.
Investment Thesis
Numerous questions about EVI's ability to integrate profitably and efficiently remain. The inability to rein in costs is a serious concern as are the massive bonuses to management for a relatively small company. The valuation is sky-high and the company has failed to generate any organic growth while rewarding executives with 8-figure compensation packages. As the owners of the companies that EVI has acquired cash out their EVI shares, the selling pressure could be immense. If investors want to stay clean, they may be wise to avoid this laundry distributor.
Sources: (Morningstar, Marketwatch, Thompson Reuters, Seeking Alpha, USAA Investments, and Envirostar Securities Filings)
Disclosure: I am/we are short EVI.
Additional disclosure: The author works for a long/short equity hedge fund that as of this writing has a short position in the aforementioned security.