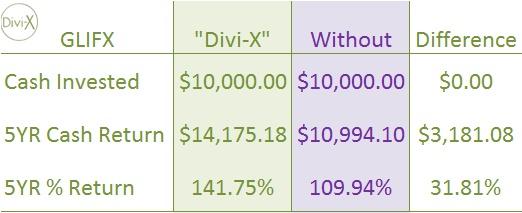 For quite some time now, I have wanted to do an article on "Divi-X" and mutual funds. I sat down on several occasions to do so, but the problem was that there really weren't any good performing mutual funds that pay a decent dividend. As a matter of fact, as of today, my screen search for mutual funds that paid dividends over 2% returned 256 mutual funds. Of those 256 funds, only three had five year returns in excess of 15%. Of those three, only one looked reasonable. That fund was the PIMCO StocksPLUS® Long Duration Fund Institutional Class (PSLDX) but that's not the one I'm going to write about this time.
Giving some thought to the impressive returns "Divi-X" added to Visa (NYSE:V) and Disney (NYSE:DIS) despite their very small yields, I thought I would change my screen search criteria to funds with distribution yields lower than two percent but higher than 0.50% and total returns in excess of 15%. That search fared better with fifty-two results. Of those fifty-two, I of course chose the fund with the highest yield (1.97%) to feature in this article. That fund is the Lazard Global Listed Infrastructure Inst (MUTF:GLIFX) Fund.
It's important to point out that this is not an article to showcase a particular mutual fund, but to show that, as with ETF's and Index Funds, "Divi-X" can work with mutual funds as well.
The Dividend Times, LLC
Disclosure: I/we have no positions in any stocks mentioned, and no plans to initiate any positions within the next 72 hours.