Biosimilars are biologic medical products. These are almost identical copies of an original product, which is produced by a different company and is not protected by patents.
Industry analysis
Biosimilar industry is growing worldwide with many pharmaceutical companies launching partnerships and collaborations with businesses specialized in R&D, clinical studies and registration (Amgen (NASDAQ:AMGN) and Actavis/Allergan/Teva (NYSE:TEVA), Biogen (NASDAQ:BIIB) and Samsung Bioepis, Novartis (NYSE:NVS)and Sandoz/Momenta). Though there will not be robust biosimilars industry if the regulatory framework (FDA) and economic conditions are not beneficial to manufacturers' bringing biosimilars to market.
Biosimilars have gained significant traction in the pharmaceutical industry. This specific sector is in a growing stage and market is expected to reach $25-35 billion by 2020. Since the first biosimilar approval in EU in 2006, there are now more than 700 biosimilars approved or in the pipeline globally. In major markets like the EU, regulators and payers have recognized the potential benefit of biosimilars and are driving their uptake. In US alone, the cost savings from switching to biosimilars are projected to be between $40 and $250 billion over the next 10 years, with the first biosimilar to hit the US market expected to contribute about $5-7 billion in savings. The Patient Protection and Affordable Care Act signed into law by President Obama amend the PHS Act to create an abbreviated licensure pathway for biosimilars to foster price competition based on BPCI Act.
Biosimilars will face regulatory uncertainty, production complexity, interchangeability and a fierce competition.
Competitive analysis
Biosimilars face competition from biobetters products (new product line extension through development of biologics) from branded companies and brand consciousness from customers.
Biosimilars are expected to compete in "brand-to-brand" competition with their reference therapies. Also, unlike generics, biosimilars discounts can be offset by rebates and service agreements for branded biologics, thereby making biosimilars less attractive. It could take longer to demonstrate stakeholders of the benefits of switching from long-term biologics treatment to biosimilars.
An important note is that FDA requests the registration of biosimilars under a different name from reference products; this will have the effect of limiting biosimilar utilization by inhibiting substitution of a biosimilar for its reference products.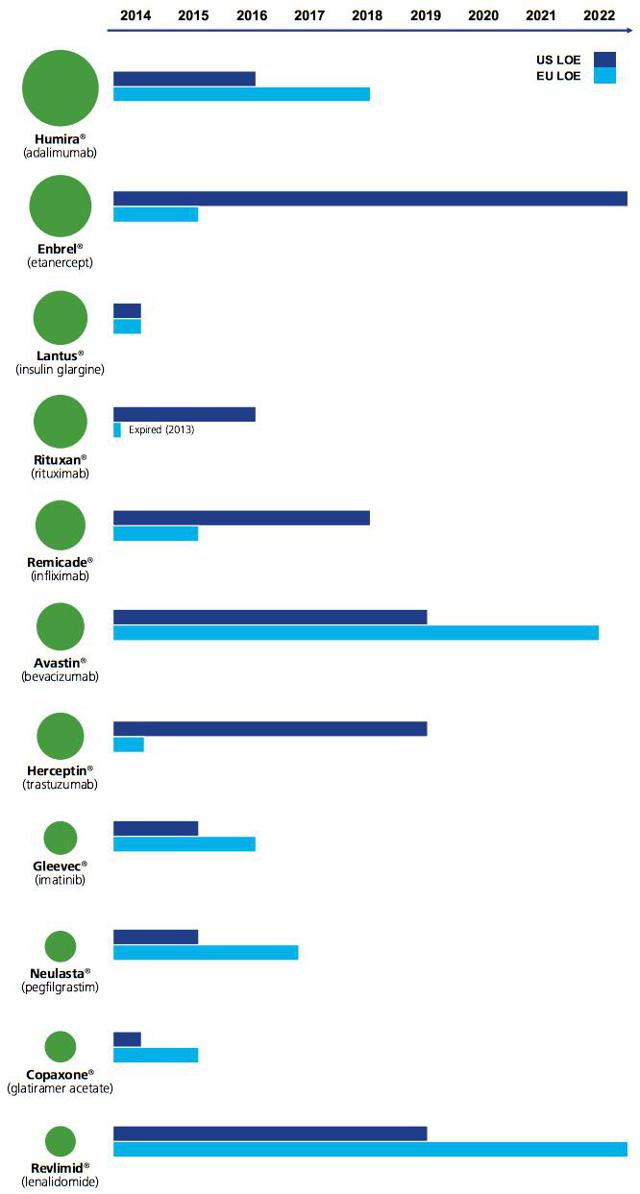 Few examples
Biogen is developing SB2 (Remicade), SB4 (Enbrel) and SB5 (Humira), which will be commercialized to target anti-TNF activity in rheumatoid arthritis, psoriatic arthritis, Crohn's disease, ankylosing spondylitis, and plaque psoriasis in adults.
Other biologics, which patents have expired or will expire soon, and which target market is reasonable large to create ROI, are Lantus andCopaxone . Lantus (Insulin glargine injection) a biologic produced and commercialized by Sanofi-Aventis, is long-acting insulin used to treat adults with type 2 diabetes and adults and pediatric patients with type 1-diabetes from control of high blood sugar. In August, Lilly and Boehringer Ingelheim launched Lantus biosimilar, Abasaglar, in UK. Abasaglar costs 15% less than Lantus. The biosimilar Basaglar has been approved in December in US, although the FDA does not officially call Basaglar a biosimilar for regulatory reasons, even if it is considered a biosimilar in Europe.
Copaxone (Glatramer acetate) is marketed by Teva to treat MS. On June 19, 2015, Sandoz-Novartis launched a biosimilar (Glatopa) of Copaxone in the US. Though the entry has impacted Copaxone's market share, it might affect the share of other MS drugs including Biogen's products.
Conclusions
Brand consciousness from consumers will create resistance to shift from one company to another, from one product to another labeled with a different name. If doctors and patients will be diffident on using or prescribing biosimilars, the market will be diminished and industry hampered.
Ref. Deloitte, Biosimilars in global markets.
Disclosure: I/we have no positions in any stocks mentioned, and no plans to initiate any positions within the next 72 hours.