June 30th marks the end of the second quarter of our DGI journey. We are in the process of converting our retirement portfolio from mainly mutual fund and ETFs into a dividend growth portfolio. Our plan is to build a portfolio of 18-20 core holdings representing about 40% of the total, with the remaining 60% in satellite holdings. The ultimate goal is to generate sufficient income during retirement to live off the dividends without the need to sell individual stocks.
Our shorter term goal, as stated in our business plan, is to convert about 65% of our portfolio to DGI stocks this year and most of the remaining in the second year. So far, we've converted approximately 37% of our portfolio (up from 25% during the first quarter). Although we are still on track to achieve our first year goal, it's becoming more difficult to find stocks that are at or below fair value, which means our progress will continue to be slow until better opportunities present themselves. Since most stocks on our watch list remained above fair value in this continued bull market, we focused mainly on filling in our core positions if the price was in fair value territory.
Core Holdings
In the first quarter, we selected 18 core holdings representing all sectors except materials (which tends to be cyclical). This quarter, we added one more "core" company, SO, to include one more utility in our core basket of stocks. Although SO has slow growth, it has strong financial ratings and a 12-year history of increasing dividends. It is one of the few utilities on our watch list that is currently considered fairly priced by Morningstar.
We also decided to swap MSFT for QCOM as a core holding. After back testing performance over the past 10 years and during the 2008/2009 recession, we found that MSFT has had 3 down years on earnings and dipped about the same in price as the S&P in 2008, while QCOM has only had 1 down year and only dipped about half as much as the S&P in 2008. In addition, QCOM has a better financial quality rating (although MSFT has a better Value Line Safety Rating). Both are about a tie on all other metrics. Based on the safety back testing, we felt the change was prudent.
The current sector profile and companies representing our core holdings are shown in the pie chart below. In accordance with our plan, our core holdings are skewed towards consumer staples and utilities (with a goal of staples, utilities, and telecom representing 50% and no more than 10% in any other sector). We got a little ahead of plan on Financial (REIT and BDC), but that will level out as we buy more into the other categories; we don't plan on adding more to these in the near future.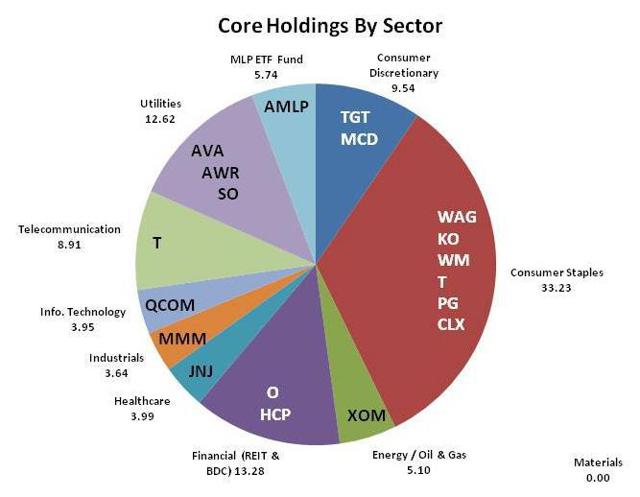 As a weighted average (current value), the core portfolio currently yields 3.67% in dividend income, with a beta of 0.491. This currently represents nearly 20% of our total portfolio, and the goal will be for this basket of stocks to represent 25-30% of our total portfolio by years' end. Our yield on cost for our core stocks is 3.91%.
The following lists the purchases made this quarter and rationale for each (positions reported represent the year end goal):
GIS - Purchased in April and again in June on two dips. In April, GIS was about 5% overvalued based on Morningstar's fair value estimate of $49, but since it rarely sells at or below fair value, we bought a partial position. Morningstar increased the fair value price by $3 after that first purchase. In June, we bought a little more on a price dip. Then it dipped again a few days later on a slight earnings miss, so we bought a little more. We now have about a full position.
HCP - Although the price for HCP has been going up lately, Morningstar still considers it 17% undervalued and it is still below its historic PE according to FASTGraphs. So, we added more shares to get to about a full position.
KO - Morningstar considers KO 7-8% undervalued, Fidelity gives a bullish Equity Summary Score, and FASTGraphs shows KO close to its historic PE, thus we added to our partial position. We currently have a 2/3 position.
MCD - Morningstar considers MCD 3-4% undervalued and FASTGraphs shows MCD close to its historic PE, thus we added some to get to about a 2/3 position.
O - Morningstar considers O slightly below fair value while FASTGraphs shows O slightly above its historic PE. As both tools indicate O is essentially fairly valued, we decided to add to our position. We currently have about a 3/4 position.
PG - Morningstar considers PG undervalued by about 10%, however, FASTGraphs shows PG above its historic PE. PG is another "stalwart" company that rarely goes on sale, so we decided to buy some more and now have a full position.
QCOM - Purchased for its bullish Equity Summary Score and good dividend growth record. We wanted to add something in the information technology sector and this one has an A financial rating and 11-year dividend growth history. Both Morningstar and FASTGraphs indicated it was at fair value. We have about a half position with the plan to buy more if the price dips.
SO -Both Morningstar and FASTGraphs indicate it at fair value (Morningstar shows as slightly undervalued while FASTGraphs shows it slightly above its historic PE). We added to bring our holdings to a little over a 3/4 position.
T- Morningstar considers T at about fair price, Fidelity shows a bullish Equity Summary Score, and FASTGraphs shows T at about its historic PE. Although the price has been moving up, we decided to add to our position while it was still in fair value territory. FASTGraphs shows that T was consistently above its historic PE in all of 2012 and 2013, and only recently went below its historic PE. With a 5% yield and long history of dividend increases, we wanted to purchase some additional shares while it was fairly valued. We now have a full position.
TGT - We initially bought TGT in mid January, only to see the price drop considerably soon after purchase. It looked like the price had bottomed out and started to recover by mid-May, so we purchased some more to lower our cost basis. We believe TGT will rebound based on its history and financial strength. We currently have a 2/3 position. At the time of this report, TGT is fluctuating between a slight loss and slight gain from a total cost basis perspective.
AMLP - This ETF gives us some exposure to the realm of MLPs without worrying about tax filing complications. We purchased some more shares to bring the value up to about a 3/4 position.
We will continue to watch for good prices to add to our core portfolio. Most utilities continue to be overvalued, as do some of our other core holdings, most notably, WAG, MMM, and, to a lesser degree, JNJ.
Satellite Holdings
We currently hold another 28 satellite stocks and 7 "speculative" or "lower conviction" stocks representing all sectors. Overall sector weightings are shown below. Collectively, our portfolio yield is 3.66% and beta is 0.632. The portfolio yield on cost is 3.71%.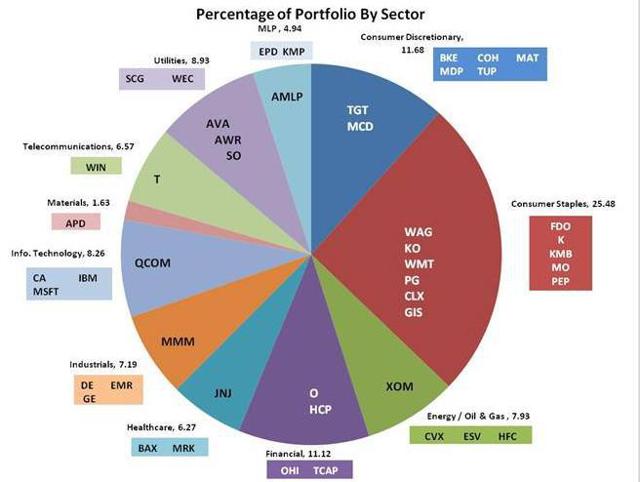 The following lists the satellite purchases made this quarter and rationale for each:
BAX - Added to our position for its dividend growth (16% five-year growth record) and strong (NYSE:A) financial rating. Morningstar still considers it 15% undervalued and FASTGraphs shows it slightly below its normal PE. Fidelity also shows a bullish Equity Summary Score.
BKE - Morningstar considers BKE 10% undervalued, Fidelity shows a bullish Equity Summary Score, and FASTGraphs shows BKE close to its historic PE. Although it has a low dividend, BKE usually pays a "special" dividend each year, which typically increases the payout from about 2% to 5-6%. It has a 10-year growth history and A- financial quality rating.
COH - We bought this in April when it was considered 18% undervalued by Morningstar and also quite a bit undervalued by FASTGraphs. Since then, the price has dropped significantly, and it's considered 25% undervalued despite the "fair value" price dropping another 10% by Morningstar. Needless to say, we are deep in the red. Based on safety back testing, it's one that we demoted to speculative and may sell.
ESV - Purchased for its high dividend yield and growth rate, 15% undervalue rating by Morningstar, and indication by FASTGraphs that it's undervalued. Due to the short dividend growth history (3 years), we consider it a "lower conviction" stock.
HFC -HFC is held by a number of DGI investors I follow on SA, so I researched as a potential company to add to our watch list. It's an energy stock (we were light on energy) with a dividend history (although it froze the dividend in 2009/2010) and pays a special dividend most quarters so it has had a high yield overall. I liked that it's a small cap with a good growth history and potential, and the Morningstar analyst report was extremely positive. I bought on a big dip on June 25 on the rumor that oil export restrictions may be lifted. I didn't think lifting the ban on exports (if it happens), would have much of a bearing on their business because they're set up to be able to refine sour crude from the upper Midwest and benefit greatly from their refineries being close to the source (lower transportation costs).
IBM - Added to our position while it continues to be undervalued (15% by Morningstar and significantly under historical PE as shown by FASTGraphs).
SCG - Purchased to add to the utility sector and due to its dividend growth record (14 years) and strong financial rating. This one was overvalued at purchase and may have been an unwise choice. I accidentally mixed up the Morningstar fair price indicator of 2 stars to mean "undervalued" when it actually meant "overvalued" and the limit order executed before I could correct my mistake. FASTGraphs showed it fairly valued, though, and it's a solid company so it's a keeper.
TUP - Purchased for its bullish Equity Summary Score and good dividend growth record. FASTGraphs indicated it was at fair value.
WEC - We purchased a partial position to add to our utility holdings on a price dip in May. We picked WEC because we were attracted to the relatively fast growth (for a utility) and financial strength. It might have been a mistake to buy WEC at the current price; we'll find out going forward. Morningstar's Analyst Report Stated" Wisconsin Energy's industry-leading double-digit dividend growth should continue." If that is the case, we will ultimately be glad we made a purchase.
Speculative and "Lower Conviction" Stocks
While most of our satellite stocks are financially strong and have solid records of dividend growth, we hold three "speculative" stocks: CA, COH, and MDP. Of these, CA has tanked (despite the bullish Equity Summary Score), as has COH. MRK has gone up in price since we purchased, but we demoted it to "speculative" because it of the safety back testing and volatility. We also have two "lower conviction" stocks, WIN and GE. Finally, we have two MLPs that we plan to sell: EDP and KMP. These were purchased prior to having a full understanding of the tax filing requirements, and we decided to not hold individual MLPs but rather purchase the ETF AMLP instead. So, we plan to sell them within the next year. The proceeds will likely be reinvested into AMLP or AMU.
International Stocks
Although we have some exposure to international stocks through companies such as MCD, WMT, PG, and others (the ratios of which don't show up on Fidelity's asset allocation calculations), we wanted to add a little more international exposure. We have an ETF (ticker PID) that tracks to the International Dividend Achievers Index. It includes a number of MLPs, telecom such as BCE and CHL, and other holdings. Currently, the distribution is about 3.3% and Morningstar gives it a 5-star rating. PID only represents about 0.5% of our portfolio, we will likely add during dips to bring it between 1 and 2% of our portfolio over the next year or so.
Plans for the Next Quarter
Over the next quarter, we plan to focus on increasing holdings in the utilities sector (including telecom), but they continue to be overvalued. In addition to our current utility and telecom holdings, our watch list includes STR, D, NWN, XEL, and BCE. From a sector diversification perspective, we are still a little light on technology, energy, and healthcare, so we'll look for opportunities in those areas as well. We're also light on industrials and materials, but we're not concerned about those being a little under weighted since they are so cyclical in nature.
If we are entering a bear market or significant correction, as many seem to think is imminent, we could find some bargains. I don't expect to pick up more than 5 additional stocks in the coming quarter, but we have nearly 30 companies on our watch list, which we track on the Morningstar site for fair value, among other screening metrics.
Since we are still creating our DGI portfolio, I'm not reporting on dividend growth this year. Next year, I plan to start evaluating and reporting dividend growth and continuing to report yield on cost. Next year will also be the time to determine if we should make a few replacements with companies that have higher dividends, faster growth, and/or stronger financials.