aleo solar AG is a Germany-based parent company of aleo solar group, operating in the photovoltaic sector. The Company is operational in one business segment, solar modules. aleo solar AG develops and manufactures solar modules using mono- and polycrystalline solar cells for the German and international photovoltaic market, as well as it sells other equipment for solar modules (merchandise). aleo solar AG operates productions facilities in Prenzlau, Germany, in Santa Maria de Palautordera, Spain, and the production plant for the avim solar Co. Ltd. in Gaomi, China, a joint venture established with Sunvim Group Co. Ltd. The solar modules are distributed by the Company's subsidiaries aleo solar Deutschland GmbH, aleo solar Espana SL, aleo solar Italia Srl and aleo solar North America Inc under the aleo brand name. Since September 2009, Robert Bosch GmbH has been a majority shareholders of aleo solar AG holding 88% of voting rights.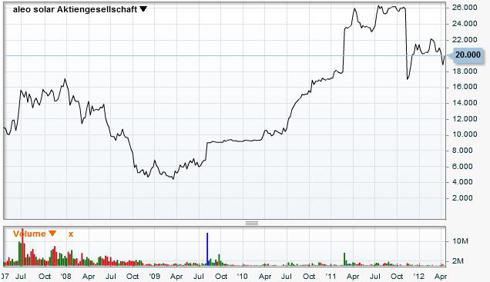 www.bosch.com/worldsite_startpage/en/def...
www.solarindustrymag.com/home.php
Disclosure: I am long OTC:AEORF.