What does a tiny plastic pallet manufacturer and Tesla have in common? Similar to Tesla, Greystone Logistics (OTCQB:GLGI) has a clearly superior product. It also costs much more than competing pallets. As a result, Greystone needs to educate its industry about the benefits of plastic pallets in general and Greystone products in particular. Unfortunately, educating consumers on plastic pallets is significantly harder than discussing the benefits of sexy electric cars.
The Company
Greystone Logistics is a tiny $6.6m market cap company that manufactures plastic pallets. They are based in Tulsa, Oklahoma and run by Warren Kruger, CEO. I promise, I don't have a thing for Tulsa, even though the last company I wrote about is also based there.
From the companies most recent press release (Sept. 7, 2016).
Greystone Logistics is a "Green" manufacturing company that reprocesses and sells recycled plastic and designs, manufactures, sells high quality 100% recycled plastic pallets that provide logistical solutions needed by a wide range of industries such as the food and beverage, automotive, chemical, pharmaceutical and consumer products. The Company's technology, including that used in its injection molding equipment, proprietary blend of recycled plastic resins and patented pallet designs, allows production of high quality pallets quickly and at lower costs than many processes. The recycled plastic for its pallets helps control material costs while reducing environmental waste and provides cost advantages over users of virgin resin. Excess plastic not used in production of pallets is reprocessed for resale.
Anyone who has worked in a distribution environment knows that the standard pallet is made of wood. They are cheap, easily made, easily recyclable and cost effective. They are also ugly, damage prone and have very short lives. Any distribution center or storage facility I've ever seen has a big ugly pile of broken pallets waiting to be recycled.
Plastic pallets on the other hand, are sturdy, hygienic and, depending on the design, very durable. They can have up to 10X the life of a standard wooden pallet, but the cost differential is large. Wooden pallets can typically cost around $8, and plastic pallets run $50-100. The challenge is helping customers understand the tradeoff and lifetime cost differential.
John Brown, a colleague of Kruger's from Montreal who sold plastic injection molds and other assets to Greystone, said the company faces a kind of paradigm challenge.

"People think recyclable products should cost less when they should cost more."
Despite the mundane industry that the business operates in, I think the Greystone Logistics is at an important inflection point in their operations. They have invested heavily in their operations over the last several years, and are in a position to benefit significantly from their expansion. But first...
The Warts
This investment is hardly without risk. In fact there is a laundry list of risks associated with Greystone. There are far more risks than I would normally consider for an investment, particularly given the company's size.
Debt
Greystone Logistics is heavily leveraged. They have invested a significant amount of capital over the last several years to increase their production capacity. As a result of the amount of leverage they have, they have negative shareholders' equity.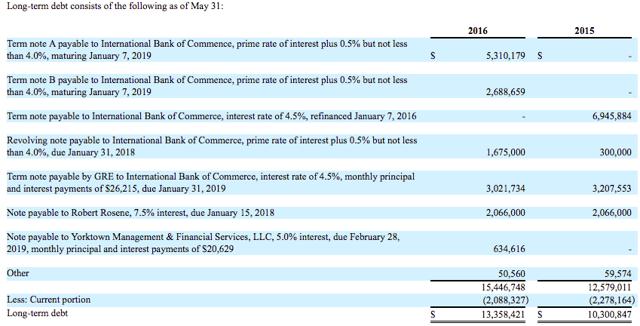 As you can see from the breakdown above, they have significant debt coming due in 2019.
Related Party Transactions
Warren Krueger, the CEO, owns a private company called Yorktown Management and Financial Services. Yorktown rents grinders and extruders to Greystone to the tune of $1.43 million per year.
Robert B. Rosene, Jr., a company director, loaned Greystone in excess of $2.0 million. Mr. Rosene has deferred principal payments for the last several years, and currently deferred principal payments until January 2018.
Greystone Real Estate, LLC, owned by Warren Krueger and Robert Rosene Jr., owns and leases two buildings to Greystone Logistics.
There are more, but those are the big ones.
Financial Controls
Straight from the latest 10K on August 29, 2016:
Greystone's CEO and CFO made an assessment of the effectiveness of Greystone's internal control over financial reporting as of May 31, 2016. [… ] During this evaluation, Greystone's CEO and CFO identified two material weaknesses. As a result of these two material weaknesses, Greystone's CEO and CFO concluded that Greystone did not maintain effective internal control over financial reporting as of May 31, 2016. The material weaknesses are as follows:

(NYSE:I) Greystone lacks the necessary corporate accounting resources to maintain adequate segregation of duties. Reliance on these limited resources impairs Greystone's ability to provide for proper segregation of duties and the ability to ensure consistently complete and accurate financial reporting, as well as disclosure controls and procedures.

(ii) Greystone, at the parent entity level, has limited resources to ensure that necessary internal controls are implemented and followed throughout the company, including its subsidiaries. Because of this limitation with respect to the ability to allocate sufficient resources to internal controls, material misstatements could occur and remain undetected, implementation of new accounting standards could be hindered and risk assessment and monitoring may not be addressed in a timely manner."
Customer Concentration
Greystone's two largest customers accounted for 56% of revenue in 2016. Their largest customer accounts for 41% of sales.
Management: In it to Win It
Certainty of death. Small chance of success. What are we waiting for?"

-Gimili, The Lord of the Rings: The Return of the King
High leverage, lack of financial controls, related party transactions galore, and customer concentration; what's not to like, right?
Despite the shaky foundation of the business, I am impressed with the level of commitment of the management, particularly Warren Krueger and director Robert Rosene, Jr. I'm normally not a fan of this level of related party transactions, but consider the following:
Warren Krueger owns 33.4% of the company
Robert Rosene, Jr. owns 16.5% of the company
Robert Rosene loaned the company $2.0 million in 2005 and has deferred principal and interest payments every year since
Loans made by the International Bank of Commerce, listed above, are secured by all of the assets of the company PLUS the assets of GRE LLC up to $6.5m, which is Kruger and Rosene's real estate holding company for Greystone's buildings. The guarantee is the full carrying value of the buildings.
I don't know anything about the financial situations of Kruger and Rosene, but they have invested significant sums into Greystone logistics over the last 11 years. I believe that they will want to see a return on that investment over time.
Also consider that Warren Kruger is frequently in the market purchasing stock with his own funds. His most recent purchase of 249,000 shares followed the press release announcing their 2016 results on September 7, 2016.
I also find some comfort in their level of disclosure around the financial controls. This is a small company with a four person Board of Directors (including Kruger). It would certainly not have been hard for them to skip disclosing a lack of financial controls. But they chose to include it in the 10K rather than ignore it.
I have followed their reporting and press releases for three years and I have always found management to be straightforward in their opportunities and challenges. They are straight shooters, in my opinion.
The Opportunity
Over the years, there have been a couple of instances where excitement over Greystone's prospects grew. There were occasional references to new equipment being purchased for a large new customer. Unfortunately, the capital spending did not generate significant new sales. I believe that the fruits of past investments are about to pay off. Greystone announced in May 2016 they invested $2.5m in new production equipment for a pooled pallet operator:
During the third quarter, Greystone acquired an additional injection molding machine at a cost of $2.5 million to accommodate the needs of a new customer", stated Warren Kruger CEO. "There were substantial costs in preparation for full implementation of the new equipment which affected the margins for the third quarter. The equipment became fully operational in March 2016. We anticipate higher sales and better margins in the fourth quarter ending May 31, 2016. We continue to invest in our company's future."
As a result of this expansion, revenue increased by $2.5 million in Q4. At this run rate, we can expect an additional $7.5m in revenue for 2017 v. 2016 - since there was only one quarter of increased revenue booked at the end of 2016.
If I flow that through the income statement, we should be looking at an increase in operating income to $3.7m from $2.2m today. This should easily double, if not triple net income. This could push earnings to $0.03 v. the current $0.01 per share. At a reasonable 15X multiple, this should value the shares at $0.45 giving us 80% upside from here.
Alternatively, if we look at cash flow, we can see the Greystone has generated about $3.0 million of cash from operations the last two years. Capital spending has been a bit elevated due to the recent line upgrades, but if we use depreciation as a guide, then we can assume $1.5m of maintenance capex going forward. This also approximates total capital spend less the guidance from the company related to growth capital spending recently.
On that basis, Greystone generates about $1.4 million of free cash flow. At 28 million shares outstanding, this is $0.05 per share in FCF, putting this at an undemanding 5X FCF. If Greystone starts to grow - even modestly - I think that we could see multiple expansion here and 10X FCF would be very reasonable. This would imply 100% upside from the current level.
I think recent developments have yet to be appreciated by the market; probably because very few people follow a company of this size.
But wait, there's more…. If you scroll down to the very bottom of the 10K from August 29, you will find this tid-bit:
Note 15. SUBSEQUENT EVENT

In August, 2016, Greystone entered into a three-year lease agreement with respect to certain production equipment with a total cost of approximately $5.4 million. The lease agreement includes a bargain purchase option to acquire the production equipment at the end of the lease term. The lease is for two Milacron injection molding machines and two pallet molds designed and dedicated to production of 48X40 pallets (the "Pallets") for a specific customer. Lease payments are payable on a per invoice basis at the rate of $6.25 for each pallet shipped and produced by the leased production equipment. The lease provides for minimum monthly lease rental payment based upon the total Pallets sold in excess of a specified amount not to exceed the monthly productive capacity of the leased machines.
Now, a recent purchase of a $2.5m machine produced a potential $10 million per year revenue surge. What will Greystone be able to do with an additional $5.4m setup? I don't know precisely, but it looks like pure upside from here.
I Have A Confession
I have owned stock in Greystone for several years. Due to the leverage and other risks mentioned, it is a small position - although I just increased it modestly. I have a fascination with the company and I used to work in logistics, so I enjoy following the industry. I think they make a great "green" product that is clearly superior to the alternatives. I have also spent a great deal of time following and researching the company that is way out of proportion to the size of the investment.
All of this is a long-winded way of saying that I may suffer from a massive case of commitment bias. Maybe this is just an over-levered, mediocre company destined to putter along. At this point, I have spent so much energy looking at it I almost don't trust my own judgment. Any guidance would be appreciated in the comments.
As I have mentioned, there are various risks associated with this company, not the least of which is their leverage. I think this is offset by the high level of investment by management. Regardless of any mitigating factors, given the size of the company, I would make sure your position size is appropriate for a company with this level of risk.
Disclosure: I am/we are long GLGI.
I wrote this article myself, and it expresses my own opinions. I am not receiving compensation for it (other than from Seeking Alpha). I have no business relationship with any company whose stock is mentioned in this article.