From Intel's CEO Employment History
Intel's (NASDAQ:INTC) five CEOs
Paul S. Otellini will retire in May at 62.
Craig R. Barrett retired at age 65.
Andrew S. Grove retired at age 61.
Gordon E. Moore retired at age 58.
Robert N. Noyce retired at age 47.
I will have more to say about Intel and my outlook for its future in my December 2012 investment letter.
More Intel Charts:
Intraday INTC Chart - 10-Year Chart - Current: INTC Stock Quote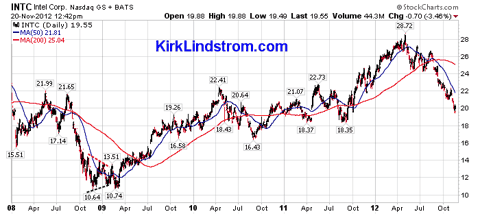 Disclosure: I am long INTC.