Ultratech Secures Repeat AP Order Win With OSAT Customer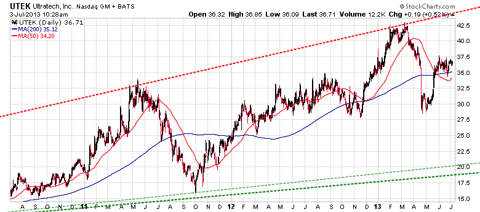 Major Asian OSAT (outsourced semiconductor assembly and test) Company Orders Ultratech AP300W for High-volume Advanced Packaging Applications
SAN JOSE, Calif., July 2, 2013 /PRNewswire/ -- Ultratech, Inc. ( My UTEK Charts), a leading supplier of lithography and laser-processing systems used to manufacture semiconductor devices and high-brightness LEDs (HB-LEDs) announced that it has received a repeat order from a leading outsourced semiconductor assembly and test (OSAT) company in Asia. The AP300W lithography system built on Ultratech's customizable Unity Platform™ will be utilized for wafer-level packaging (WLP) applications to support growth driven by communication devices. As the advanced packaging technology requirements evolve, OSATs will play an important role in establishing the supply chain. This major win further confirms Ultratech's ability to deliver operational flexibility, technology leadership and highest economic value for its customers.
"Demand for thinner mobile communication devices such as smartphones and tablets are driving much of the growth in WLP," according to Jan Vardaman, president and founder of TechSearch International. "Many of the suppliers of the integrated circuits used in these products depend on OSATs to meet their production needs. It is expected that the OSAT expansion will continue over the next several years to address this growth opportunity."
Ultratech Vice President, Advanced Packaging Technology/Nanotechnology Market Manish Ranjan said, "Ultratech has maintained a leading market position over the last decade by delivering outstanding production performance with superior cost-of-ownership solutions. We look forward to working closely with our customers in the OSAT segment to support their high-volume production ramps."
Certain of the statements contained herein..... https://seekingalpha.com/news-article/6982112-ultratech-secures-repeat-ap-order-win-with-osat-customer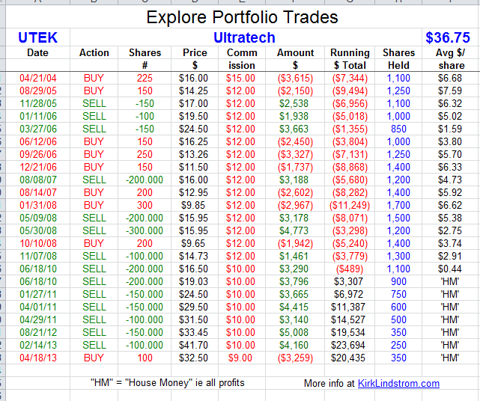 More about "Explore Portfolio"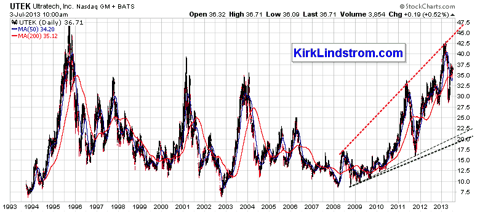 Disclosure: I am long UTEK.