On Jan 29, Lam announced GREAT Q2 2014 results that were a third consecutive quarter of record revenue with 10% revenue growth over Q1. Their guidance last quarter was for flat to slightly lower revenue so this was a huge beat. Earnings per share grew $0.37 or 74% over Q1-04.
1/29/14 Q2-2014

Q2 2014

Q2 2013

Change

Total revenue (millions)

$1,116

$861

$255.18

29.6%

Net income (millions)

$148.99

$6.41

$142.58

2225%

Diluted EPS

$0.87

$0.04

$0.83

2075%

Shares used (millions)

171.8

171.4

$0.39

0.2%
The best news is Lam expects growth to continue with Q3 revenue growing 9% to $1,215M and Q3 EPS growing another 32% to $1.15 plus or minus $0.05. My biggest worry is Lam often looks dirt cheap on a PEG and PE basis before it crashes so I take profits. Remember, "Bulls and bears make money while pigs get slaughtered."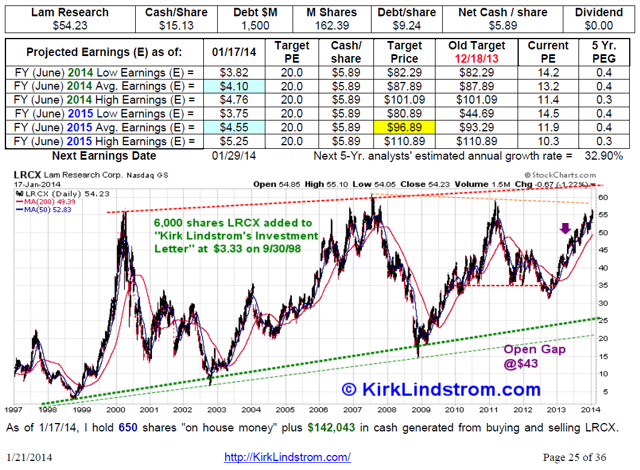 Lam does not pay a dividend. The way to "extract value" over time is to trade the volatility to take cash out and pay our own dividends or buy when very cheap and ride out the volatility.
Disclosure: I am long LRCX.