While reading another SA article by Regarded Solutions on writing covered calls to get some Christmas cash seekingalpha.com/article/858061-retirement-strategy-let-s-make-some-money-for-the-holidays-with-options I thought I would use one of my IRAs to test writing covered calls for income. Regarded Solutions generated $437 from his $90k conservative dividend growth income portfolio. I had just completed rolling over an inherited IRA CD to my brokerage account. I'm 59, retired, but still working. I'm not reliant on my retirement accounts at this time so I can be a little more adventurous in my investing.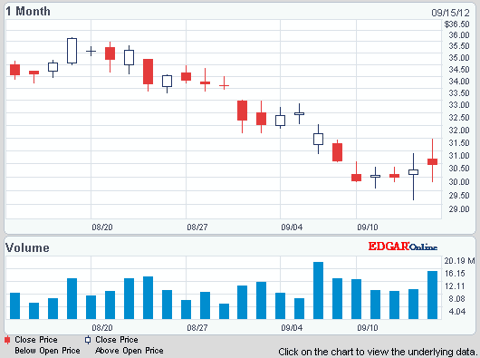 Chart is courtesy of NASDAQ.
I started out with $23,713 in the account on September 5th. I bought 700 shares of Seagate (NASDAQ:STX) at $32.66 for wrote 7 STX Oct12 34 calls $1.46 for a net of $1,007. The calls provided a 4.4% return on the investment. If the calls are assigned I have a 8.5% return in less than two months. The cost basis is now $31.22.
STX was downgraded by four analyst over the next week and the stock was trading in the $30 range. I rolled the calls down to Oct12 31 calls, a little closer to At The Money assuming the would be little upward movement of the stock. The Oct12 34 calls were bought back at $0.55 and the Oct12 31 calls were sold at $1.47 for a net of $623. The cost basis is now $30.33.
If the calls are assigned I'm limited to a 2% return. This is better than the alternative of a 5% loss in the stock price.
The next week QE3 is announced, there was a jump to $31.50, soon followed by Western Digital warning on first quater reveues, and a return to trading at the $30 level.
In two weeks I've generated $1,629 of income while reducing the cost basis of my original purchase. Five more weeks to the October expiration date!