It's been quite the runup in the US Dollar since its lows in December, and really since it broke its up and down oscillation in January--along with the inverse SPX/DXY correlation.  UUP was showing great resilience: after testing the limits of demand up by $24, its price performance has weathered this short term breather, real well... until today...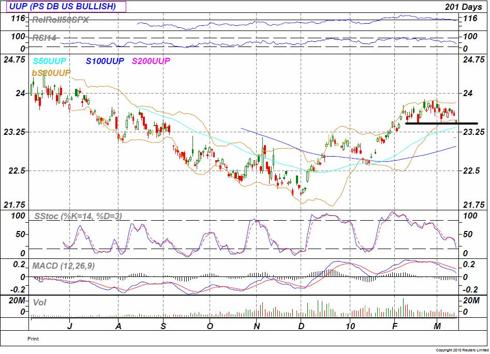 Apparently there's a sliver of supply below that $23.45 triple-bottom that had formed as we opened and closed today's session down in that ballpark, with a VWAP of 23.44. Note: on thin volume.
While the stochastic has been leaking, the price held up, as I had mentioned.  But today, RSI dropped below 50, and the 50-day Rolling Relative Strength broke down below 100.  This all points to UUP dropping out of favor here in the longer term if it can't find an onslaught of demand to keep pulling it back into that >$23 range.  That means news will have to weigh in to support USD: a Greek relapse, Dubai uprising, US federal budget/current account/trade deficite measures, etc.
That being said, Monday's price action will dictate the direction of the short term trend.  You should be able to set your clock and trade with the market on this one for some quick profits.

The Fed wonderfully orchestrated this USD ramp amidst European/Dubai growing pains.  From an instablog post on Jan 22...
Equities, however, have inflated as a result of dollar destruction. Since the Fed knows that it's "groping around in the dark, trying not to bump into a sovereign debt breaking-point," it can only milk this for so long. That being said, the USD-funded carry trade ramped-up so quickly, that a perfect window of opportunity has open. The Dollar Index (DXY) is trapped like a pinball between $78 and $73 bumpers. Right now we're at $77.50 with a long way to ease after sequential data upticks. The unwinding of the USD carry trade will snap DXY back to a precipice, providing another devaluation opportunity—i.e. equity ramp. Thenceforth, [the Fed hopes] asset reflation plus that liquidity stewing in bank vaults will have provided enough balance sheet cushion to weather the ARM reset storm through 2012.
Suffice to say, I'm waiting for the next dollar devaluation = equity ramp.
Disclosure:
No disclosures