Summary
There is a growing pessimism towards GoPro after the company failed to deliver on its astronomical expectations. Investors expected GoPro to be more than what it is.
I am seeing a similar mistake in Ferrari. The company trades at a premium to its peers but its future growth potential might not deliver on these high valuations.
To avoid regrets, investors need to define companies for what they are in order to assign deserving valuations.
There are no "luxury stocks." Premiums should only correlate to high-growth. ~73% of Ferrari's Q315 revenues were from cars and spare parts. It's a car company.
Ferrari's High Growth Expectations
Ferrari (NYSE:RACE) produces luxury performance sports cars. Ferrari is in the consumer cyclical sector under the auto manufacturers industry, with ~2,858 employees and a market capitalization of about $7.6 billion.
The "luxury" nature of Ferrari comes out even in places where it is not supposed to - valuations. Relative to the auto industry, Ferrari is 56%, 46%, 79% and 99% higher relative to the auto industry on the basis of price/earnings, price/book, price/sales and price/cash flow respectively.
Figure 1: (Source: Author with data from Morningstar - Ferrari NV Valuation)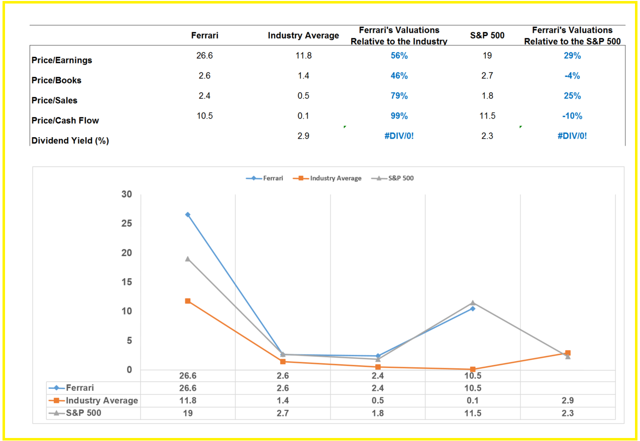 Nonetheless, high valuations can be justified if the future growth potential is high. Fast growing companies with a promising future normally trade at premiums to their peers. Take Amazon (NASDAQ:AMZN) and Chipotle (NYSE:CMG) for example. The companies have been successful despite trading at astronomical levels relative to their respective industries.
Therefore, this article addresses the high-growth impeded in Ferrari's premium valuations. The article hinges on the idea that if Ferrari cannot grow at a fast rate to justify current valuations, then it might not deserve a premium to its peers.
What The Market Might Be Getting Wrong
The misconception that there is such a thing as a "luxury stock."
One of the common adages in trading is that a great way to limit risk is to protect your downside and the upside will take care of itself. To do this, you should avoid buying stocks that are expensively priced relative to competitors. Ferrari goes against this logic and this makes it risky.
The 30% production boost will increase profitability and availability but dilute the brand exclusivity.
Ferrari plans "to increase production by 30% - from 7,000 cars to 9,000 annually - by 2019. Luxury car companies growth mainly comes from high pricing advantage. Ferrari's 30% increased production number has a waitlist. Meaning that the demand is there. But the same was the case for 2013. The demand was there and all the cars were scheduled to be sold but the company had to cut production from 7,318 in 2012 to 6,900 in 2013 in order to preserve its "exclusivity." Can't the same happen before or after 2019?
(Source: Statista - Global number of vehicles produced by Aston Martin, Ferrari and Lamborghini from 2005 to 2011)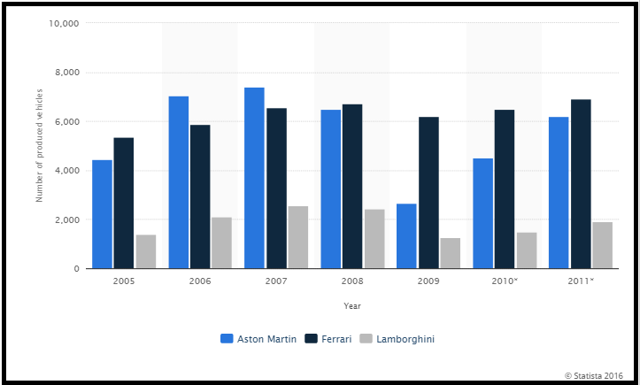 In addition, Ferrari might lose some of its pricing advantage when it boosts its car production by 30% in the next 4 years. This is because, historically in any given 4-year period, Ferrari has never grown production by 30%. The closest was 2005-2008 when it grew production by 25%. What is interesting is what happened afterwards. In 2009 Ferrari had to cut production by 8% after boosting production by 25% between 2005-2008.
(Source: Statista - Ferrari Car Productions between 2005-2013)

But 2005-2008 was not the only time they had to cut production after a higher than normal increment in production. History repeated itself 4-years later. Between 2009-2012, Ferrari increased production by 18% and this caused the company to decrease production by 6% a year later in 2013.
More buyers will negatively affect the perceived "aura" of the brand. Increasing production is not the problem, rapid production growth is.
You are simply buying an overvalued stock and expecting it to be more overvalued down the road.
There is a reason why they say "you should not fall in love with a stock." It makes it easier to think logically and identify any negative symptoms before the infection. Once Ferrari ramps up productionfrom 7,000 to 9,000 cars annually by 2019, its pricing advantage might deteriorate. But higher prices not production has been the core source of growth for the company. The high valuation relative to the industry is a reflection of a stock expected to grow faster than the industrial average. But this high growth rate might not even come to fruition. Therefore, high production might diminish its pricing advantage. Decline in pricing advantage can lead to more inventory, minimal benefits from increased production and deteriorating long-term brand exclusivity.
Catalysts That Can Cause A Nosedive
The future of luxury cars might not be in gasoline powered vehicles.
Factors that have driven purchases in luxury cars might start to change to accommodate changing consumer tastes. For instance, people are becoming more environmentally conscious.
In the not-too-distant future, the key luxury cars might not be powered by gasoline. Electric cars are greener than gasoline powered cars and Ferrari is not yet an authority on electric cars. This might hinder the company from growing in major emerging markets like China which have a pollution problem.
The curious case of GoPro - You have to define things for what they are. It makes cars. It is a car company.
People wanted GoPro (NASDAQ:GPRO) to be so much more than what it was, and those are expectations that led to disappointments. The problem was never with GoPro, the problem has always been with investors. GoPro makes cameras. It was never complicated. But people valued it hoping it could be more than that.
The same is true for Ferrari, it has an amazing brand but it is a car company. They make cars. ~73% of Ferrari's net revenues are generated from shipments of cars, including any personalization revenue generated on its cars and sales of spare parts. Valuing it for any other reason, might lead to the same GoPro result
(Source: Ferrari N.V Form 6-K)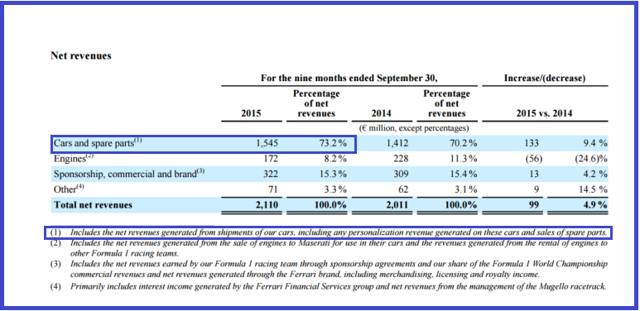 Thesis Risks
Ferrari is one of the world's most powerful brands. It is ranked highly with respect to desirability, customer loyalty and consumer sentiments and visual identity. Based on the company's Q3 2015 presentations, under customer profile, 60% of Ferrari's customers are repeat customers and 40% where new customers.
There are other strategies the company can explore. Leverage its brand to be in the forefront of electric cars and other alternative fuel sources. The brand dilution from increased production might be minimal. If minimal, Ferrari's pricing power would stay intact and this would allow them to increase revenues through higher prices and higher volumes.
The company can successfully continue maintaining exclusivity in mature markets and successfully look for growth opportunities in emerging markets.
Conclusion
Unless the future becomes vastly different, history might repeat itself. 30% production increase will increase profitability and availability. In the process it will also dilute the brand exclusivity. Looking ahead, this is short-term sighted. There is a reason why in over a decade, competitors like Lamborghini have maintained extremely low productions.
Lastly, you need to call things for what they are to avoid adding another GoPro in your portfolio. Buying overvalued stocks hoping they get more overvalued is counterintuitive and in this case, not worth the risk.