"Finishing second in the Olympics gets you Silver. Finishing second in politics gets you oblivion." - Richard Nixon
The price of Silver reached $50 back in late April of 2011, marking its highest price in over 30 years. The good times (for the holders of Sterling anyway) did not last long however, as the price had dropped back to $27 an ounce by the end of that year and was down 36% alone in 2013. It's flat for 2014 and currently sits at $19.39, so are we at a bottom here or does the downtrend continue?
Gold prices have entered a narrower trading range, so without a major move in Gold to drag and drop Silver we need to focus on other drivers. One is the demand for physical Silver itself, which was up 13% worldwide last year according to the Silver Institute. Another argument is a reversion to the historical ratio of gold to silver prices. The historical average is 16 to 1, but it is currently at 66 to 1. With consumer confidence shaky, the conversation on stock valuations growing and the end of quantitative easing in sight, there's likely less downside in gold and likely better upside in silver to close that historical gap in price.
Technicians might point out that although $19 is providing a resistance level, the 13 month price trend reveals a descending triangle and possibly bearish signal.
One of the more critical components of understanding where Silver might be headed in the future is to look at the past trends. Identifying when has Silver traded like this historically, and knowing how it has reacted in these similar environment is one of our best gauges to understand how investors will once again react today.
I specifically took the current 3 month price trend in Silver (SI) and found 23 statistically similar matches in Silver's history. In 18 of the 23 (78.3% of the time) instances, Silver was up in the next 1 month and the average return for all 23 is 3.3%.
For those interested in the longer term price trend, I looked at the current 3 year price trend in Silver when it was coming off its recent high near $50. We only found one similar instance of this 3 year price trend in the past 20 years in Silver (January 1999 to February 2002). The price was up 4.32% in the next one month.
Current 3 month price trend in Silver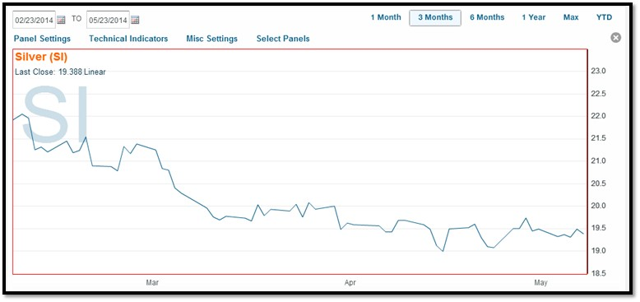 (Source: EidoSearch data 5/26/14)
Chart with the 1 month forward returns of the most similar historical instances of the current 3 month price trend in Silver. The two most significant down occurrences were December 2011 (coming off a 30 year high) and October 2008 (Financial Crisis).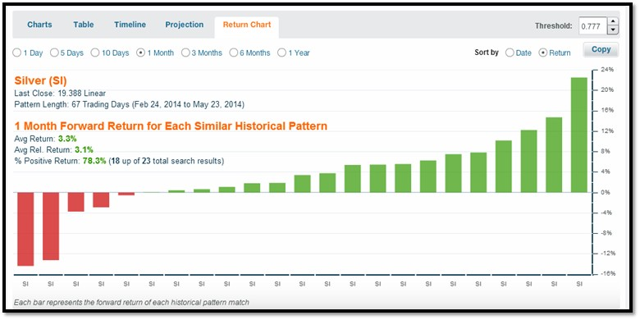 (Source: EidoSearch data 5/26/14)
Look for a rebound in Silver over the next month but call off the dogs with a drop below $18 in the short term.
Disclosure: I have no positions in any stocks mentioned, and no plans to initiate any positions within the next 72 hours. I wrote this article myself, and it expresses my own opinions. I am not receiving compensation for it. I have no business relationship with any company whose stock is mentioned in this article.