Minimal Wage Municipality Austerity
By
Keith B. Winn
Meredith Whitney was right many municipalities are going face bankruptcies. Currently, there are three municipalities in California declared chapter 9 bankruptcy there following cities San Bernardino, Stockton, and Mammoth Lakes. For example, in the State of Alabama in Jefferson County have the largest municipality chapter 9 bankruptcies in the history of the United States at 3.14 billion dollars sewers bond default.
When it a downturn in the economy for a local municipality, county or state government the government officials have make choices to make for the lost revenue. Some have performed the approach of raising taxes; others sell more debt in the financial markets, sometimes reduction of services, and decrease employees from the various departments. Scranton, Pennsylvania and surrounding areas are currently facing difficult times because the declining excellent paying manufacturing jobs left the state to lower cost countries. The recent financial crisis of real estate sector in 2008 debased their local economy. Their unemployment rate in May was 8.5% statistics according to U.S Department of Labor website. The declining operational revenues for Scranton Mayor Christopher A. Doherty made an interesting decision to reduce everyone salary equally. Over the weekend July 7, 2012 Scranton, Pennsylvania municipal employees were paid minimum wage. Many workers are very outraged over the Mayor Christopher A. Doherty decision financial to pay the $7.25 per hour for their government services. For example, as a worker every two weeks your take gross pay $580.00 before taxes was with 80 hours full time work. The policeman average gross salary was $1500.00 and average fireman gross salary was $1653.84 in Scranton, Pennsylvania. It the chart everyone regardless of vocation is salary is the same $7.25 per hour including the Mayor Christopher A. Doherty.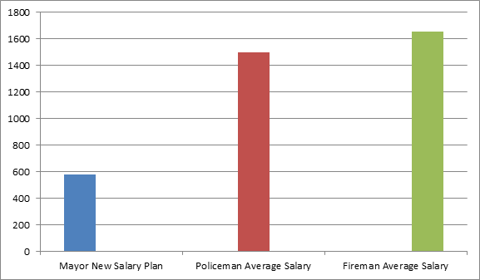 Scranton, Pennsylvania Pay Scales
Mayor New Salary Plan biweekly = $580.00
Average Policeman Salary biweekly = $1500.00
Average Fireman Salary biweekly = $1653.84
In the chart the pay is reduced for both positions by an average 996.62 this is a huge pay reduction compared to the last pay period. Finally, the municipal employees are going to courts to reinstate their current pay structure.
Sources Cited
United States Department of Labor.
"Economy at Glance Scranton--Wilkes-Barre, PA"
www.bls.gov/eag/eag.pa_scranton_msa.htm
Read more: http://st-malo.webnode.com/news/minimal-wage-municipality-austerity/
Create your own website for free: http://www.webnode.com
Disclosure: I have no positions in any stocks mentioned, and no plans to initiate any positions within the next 72 hours.