PG is spinning off its P&G Beauty Brands and Merge into Coty Inc with Reverse Morris Trust. For PG shares tendered, they might get Coty shares at a discount up to 7.5%. This is literally for each dollar I give, I receive 1.075 USD back. Sounds like a great deal.
The exchange offer could be a very attractive opportunity for retail investors. The odd lot provision blocked hedge funds, mutual funds, pension funds from the deal.
While COTY's share price will be under pressure since the speculators will prefer to sell the shares and take profits once they get the shares back into their account. The market is anticipating a price drop after the deal going through.
The market is forward looking. The share price of COTY has been dropping like a rock since Aug 16. The short interest on the stock is 43.13% at the time this article is written according to shortsqueese.com. 43.13% of the floating shares are borrowed from all kinds of channels being used for shortselling. The stock might get shortsqueesed easily if there is any positive news. The short might be forced to buy back the shares at whatever price once that happens. It is the most shorted stock on the top 15 list according to highshortinterest.com. The open interest for the COTY put expiring on Oct 21 strike price 38 has gone up from around 9,000 on Sep 7 to today's whopping 208,000. I believe it is the institutional level speculators who can't benefit directly from the odd lot provision trying to speculate on this.
The value of P&G common stock and Coty Class A common stock will be determined by P&G by reference to the simple arithmetic average of the daily volume-weighted average price ("VWAP") of P&G common stock and Coty Class A common stock over a three-business day period (the "Averaging Period") Sep 23, Sep 26, Sep 27. The exchange offer and withdrawal rights will expire at 12:00 midnight, New York City time, on September 29, 2016. At the time of writing, the indicative discount of this offer has dropped from 7.5% to 4.3%. There is still arbitrage value on this deal as long as there is still a discount. Besides, you can still withdraw before the deadline after the final exchange ratio is announced.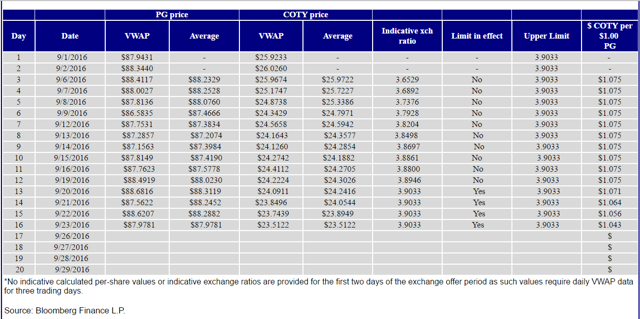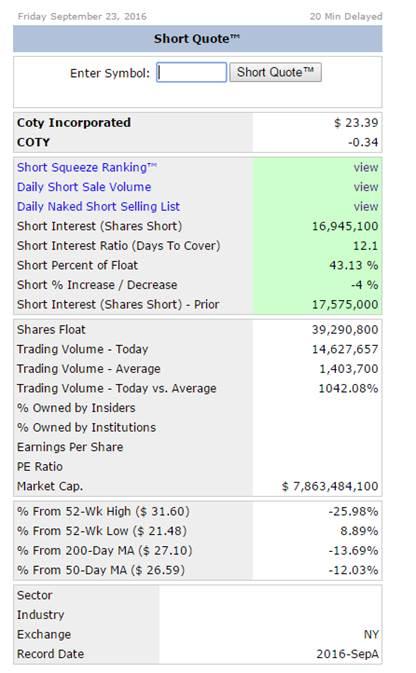 Disclosure: I am/we are long PG, COTY.