US Nuclear recently acquired exclusive rights to manufacture new MIFTI/MIFTEC Staged Z-Pinch Fusion Energy Generators that are proven new way to create billions of dollars of low-cost medical radioisotopes AND will also be new source of unlimited, carbon-free, pollution-free, low-cost energy for the electric power grid.
US Nuclear could earn $2 to $3 million profit from each of thousands of generators globally in hospitals and electric grid locations plus ongoing percentage of sales of billions of dollars of radioisotopes.
The new Staged Z-Pinch Fusion Energy Generators will have small footprints and can be conveniently placed in a dedicated room in any hospital or medical center where imaging or radiation treatments will be delivered, and in thousands of inconspicuous locations globally that are close to the power grid.
US Nuclear is an established manufacturer of high-tech products purchased by NASA, the EPA, Department of Energy, U.S. Air Force, U.S. Army, U.S. Navy, MIT, Pacific Gas & Electric, General Electric, Lawrence Livermore, Oakridge National Lab and more.
Sales of existing products for radiation detection, biohazard detection have increased about 50% in 2017 and 25% in 2018. Drone sales increased over 750% in 2019. High growth is expected to continue through 2019 and beyond. And the company has only 17.5 million shares outstanding and no debt.
When news of this fusion energy breakthrough becomes widespread, and with ongoing growth from other multiple profit centers of radiation and biohazardous detection devices and drones, US Nuclear shares at $1.10 have the potential to increase several multiples. Prices have been rising from recent lows of well under one dollar and appear headed for record highs.
Summary
US Nuclear Corp. (OTC: UCLE) is an established and profitable manufacturer of sophisticated radiation detection systems for use in nuclear power plants, homeland security, and environmental monitoring, and also provides sophisticated drones for the purpose of monitoring/detecting dangerous radiation, chemicals, and biological weapons that threaten human life.
The markets for their products are in the multi-billions and growing rapidly as the world turns to carbon-free energy solutions such as nuclear power. Demand is also increasing for their detection devices and drones that monitor biological and chemical threats before they can cause harm.
Financial performance, including sales, have been stable over the years, but since 2017 sales have been climbing sharply.
In addition to the core products that US Nuclear has been providing for decades, the company has announced 2 partnerships and investments with breakthrough Fusion Nuclear Energy private companies, MIFTI (Magneto Inertial Fusion Technologies, Inc.) and MIFTEC Labs, Inc.
Fusion Energy has been an elusive dream since the mid 1900's, but MIFTI/MIFTEC recently made history that is little known yet. That is about to change because the world's leading Fusion Energy Journal, "Physics of Plasma's recently published a report that was peer reviewed, investigated, and confirmed. The breakthrough was buried in a highly technical report about using various liners in fusion experiments and it was disclosed that MIFTI actually generated a surprisingly powerful and stable neutron flux of 10 to the 10thpower on a small machine of only 1 Mega Amperes at the University of Nevada, Reno Terawatt Facility. The title of this report is, "Ar and Kr on deuterium gas-puff staged Z-pinch implosions on a 1-MA driver: Experiment and simulation" as it appears on the May 2019 issue. A story with such strong human and financial implications is likely to have substantial media follow-up in coming months in a broad spectrum of media that could have a substantial impact on the valuations of US Nuclear shares.
Timing could not be better for US Nuclear and MIFTI/MIFTEC
With their fusion technology now proven beyond any doubt, the group already completed final construction plans for a larger 10 Mega Ampere machine that is designed to generate a staggering 10 to the 15th power in neutrons. The companies are currently in numerous funding discussions to begin building the first machine. Management reports that most parts for the machine are available in the open market and that the time to build the first machine could take closer to one year, but they are allowing extra time for what is always the unknown.
Since it is known that a neutron flux of 10 to the 12this required to produce radioisotopes, this 10 Mega ampere 10 to the 15th machine/s will be able to produce billions of dollars of needed radioisotopes for medical diagnostics and cancer treatment. It is unknown as to exactly how much of the $10 billion market they will capture, but it is known that given a choice to buy the same radioisotope at half price, the buyer will likely choose the lower cost.
When asked what the biggest milestone achievements have been since they first announced their breakthrough technology last year, Jerry Simmons said, "In the second half of last year we did what nobody else has ever been able to do. Not even the big government projects. We made history by generating Neutron Flux in excess of 1010 from fusion power using an isotope of hydrogen from seawater instead of radioactive enriched uranium. This proves beyond any doubt that our machine can make the isotopes used in nuclear medicine (i.e. Mo-99, Tc-99m, cobalt 60, iodine, etc.). It is only a matter now of simply scaling the power or electric current flow of our machine up so we can achieve the greater Neutron Flux of 1012+. Dr. Hafiz Rahman, President and Chief Scientist and his staff at MIFTEC Labs and the University of Nevada, Reno National Terawatt Facility, tells us that our scientific experimental predictions and the device will work as designed."
Dr. Hafiz Rahman says, "To give you an idea of how advanced we are, when we achieve 1015, it will be 10,000,000,000 (ten billion) times more powerful than 105. That is more than enough power to create all the Neutron Flux we need to supply low cost radioisotopes and power for production of electricity with our compact, low cost machines."
Simmons continuing, "The machine we used at University of Nevada, Reno Terawatt Facility was a 1 MA (1 Mega Amp) machine which limited the Neutron Flux we could generate to 1010. Last year, we hired a top nuclear design engineer and he has already completed the design for our new 10 MA (10 Mega Amps) LTD-X Staged Z-Pinch Fusion Generator that is designed to generate1015 Neutron Flux that is extremely powerful and matches or exceeds the high power of the fission reactors being used today for radioisotope production. Our new generators are small and will fit into a building close to where the radioisotopes will be used. Our generators will be only a tiny fraction of the cost of the huge nuclear fission reactors and linear accelerators, and there will be no long-term hazardous radioactive waste to contend with that is dangerous and extremely expensive. Nuclear fission reactors can cost anywhere from several hundred million dollars to several billion dollars and we estimate that our machine will sell for around 5 million dollars. Our Staged Z-Pinch LTD-X Fusion Generator will be small and compact and will require very few people to operate. The bottom line is that we will be able to deliver enormous amounts of high-quality radioisotopes for about half today's cost."
Why UCLE and MIFTEC will likely dominate the $10 Billion Medical Radioisotope Industry
Most importantly because UCLE/MIFTEC will be able to deliver the highest quality medical radioisotopes in enormous quantities at HALF PRICE! Is it reasonable to expect that anybody would pay double the price for the same thing?
The LTD-X Staged Z-Pinch Fusion Generatorwill be very low costto build and operate compared to all other competition.
The LTD-X Staged Z-Pinch Fusion Generator is very small and can fit in a hospital or medical center where the Radioisotopes will be used.
No long-term hazardous nuclear waste.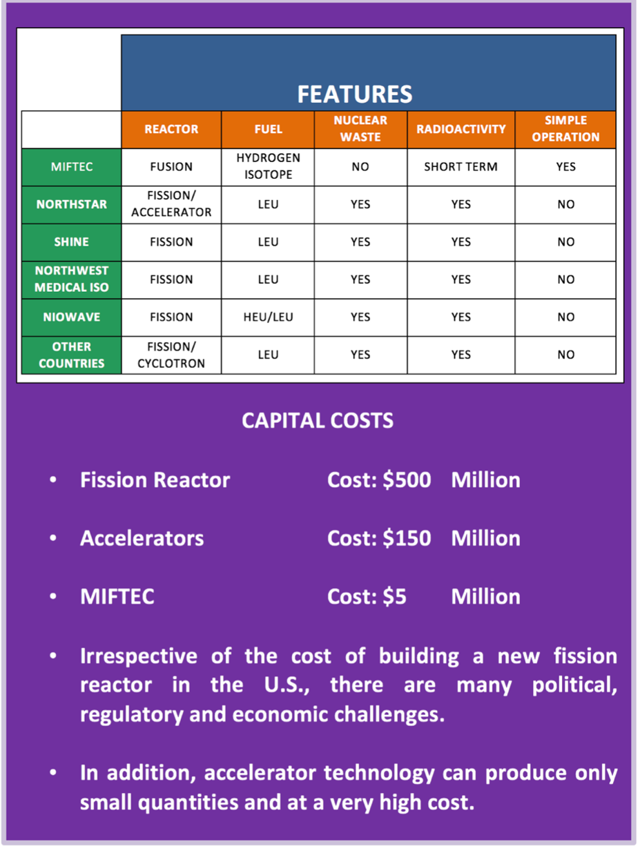 Fusion Power for the Multi-Trillion-Dollar Grid
The following chart illustrates coal as the single largest source of energy for the grid followed by renewables and natural gas. Over 2/3 of energy is produced from carbon producing fuels of coal, gas and oil.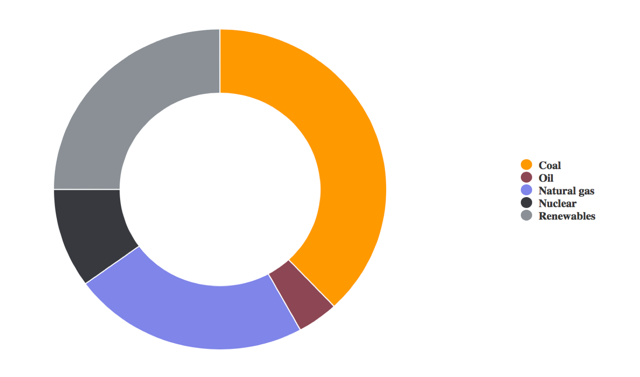 Fusion power is the ultimate fuel source for energy because it would not only be very powerful, unlimited in the amount of power it can generate, and low cost, but it would be carbon-free and clean energy. Carbon based fossil fuels are believed by many to be responsible for global warming and dramatic climate change that is wreaking increased havoc globally.
When developed, fusion power would be difficult to compete with because it is expected to be able to cost-effectively and safely meet the demand of a fast-growing global population that far exceeds current fossil fuels and even renewables of wind and solar that are dependent on wind and sunshine. The process of nuclear fusion would for the most part be constant and without interruption, and because the fuel is an isotope of hydrogen from ordinary seawater, the amount of power generated is unlimited.
Conclusion
Based on share price to sales and other commonly employed comparison metrics, shares of US Nuclear are highly undervalued. Additionally and most importantly, this Fusion Energy technological breakthrough is so disruptive to the $10 billion medical radioisotope market and to the multi-trillion-dollar industry of electric power that it is difficult to determine any sane level of valuations for US Nuclear shares as investors begin to discover this rare opportunity.
US Nuclear owns substantial equity interests in MIFTI and MIFTEC and also has manufacturing rights (exclusive to MIFTEC and non-exclusive to MIFTI) that will have enormous value once these fusion generators are constructed and in operation. Even without the interests in MIFTI and MIFTEC, US Nuclear has successful and profitable operations as an established and well respected company providing environmental monitoring equipment and drones to nuclear, healthcare and government operations.
US Nuclear has a total market capitalization of only about $18 million with a total outstanding number of about 17.45 million shares of which management owns about 10 million. This leaves a very small available float of a maximum of 7 million shares which are thinly traded and therefore are volatile, especially to the upside when large buying occurs. In terms of risk, US Nuclear has no debt.
We will leave more specific price predictions to others, but we are confident that the share price will rise substantially as this potentially explosive story finds its way out to the investing public. Shares of US Nuclear appear highly undiscovered and undervalued. Nobody can predict future share prices with any accuracy, but US Nuclear appears to be an excellent risk to reward. There appears to be some very light selling currently and occasional buying that periodically overwhelms the selling and causes sharp price increases. There have also been lulls in buying when shares have quietly drifted down to a dollar. With this enormous potential for unimaginable share prices, it would not be surprising to see shares achieve record highs as investors begin to realize the underlying value and the enormous potential for growth in the not too distant future.
Legal Disclaimer:
Except for the historical information presented herein, matters discussed in this release contain forward-looking statements that are subject to certain risks and uncertainties that could cause actual results to differ materially from any future results, performance or achievements expressed or implied by such statements. The Information contains forward-looking statements, i.e. statements or discussions that constitute predictions, expectations, beliefs, plans, estimates, or projections as indicated by such words as ''expects,'' ''will,'' ''anticipates,'' and ''estimates''; therefore, you should proceed with extreme caution in relying upon such statements and conduct a full investigation of the Information and the Profiled Issuer as well as any such forward-looking statements.