Recent FDA approval of BioLargo/Clyra Advanced Wound Care product now allows sale of disruptive breakthrough disinfection products to +$10 Billion market. Several major licensing deals expected to follow.

BioLargo Clyra Medical acquires breakthrough stem cell therapy technology "SkinDiscTM"

BioLargo AGAIN breaks new revenue records with potential for multi-billion-dollar long-term sales. First one week in October saw sales orders of over $130,000.
Pays off variable debt resulting in great reduction of shares offered for sale by debt holders. Share price can now advance without overhead resistance.

CupriDyne first adopted by leaders in giant Waste Handling Industry is now being pulled into big Cannabis industry.

Recently announced Memorandum of Understanding for Advanced Odor Control and Water Treatment with BKT Co. Ltd and the City of Daegu, South Korea opens the giant markets of Asia that need these BioLargo solutions. See Tomorrow Water, a world leader in water treatment innovation.

Recent pilot at poultry processor proves that AOS system can revolutionize water use by making it so clean that most of the water can be recycled for use again and again. Same can apply to water treatment plants, stormwater, pharmaceuticals, food processors, livestock, agricultural operations, oil & gas, and many other large industries.


BioLargo's AOS awarded EPA Grant because it is the only water treatment system that cost-effectively captures and destroys toxic PFAS that are now the highest-profile toxin of the decade. AOS water treatment is a major breakthrough in low-cost, high-impact water treatment expected to lead to multi-billion-dollar sales annually.

BioLargo Engineering awarded sub-contracts to clean up toxic PFAS in 7 selected Air Force bases with very good potential to include every military base in the United States. There are 89 Air force bases and 800 military bases in the U.S.

At $.30 and total market cap of under $50 million, BioLargo shares are MASSIVELY undiscovered and undervalued and are now low-risk.
Snapshot
Over 10 years ago, Ken Code, the Chief Science Officer and Chairman of BioLargo, Inc. (BLGO: OTCQB) discovered the extreme and untapped oxidation power of iodine and since then has developed, proven, and patented a wide array of badly needed and highly disruptive products for the giant markets of water treatment, air treatment, and wound care.
BioLargo CEO, Dennis Calvert, has successfully positioned these blockbuster products that are now launching in very large commercial markets and are in early stages of growth that is expected to be meteoric because of the great need for them and because of their unprecedented efficacy, safety, and low cost.
FDA Approved $10 Billion Breakthrough Wound Care Product
In early October 2019, the FDA approved BioLargo's Clyra Medical division advanced wound care product that brings dramatic improvements to the $10 billion wound care market. Iodine is well-known to be the most powerful disinfectant in existence, however it is used only in life-threatening circumstances because it is also quite toxic and it destroys healthy tissue as well as the pathogens causing infection.
Biolargo's breakthrough products deliver the full strength of iodine, but are proven to be safe and gentle and to not harm heathy tissue. The future for BioLargo/Clyra is exceptionally bright because there is no competing product this effective and safe, and it can be applied to a wide spectrum of applications.
With a market of unmet needs so large, it is almost certain that a number of major licensing deals with multi-billion-dollar players will be executed and announced in the coming months. Biotech investors know from experience that licensing deals of this magnitude always increase share prices dramatically.
BioLargo Clyra Medical acquires breakthrough stem cell therapy technology "SkinDiscTM"
Developed by Scion Solutions, LLC, SkinDiscTM uses a homogenous cocktail to generate a cell-rich bio gel that supports the healing of chronic wounds. The product has been deployed clinically in over 250 patient cases with no adverse side effects, and successfully aided in the salvage of limbs that otherwise may have led to amputation and costly treatments.
In addition to the acquiring the SkinDiscTM product, Clyra has engaged Scion's founders to support its commercial strategy, including Dr. Brock Liden, a renowned wound specialist and expert in diabetic limb salvage, and Spencer Brown, a medical device industry veteran with more than 35 years of experience working in medical sales, account management, and distribution in the medical device industry. In addition to Dr. Liden and Mr. Brown, Scion's founders include Tanya Rhodes, former VP of Innovation at Smith & Nephew, and a current Clyra consultant. The details of the Scion transaction were previously reported in a Form 8-K filed with the Securities and Exchange Commission on October 2, 2018 (link here).
Dennis P. Calvert, CEO of BioLargo commented, "Our core technologies are the foundation upon which we are building a successful company, and this is just one example. By funding Clyra through direct investment, we have secured dedicated capital to complete its products' journey to market while also creating value for BioLargo's shareholders through ownership in Clyra and its ongoing licensing arrangement. In this same vein, we intend to pursue direct investment for our BioLargo Water subsidiary in 2019. These developments serve to enhance the fundamental value of BioLargo while also helping to conserve capital."
Calvert continued, "The completion of the Scion transaction is important for many reasons. First, a fairness opinion report written by an independent evaluator suggested that there is good evidence, based on comparable company analysis, that the combined value of Clyra and Scion would be approximately $33 million following this transaction. Second, the two technical platforms – Clyra antimicrobial products and the SkinDiscTM – represent substantial product platforms upon which to build an internationally competitive wound care company. Finally, Scion's founders have successfully launched multiple products into the medical industry and bring crucial expertise on positioning our products in those markets.
CupriDyne Advanced Odor Control
CupriDyne is proven to be the most effective odor control product ever developed. Unlike the competition that relies on masking fragrances to overpower the bad odors, the basic Cupridyne has no odor. CupriDyne is so powerful that it shocks and amazes everyone when they experience it for the first time. There is absolutely nothing like it because it truly destroys bad odors on contact.
The Waste Handling Industry is an $80 billion giant and one of the highest priority problems is bad odors that have proven very costly to operators from fines, lawsuits, closures, and regulations requiring expensive daily ground cover and additional structures.
BioLargo's CupriDyne has proven to be exactly what the industry needs and is rapidly being pulled in as fast as BioLargo can deliver. The company has already signed National Purchase Agreements with the top 4 Waste Handling giants and provides everything each user requires from the engineering plans to the installation of all equipment and then the ongoing monthly delivery of Cupridyne.
The Cannabis industry is a young giant that has run into a serious problem of odors resulting in the suspension of many growing operations and the denial of many growing permits. Large suppliers to the cannabis industry are now offering CupriDyne to the many growers in need. CupriDyne is the only product that works well and sales are expected to follow the same rapid growth curve as experienced in the Waste Handling industry.
Odor control is needed in tens of thousands of facilities such as water treatment plants, food processing plants, oil and gas operations, paper factories, asphalt and cement plants, livestock operations, and more.
Then there is the consumer market that some large player will eventually likely try to license from BioLargo and then commit to and go after the leader Fabreze! One short demo will clearly show CupriDyne's vast superiority to Fabreze. It is only a marketing issue then. With the power of social media, word about the magic of CupriDyne will spread fast.
CupriDyne is well-positioned now to infiltrate every billion-dollar odor market and win big!
AOS Low-Cost, High-Impact Water Treatment
After many years of development, testing, proving, patenting, and now commercial pilot projects with large users, BioLargo's AOS water treatment system is very close to commercialization.
Users are any business that use water such as oil & gas recovery, agriculture, water treatment plants, capturing and cleaning storm water, mining operations, food processing, beverage and brewery operations, pharmaceuticals, dialysis centers, chemical plants, maritime ballast water systems, and any operation that can benefit from cleaning the water they use for their operations and then repeatedly recycling that water resulting in a cleaner environment and a big water savings.
The AOS is scalable to any size and can be made into the perfect size for inexpensive household use to gigantic systems large enough to handle massive flows in a large water treatment facility.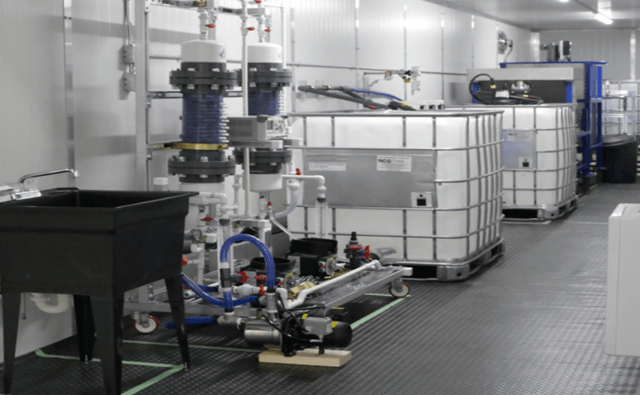 The performance data from thousands of studies continues to validate the company's technical claims associated with the AOS Filter. These technical claims; the lowest cost of the any technical competitor, greater than 100 times the efficacy (disinfection) and greater than 10 times faster than any technical competitor, support the AOS Filter's important role and high value in just about every segment of the global water industry estimated at $850 Billion annually.
Independent researchers at the University of Alberta refer to the AOS Filter's disinfection rates of performance as "unprecedented". The first generation AOS Filter combines iodine, water filter materials and electrolysis within a water filter device, generating extremely high oxidation potential in order to eliminate, soluble organic contaminants that are commonly found in many types of contaminated water. It has been shown to achieve extremely high rates of disinfection, eliminating infectious biological pathogens like Salmonella, Listeria and E.coli in water. The AOS Filter also eliminates a broad spectrum of contaminants including acids, solvents, sulfurs, oil and gas by-products, and pharmaceutical by-products that are commonly found in contaminated water.
With commercial pilots now demonstrating successful outcomes, it is only a matter of months before the AOS system is generating early revenues with the potential to grow to several billion dollars per year in the next five years.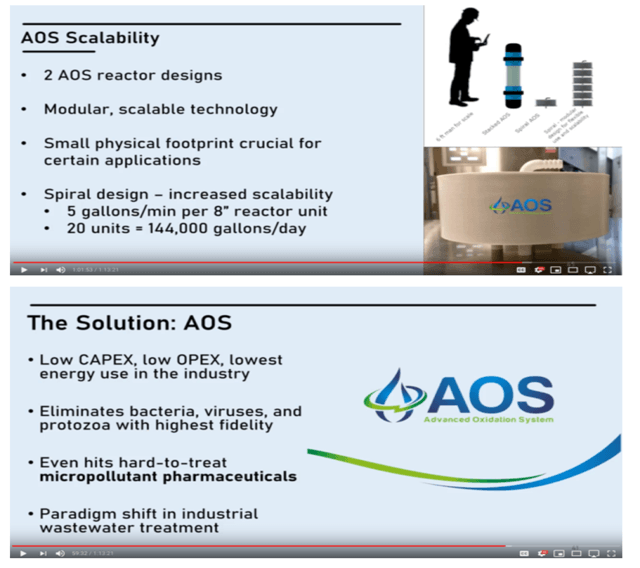 April 30, 2019, BioLargo announcedits engineering subsidiary had been awarded an SBIR Phase I Competitive Grant by the Environmental Protection Agency in the amount of $100,000 to investigate solutions for the removal of per- and polyfluoroalkyl substances (PFAS) from water. PFAS have been linked to cancer, fertility problems, asthma, and more, and are present in a vast range of manufactured goods including food, common household products (e.g., cleaning products, cookware), and electronics. PFAS also pose widespread and serious water safety problems around the world, with governments and industry actively seeking new technologies and processes to eliminate PFAS from groundwater and drinking water.
BioLargo had previously reported on a third-party study conducted in collaboration with researchers at the Centre Des Technologies de L'Eau suggesting its AOS technology effectively removes certain pharmaceutical by-products (i.e., micropollutants) from water (Link here). Dr. Greg Goss commented on the results, "More work is needed, but it appears that the AOS treatment is a major technical breakthrough for the removal of micro pollutants from wastewater." This work was funded in part by the Canadian Natural Science and Engineering Research Council (NSERC) and the National Research Council of Canada Industrial Research Assistance Program (NRC IRAP).
Randall Moore, President of BioLargo Engineering Science & Technology commented, ''the removal of PFAS contaminants from water presents an important and very difficult challenge. Our team's extensive work in environmental engineering and remediation combined with our comprehensive work in electro-chemistry, advanced oxidation processes and advanced water treatment solutions combine to make our team uniquely qualified to solve issues surrounding environmental PFAS.''
Dennis P. Calvert, President and CEO of BioLargo added, ''This is another example of BioLargo's unique ability to leverage its science and engineering capabilities to deliver innovative real-life solutions to big problems that threaten our water, air and life. We earn the trust of our clients every day by delivering results and value in the most difficult cases. We are also grateful to the US EPA for recognizing our capabilities and supporting our efforts in finding solutions for the removal of PFAS from the environment.''
The AOS has a very big future in water treatment with particular big needs in:
Livestock and agriculture
Municipal tertiary treatment
Oil and gas recovery – (fracking and oil sands)
Mining
Food processing
Industrial
Stormwater
Pharmaceutical
Shift from R&D to Commercial Sales
BioLargo has switched from an R&D company to a trend of converting technology assets into monetized commercial assets. This is reflected by the shift of resources away from R&D activities and toward commercial activities, marketing, and sales. Reflected by this is the fact that fundamentals are improving: two commercial business units generated revenues of $1,364,000 – more than twice 2017's number – and monthly cash burn rate is decreasing.
BioLargo has built an incredible portfolio of patented, proven technology assets that are, in the near future, expected to create enormous value for the company and its shareholders. The value of these assets is not currently reflected by the parent company's market capitalization, but management believes that it won't be long until this changes. We strongly agree.
Conclusion
Based on market comps, the previous trend of lower share prices in the face of higher growth and sales achievements, the price has recently reversed and is now in a strong uptrend. Expectations are for dramatically increasing recognition and investor awareness of this unknown company as several important achievements are expected to be announced in the coming months.