In March, the Performance Analytics' PAR model moved into a negative territory:
S&P 500 (NYSEARCA:SPY) 6-month expected return:−5.2%
Recommended allocation: Underweight
Prior month -0.8%
Change -4.3%
The PAR model is a factor model designed to estimate the expected equity return over a six-month period. The model is based on a dynamic multi-factor regression of the S&P 500 returns over economic, valuation and market variables. The factors are chosen each month as part of the model run, based on their statistical significance, from the set of 15 factors that have proven to be significant over time.
The PAR model provides answers that tactical asset allocation managers need, such as:
- What's the expected equity risk premium right now?
- What are the factors that we should be looking at, that really affect equities?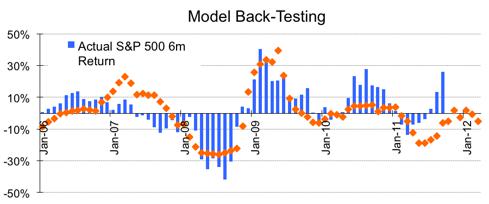 The PAR model went decidedly negative in March, producing the expected 6-month return for the S&P 500 of -5.2%. The model's historical back-testing data are shown in the chart above. There are no changes in the coefficient composition this month. The negative change is driven entirely by data releases, mainly by less favorable index valuation (Price/Book ratio), and by the rise in the price of oil.
Significant Factors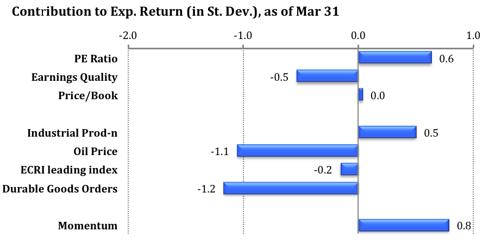 © Performance Analytics Inc.
For more information, or for a full report, please visit us at taacomplete.com
Disclosure: I have no positions in any stocks mentioned, and no plans to initiate any positions within the next 72 hours.