The S&P 500 (and SPY) is down about 1% today, which brings its decline in April to about 3%. This prompted some observers to call for a rebound, for various reasons. Volatility dominates in the short term, and daily market moves are certainly hard to predict. But over longer term, 3-6 months, we expect the market to go lower.
With our tactical asset allocation model (PAR model), we focus on mid-term, 6-month horizon. On March 31st, the model gave the expected return for the S&P of -5.2% - see the chart below.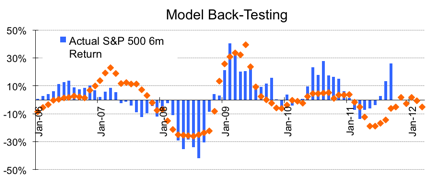 Take a look here at my original post with the March model result.
seekingalpha.com/instablog/2192311-taaco...
Visit us at taacomplete.com for more info.
Disclosure: I have no positions in any stocks mentioned, and no plans to initiate any positions within the next 72 hours.