This last week has seen another nosedive of the cryptocurrency market. What seems to be happening is a combination of several influences:

Some bad news (rumours of abuse, announcements of regulation) drove the price down.
Many long time owners decide to lock in their gains, and sell, further depressing the market. Some people who got in at the top cut their losses, with the same result.
One trustee of Mt. Gox has sold 40,000 BTC, and is about to sell another USD 1.7 bn worth of cryptocurrencies. This too brought the price down.
Against all this is a huge number of newcomers who want to get in and now buy the dip, bringing the price back up time and again.
The number of potential buyers is huge, and it seems they will be able to absorb the coins sold, so one would expect the price to go up again once this great ownership rotation is over. The market should be a tiny bit more robust then, for several reasons.

Some of the whales diminishing their share of coins is in itself positive news, as those huge numbers of coins in a few hands present a continual danger for the stability of the cryptocurrency market.
As after the rotation most owners will have entered the market at the current price, they will be less likely to sell below this price, which should provide a strong resistance in TA terms.
The Bitcoin Misery Index agrees that prices will go up again.
But of course in the end it depends on psychology: will people keep their trust in the light of the current price swings. The large number of people trying to enter now seems to indicate they still do.
So how did CombiCoin fare so far? Overall it did very well, as this graph shows.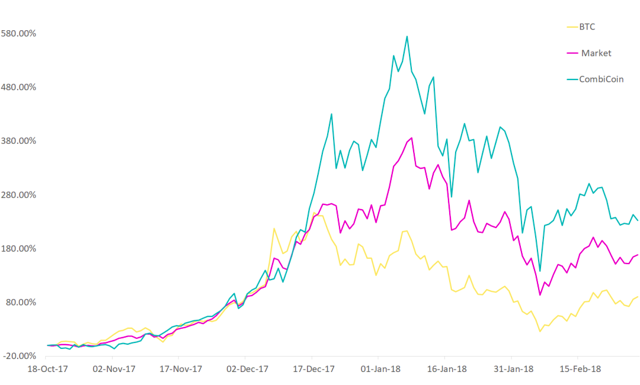 CombiCoin seems to have a beta > 1, so it reacts more than bitcoin does or than the market as a whole does, but it also has an alpha > 1, so that overall it gains more and loses less than bitcoin or the market. It seems the theory behind regularly rebalanced equal weight positions is working, in that the predicted gains are in fact actualised.
The sale of new CombiCoins is about to restart - the management of Triaconta has finished their reorganisation, and are in full compliance with the AFM (the "Dutch SEC") now.  They estimate sales wil start again before March 15 - and buybacks have been possible for over a month now, one will not be stuck with any coins bought. In other words. those waiting to get into the crypto market could do worse than buying CombiCoin instead of bitcoin or any of the altcoins.
(For more information about CombiCoin, see this SeekingAlpha article.)
Disclosure: I am/we are long COMBI, TRIA.
Additional disclosure: If you buy CombiCoins using the link given (http://tinyurl.com/CombiCoin), I may or may not receive some compensation (depending on how the AFM has ruled). If you don't want that, go to the Triaconta website not using my link. You will pay the same price, but the profit made by the trading software will be distributed equally over every TriaToken. As I own some TriaTokens, I'll still receive a bit, but far less than if you use my link.