On April 14, it was announced that Staples (NASDAQ:SPLS) and 3D Systems (NYSE:DDD) have entered into a partnership to provide 3D printing services to two Staples store locations in New York City and Los Angeles.
My main emphasis right now is micro-cap and small-cap companies that could achieve explosive growth by filling unique roles within the 3D printing sector. Most of the stocks that I analyze have astronomical P/E ratios, are flirting with positive earnings, and may or may not have began commercializing products or services. That being said, I have also learned to look out for opportunities in the sphere of value stocks.
In February, I took a long position on Hasbro Inc. (NASDAQ:HAS); I got in at $52/share after reading a press release involving a partnership between the toy giant and 3D Systems. I decided to sell my Hasbro shares at $56.25 in mid-March because it seemed to hit a ceiling and I didn't want to push my luck. I still like Hasbro, but now I like Staples even more.
There are at least ten mid-cap and large-cap companies that have either entered partnerships with existing 3D printing companies, acquired a 3D printing company, or made plans to directly enter the industry. The first names that come to mind are General Electric Company (NYSE:GE), Google Inc. (NASDAQ:GOOG), Hewlett-Packard Company (NYSE:HPQ), and The Hershey Company (NYSE:HSY). Of the multi-billion dollar corporations that are seeking to benefit from 3D printing, I believe the best options are Staples and Hasbro.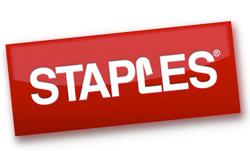 VS.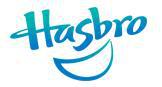 What I Like About Both of These Stocks
They are the first major companies in their respective fields to announce plans to use 3D printing as a means of generating revenue.
I believe that a partnership with 3D Systems is the best way for a well-established multi-billion dollar company to enter the consumer 3D printing market, as opposed to directly entering the market or entering via acquisition.
Both stocks pay a hefty annual dividend: Hasbro's is 3.1% and Staples's is 3.7% (as of market close on 5/17/14).
3D printing hype is not built into either of their prices.
Both stocks have market caps that could easily move on 3D printing revenue: Hasbro: 7.03 B; Staples: 8.62 B (as of market close on 5/17/14)
Why I Like Staples a Little Bit More
I believe in-store 3D printing will be an immediate hit, while I believe that penetrating the toy and game markets will be more difficult.
Even after running up to $13.24 (as of market close on 5/17/14)from a low of $11.04, compared to Hasbro, Staples still has more expected failure built into its price.
In-store 3D printing should provide users with immediate savings, while Hasbro's 3D printing products and services are likely to start out as expensive novelties.
Where Am I Going to Put my Awesome 3D Printer?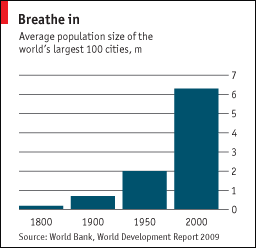 (The population growth of the world's largest 100 cities should continue to increase through 2030)
By 2030,according to leading sociologists, 81% of the population indeveloped countries will be in urban areas. Of the 19% that remains rural, I don't anticipate much demand for 3D printers. The point I am making is that most of the consumers who will benefit from 3D printing services will not have a lot of excess floor space. For many heavy commercial and industrial applications, it will be much more convenient and cost-efficient to own, maintain, and operate 3D printers. For most small businesses and home offices, the practical solution will be to use in-store 3D printing.
Many companies have products that would need multiple 3D printers to obtain a certain quality and efficiency of production. If a small company receives a big order, but only has one or two 3D printers, they are likely to end up with dissatisfied customers. They could spend more money on extra machines and waste precious retail space OR they could go to Staples and enjoy the luxury of mass production when they need it without the baggage that comes with ownership.
The Shoe Fits for Staples
I can't think of any company that is better suited to provide in-store 3D printing. I would go as far as saying that this is a natural progression. In-store printing will serve the same markets that are currently served by Staples: small businesses and home offices. They don't have to go out and recruit new customers. The only other company that could potentially compete (i.e. if they entered into a similar partnership with Stratasys) would be Office Depot, Inc. (NASDAQ:ODP). I highly doubt that Staples will be worrying about Office Depot.
Should I buy Staples Today?
By the time this article is published, Staples will have released its first quarter earnings report for 2014. As of Saturday, May 18, I do not own any shares of Staples. If I do take a position, then it will be a few days after Tuesday, May 20: the date when first quarter earnings will be released. I believe there is a good chance that the earnings report will disappoint investors again. In the last earnings report, the consensus analyst estimate was missed by $0.06. The stock immediately dropped 15%.
Staples shares have since bounced back to the same price they were trading at before the last earnings report was released. As of market close on 4/30/14, short interest is above 12% again, which is particularly high for a big dividend stock.
Despite my sincere desire to own shares of Staples, Inc., I would much rather to get in at a safer price. For the reasons I have mentioned in the previous paragraph as well as the fact that investors have adopted a "Show me the money" approach, I'm taking my chances that the price of Staples shares will drop at least a dollar after the release of their earnings report. I believe it is a good buy at $12.50 and a great buy under $12.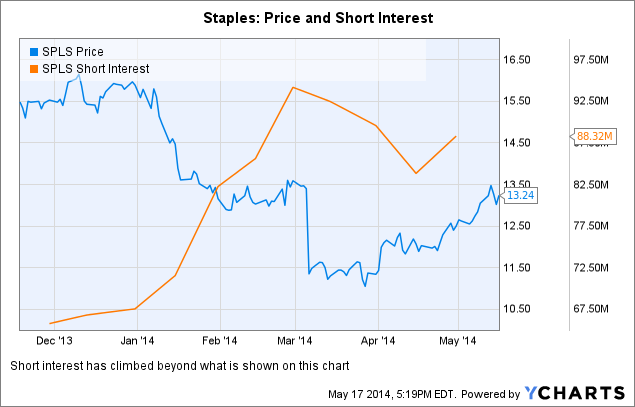 Price Target? Anyone? No?
I don't feel comfortable giving a price target for any equities. For Staples, my long-term recommendation is based on simple risk-reward analysis. I see the reward of a dividend in excess of 4% (if shares are purchased below $12.50 each). I see positive EPS for at least five years down the road.
Even if 3D printing doesn't become a huge success for Staples, I do not see a lot of downside. Staples is by far the strongest of the remaining office supplies stores. Also, Staples is led by a very savvy management team. Other things held constant, if nothing positive comes out of 3D printing for Staples, I believe it will continue to trade around its current price.
If Staples shows any significant revenue within the next year, then I believe it will trade at least 50% higher. From this point, sustainability will determine whether or not the price will go even higher.
One Year Price Target for Staples (May 2015):
If 3D printing is a bust: $12.25
If 3D printing still shows promise, but no major results: $12.75
If 3D printing delivers immediate results: $19
*Don't complain, you'll still get a 4% annual dividend if you buy under $12.50.
Potential Risks to Consider
Staples is the strongest of a dying breed. Circuit City is no longer in business and Office Max has been acquired by an equally desperate Office Depot. Although Staples does not face threats from industry peers, Wal-Mart Stores, Inc., (NYSE:WMT) and Amazon.com, Inc., (NASDAQ:AMZN) could continue to take more business from Staples.
Small businesses are getting hit hard. In a recentBloomberg article, Megan McArdle explains why fewer small businesses have been entering the market. Given that small businesses are Staples's largest target market, this could have a negative effect on business operations.
3D printing could be a total bust for Staples. I don't think Staples has any 3D printing success built into the price of its share; however, an epic failure could make the company look horrible. This could decrease the share price.
One Paragraph of Very Forward Looking Speculation
As indicated by this article, I think there should be many positive things to come for Staples as a result of in-store 3D printing. The writing on the wall is that in-store 3D printing will be a big hit. Once people see an impact of 3D printing revenue on Staples's income statement, the price per share should take a leap. This would fundamentally change the valuation of the company. I cannot give a time frame, but I believe that once significant and sustainable 3D printing revenues are reported, the price could easily double and possibly triple.
Conclusion
I believe Staples is a great long term investment. I also believe that the ship isn't taking off any time soon, thus for the time being it is wise to average down. After Q1 results are reported on 5/20/2014, there should be a better buying opportunity. It may be wise to wait a few days before going long; it could take a few days to settle.
With a market cap of $8.62 Billion, Staples is small enough to significantly benefit from 3D printing. Staples pays a 3.7% dividend and has about $500 million in cash; if the company fails to perform in 3D printing, I do not believe there will be a significant adverse effect.
Disclosure: I am long DDD.