A little more than 7 months ago, on October 17, 2013, Voxeljet AG (NYSE:VJET) held its initial public offering. 6.5 million shares were sold at $13. It took less than a month for share price to peak at $70 (a gain of more than 500%). From mid-November of 2013 to early March of 2014, the share price was partially corrected and found relative stability between $32 and $45 per share. Beginning in early March, Voxeljet investors seemed to slowly realize their stock was still extremely overvalued and share price continued to roll down. The bleeding finally stopped around April 14, when share price settled around the $15 price of a 3 million share secondary offering.
Despite its exceptionally large 6 month boomerang, many investors are still unfamiliar with Voxeljet. Headquartered in Friedberg, Germany, Voxeljet AG is a provider of 3D printers and on-demand parts services for commercial and industrial customers. Despite its brand new status as a publicly traded company, Voxeljet has been developing its technologies since the company was founded in 1999. Voxeljet's large industrial machines have provoked the imaginations of scientists, engineers, and bullish investors.

Valuation Presents a Dilemma
A quick look at Voxeljet's potential in efficient manufacturing with machines such as the VX500 may lead investors to a more bullish valuation. A look at Voxeljet's potential in the construction industry and the mammoth build space of its VX4000 may cause investors to have an even more bullish outlook.
A look at Voxeljet's financial statements and its low volume of machine orders could lead to extremely bearish sentiment. I have recently read and heard backyard analysts give price targets ranging from as low as $3 to as high as $70. Since Voxeljet released its Q1 2014 Financial Results on May 15, major analysts have given price targets ranging from around $12 to $17 per share. In my research, I found only one notable exception: on May 15, analysts at Cohen and Company gave a bullish $30 price target (down only $5 from their previous estimate).
Even guru short-seller Citron Research gave a price target of $12.09. Although this report was released when Voxeljet's share price was flying near $70 in November of 2013, Andrew Left's firm has already come within cents of reaching their estimate. Most shorts have covered since Citron's report and a new tug of war seems to have emerged between bearish $12 and bullish $18 per share.
Voxeljet's Share Price is Like an Undisciplined American Football Player
On Thursday, May 22, Voxeljet shares increased by 9.2% without any significant news. In fact the only news in the entire 3D printing sector that day was a positive note about demand for MakerBot desktop 3D printers, a product from Stratasys (NASDAQ:SSYS). Voxeljet does not offer anything comperable to a desktop model.
An undisciplined American football player will jump offside at inappropriate times. Voxeljet shares are poised to do the same thing. Fickle investor sentiment should continue to cause Voxeljet's share price to inappropriately jump in both directions.
Compared to 3D Systems (NYSE:DDD) and Statasys, companies with roughly $5 billion market caps, Voxeljet only has a $250 million market cap. 3D Systems is more than 22 times as large as Voxeljet. Stratasys is over 18 times as large as Voxeljet. This helps explain why Voxeljet represents a better opportunity to capitalize off of sector volatility than its peers.
Voxeljet vs. Sector Peers
| | | | |
| --- | --- | --- | --- |
| Stock | Market Cap (as of May 27, 2014) | Average closing price (last 30 days of trading) | Standard Deviation (last 30 days of trading) |
| 3D Systems | $5.6 B | $49.51 | 2.44 (4.93%) |
| ExOne (NASDAQ:XONE) | $397 M | $30.65 | 3.49 (11.39%) |
| Stratasys | $4.7 B | $95.40 | 4.85 (5.08%) |
| Voxeljet | $254 M | $14.80 | 1.20 (8.11%) |
The table above includes all trading that has taken place since Voxeljet's price settled after issueing its secondary offering at $15/share (the actual offering was issued on 4-8-14). ExOne has experienced even more drastic deviation than Voxeljet.
The chart below reveals that Voxeljet's share price has remained close to the $15/share secondary offering. The other three stocks do not show this consistency. Voxeljet seems to be the only stock in this group with a pivot price.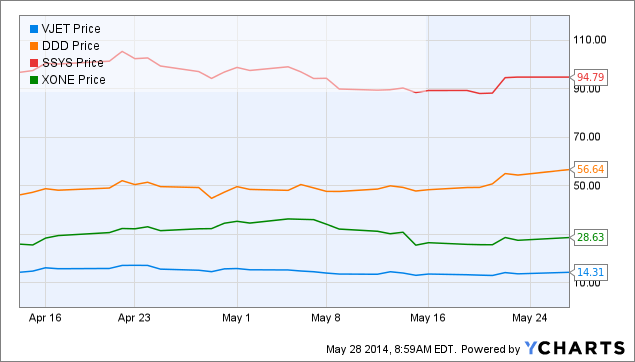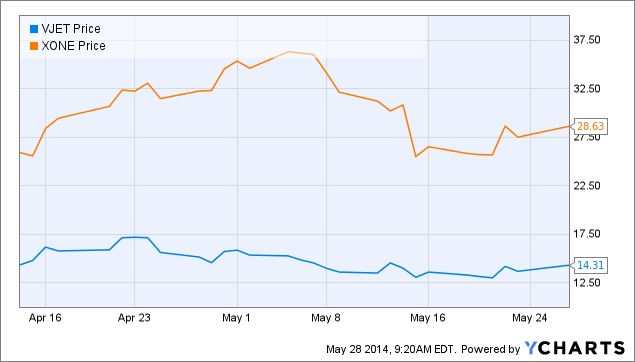 A look at the chart directly above reveals why ExOne's share price deviated more than Voxeljet's share price. ExOne's share price has yet to settle.
Why not play off the Volatility of ExOne?
I see Voxeljet as being a better investment idea than The ExOne Company for three reasons:
Safety: Due to the fact that there was a recent secondary offering at $15/share and because their most recent earnings report met analyst expectations, Voxeljet looks less likely to plummet. ExOne, on the other hand, continues to disappoint.
Volatility: Safety and volatility are not antonyms. I believe in addition to having a higher support level, Voxeljet will also have a higher standard deviation in the future. I believe that investors have more safety in Voxeljet, thus they are more likely to purchase its shares in times of 3D printing momentum. Voxeljet has roughly half the market cap of ExOne, which further explains why Voxeljet should have more drastic overreactions in the short-term future.
Half-truths of Hype: By no means do I believe Voxeljet shares are worth $70; however, I wouldn't be surprised if they went back up to $35 within the next year. Based on recent performance and future outlook, I believe that Voxeljet is in a better long-term position than ExOne.
Risks, Concerns, and Questions
Is swing trading dangerous? It can be. This article is intended for people who are experienced in this type of investing. I wanted to present this idea as an opportunity for skilled traders to use their skills. I do not believe this is a smart "hold and wait" stock.
What type of strategy should be implemented? I am familiar with swing trading in theory only. I probably won't try swing trading with this stock or any other stock until I have had more experience on a simulated platform.
Beware of panic and hype! Both of these emotions can be extremely dangerous with any small cap stock, but especially one as volatile as Voxeljet. Play by rules, not by news.
Should I take a short position once share price exceeds $18? Although from a statistical standpoint it is likely that Voxeljet would not be able to maintain a share price above $18, any major change in sector or company outlook could send it to a new pivot price. Bullish confidence has already sent share price to $70, so unexpected momentum should remain a concern for shorts.
As of May 27, 2014, Voxeljet had a market cap of $254 million. Of the five major pure play 3D printing companies, Voxeljet is not only the smallest but also the one with the highest P/S ratio (20.68).
Conclusion
Barring very bearish market news, I believe Voxeljet shares will continue to trade above $12. I believe that this relatively safe platform combined with the anticipated ups and downs provides a lucrative opportunity for savvy traders. I would not start a position at a price above $15/share.
I would not recommend Voxeljet for investors who are not willing or able to take quick gains; however, I would also recommend keeping at least a small core holding in case the stock has a breakout.
Disclaimer: Before investing in any security, it is wise to do your own research.
Additional Disclaimer: I have no position in VJET, nor do I recommend it for anyone who is not an experienced trader.
Disclosure: I am long DDD, SSYS. I wrote this article myself, and it expresses my own opinions. I am not receiving compensation for it (other than from Seeking Alpha). I have no business relationship with any company whose stock is mentioned in this article.