Summary:
Ran Ding of NVP noted significantly better financials for vertical SaaS (software as a service) players than horizontal SaaS players in January 2014.
I was curious how this has changed as there are quite a few more public companies now than when Ray did his analysis over a year ago. So, I took Bessemer Venture Partner's cloud comps to see how they compare today.
The advantages of vertical SaaS players over horizontal have only become more significant.
Ran Ding of Norwest Venture Partners posted "The Rise of Vertical-Specific SaaS vendors" in January 2014 and noted that the vertical SaaS players were significantly more profitable and had significantly more efficient sales and marketing models.
Ran considered the following advantages of vertical SaaS:
Better product due to narrower focus
Faster replacement of legacy systems within "slower industries."
Opportunity to collect and leverage vertical-specific data for analytics
Revenue growth within existing customers
I was curious about how this looks today as I'm both a SaaS investor as well as a SaaS founder/operator (of a vertical SaaS business).
To study the public comps, I made use of Bessemer Venture Parnter's cloud comp sheets as of the end of March 2015.
My methodology:
Arranged the list into horizontal and vertical companies. (Note: the retail categories could be considered horizontal but I selected them as vertical)
I removed Castlight as an outlier due to its extremes in valuation, margins, and EBITDA.
Here are the horizontal comps: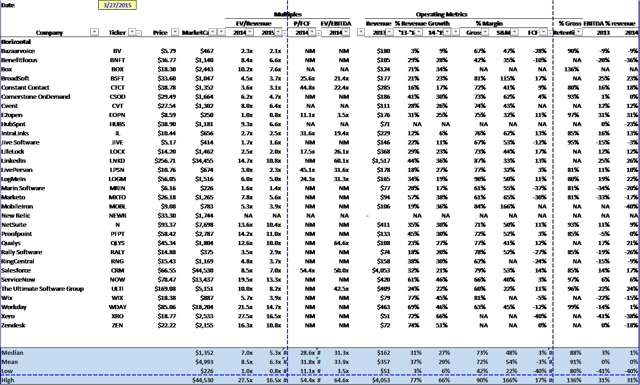 And the vertical comps:

Summary and conclusions (all commentary based on medians)
Vertical SaaS companies are valued approximately 1x higher on both 2014 actual and 2015 estimated revenues.
Both horizontal and vertical SaaS companies are growing quickly (27% vs. 26% respectively) but at close the same rates.
Vertical SaaS companies are significantly more efficient at sales and marketing than horizontal SaaS companies. Vertical SaaS companies allocate a median of 32% of revenues to sales and marketing while horizontal SaaS companies allocate 48%.
Median EBITDA margins of vertical SaaS companies are significantly higher at 18% vs. 1% for horizontal SaaS companies.
As an investor and as an entrepreneur, vertical SaaS looks like a much better model.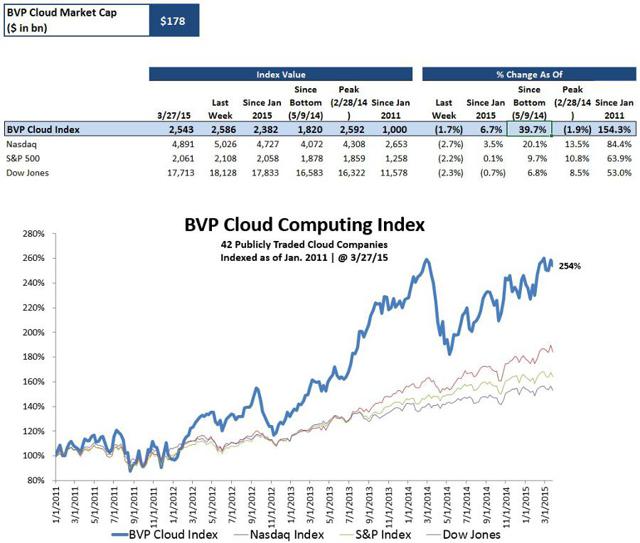 (From Bessemer Venture Partner Cloud Comp)
(Corrected June 1, 2015 - grammar and references)