Yesterday's market action (Aug 21st) had the look of a reversal day. After a flat Monday, the SPX went to a new high, promptly turned down, and closed below the open of the last up day (Friday). The VIX popped 7% and volume, while still on the light side, was heavier than the two previous sessions.
Over in the bond market, the ten year note yield touched the 200 day MA again, and turned back down. The long bond yield pushed through the 200 day during the session, and also closed down. The dollar broke recent support and closed below 82 on the index. Gold gained 1% to close at its best level in more than three months.
I have been looking for a pullback in equities to get on board, so that was not at all unexpected, but the one day reversal in asset correlations was. It's early yet, but bears watching. In the current market cycle, it's not often we see equities and the dollar move in the same direction, or T-bond yields and gold move in opposite directions. Probably a short term hiccup, but we'll see what happens over time.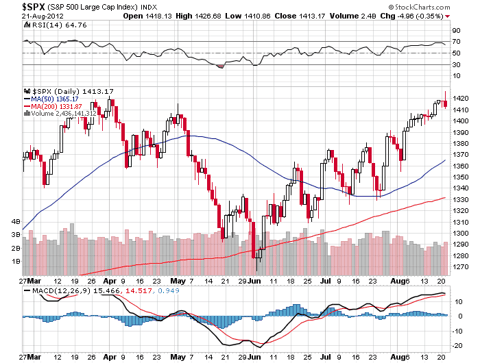 Disclosure: I have no positions in any stocks mentioned, and no plans to initiate any positions within the next 72 hours.