Over the summer and fall of 2013, I had begun my purchasing of Exxon Mobil (NYSE:XOM). At the time, I figured that buying the world's greatest energy company under $90 per share (P/E=11) was a good idea. I prefer the diversification of the integrated oil companies and I knew that XOM had the highest ROIC of any of them. There's a reason that XOM is the biggest oil company of them all and it's not just due to the Mobil merger. They've been the best at what they do for over 100 years.
I was quite delighted to soon afterwards hear that Mr. Buffet decided to buy a few shares himself. Since then, I've also seen news of analyst upgrades and I sense an improving positive outlook on the company.
However, this improving outlook on XOM by other people doesn't affect my emotions or change my opinion: XOM has always been an excellent company to be part owner of and it will be for the foreseeable future. My investing philosophy is to identify the strongest, most powerful publicly traded companies on the planet and try to buy them at good prices. XOM is at the top of the heap, along with the Coca-Cola's, Nestlé's, Procter & Gamble's, and 3M's of the world.
And as a reminder to never rid myself of these titans of industry, I placed a certificate order for 1 share of XOM.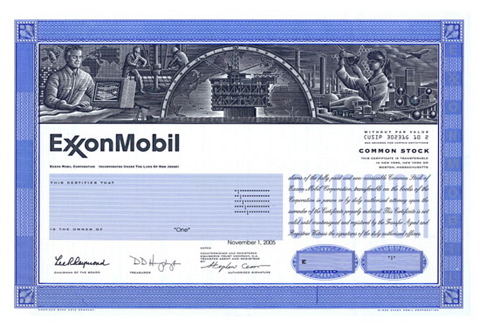 Although this is my first certificate request, I hope it won't be my last. A real stock certificate is a great investing tool for me, my family, and my friends, as well as being a good wall mount. We can gather 'round to discuss what this piece of paper means and why it's so important.
A stock certificate is real: it's a legal contract between you and a corporation under the protection of the law. We must remember that stocks aren't just charts of squiggly lines that go up and down all day long. That real piece of paper entitles you to the same benefits that the Rockefeller's received in their heyday. Not only do you receive a slice of the present earnings and benefits, but you also receive ALL FUTURE benefits of that share of stock. This could be in the form of capital gains, dividends, spin-offs, voter's rights, etc., for centuries to come.
Some people want to compare a stock certificate with a baseball card. While a baseball card of George Brett may currently be valuable or increase in value, Mr. Brett won't be sending any of his earnings your way any time soon. But some stock investors will keep receiving their dividend checks like they have for the last 100 years.
And some day, the game of baseball may lose its overall popularity. At that point, nobody will care about baseball cards. But a huge company like Exxon Mobil will keep producing and selling energy until the human race decides to stop using energy. I predict that will be never.
There are all sorts of discussions on the divisions of economic society: from the rich and the poor, to capital and labor, to Bourgeois and Proletariat. The key conflict centers on the notion of being a business owner or a labor worker. Communism's plan is to abolish the whole notion of a business owner and anything that shows a separation of classes. But what if everyone had the option of being on the side of the Bourgeois? What if everyone could be part owner and part laborer at the same time?
Exxon Mobil and several other companies allow you to invest in them without any fees whatsoever. They're trying to tell us something. They're saying: put some of your hard-worked money aside to become a long-term stock investor and you too can have the same problems that the Bourgeois have.
Disclosure: I am long XOM.