For the first time in history, Gold (NYSEARCA:GLD) became a more volatile asset than Bitcoin (OTCQX:GBTC)(COIN). This shocked even myself as Gold has been a standard of value for thousands of years. Below shows the recent change in volatility.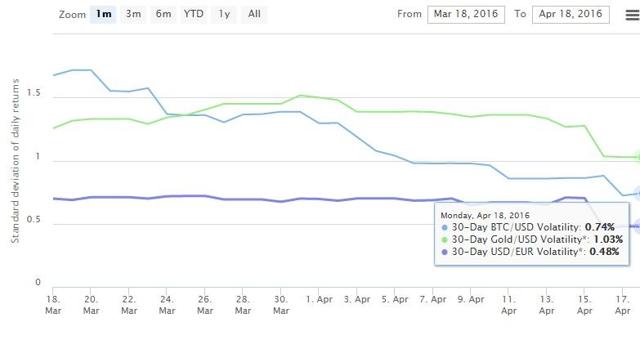 Above are 30 day rolling periods for volatility against the US Dollar (NYSEARCA:UUP). USD/EUR pair is also their for relativity against a currency pair. This chart paints a rosy picture for Bitcoin. Bitcoin is still prone to spikes. In the last year, Bitcoin 30 day volatility hit 5% in 2015, albeit no where near the July 2011 record of 16%.
The reason this is important is the maturing of the Bitcoin Market. For the Perma-Bears thinking Bitcoin is a ponzi, well you know have multiple ways to short Bitcoin. If you want to leverage long, it is also there. This maturing with futures and short positions is driving down the volatility. With reduced volatility it becomes more useful as a means to store value.
Bitcoin also offers better utility than gold. It is much easier to spend Bitcoin than to spend gold. The market is also becoming larger so people spending does not distort price. Current market cap is approximately $6.9 billion. This is why I think it is an improved way to store value. Utility is necessary to mass adoption.
A major event in Bitcoin is soon happening. The halving event which reduces the new supply of Bitcoin. Currently about every 10 minutes, 25 new Bitcoin are created. This is part of the schedule that releases the 21 million coins which is the cap. The 21 million cap will not be reached in any of our lifetimes. In July, the creation will drop in half to 12.5 every 10 minutes. When this happens 75% of all Bitcoin have been released. This reduction in currency creation is a bullish event for Bitcoin.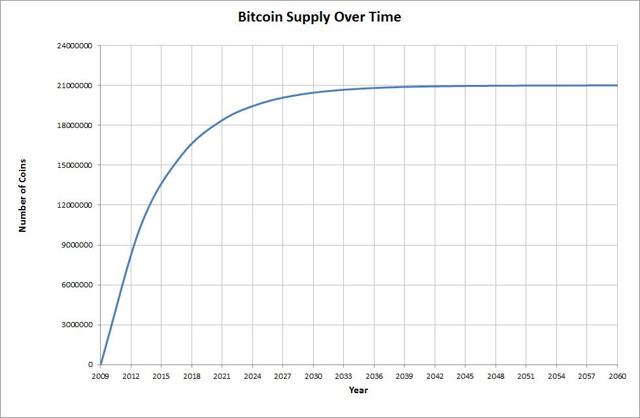 Bitcoin is still a risky investment. The technology behind it called the blockchain is revolutionary. I see this declining volatility showing the maturing of the market. Even though it is high risk, the potential reward is also there. For those looking to invest, I would stay away from as it commands a high premium. When is released as an ETF, that will carry a lower premium albeit a 1.3% management fee. Holding Bitcoin yourself is easier than most people think. There are many guides how to hold Bitcoin safely. In a would that is becoming connected, Bitcoin will help fill the void for low cost way to send value.
Disclosure: I/we have no positions in any stocks mentioned, but may initiate a long position in BITCOIN over the next 72 hours.