smartTrade Technologies appoints Lalit Nathwani as Business Development Director
LONDON, March 5th 2014, smartTrade Technologies, an industry leader in cross-asset liquidity management software announced today that Lalit Nathwani has joined the company as Business Development Director. Based in London, Lalit will focus on growing global revenue.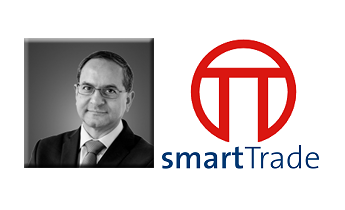 Lalit Nathwani has extensive experience in the financial industry, helping clients implement solutions which deliver business value. "I am delighted to be joining the highly experienced and client centric team at smartTrade." said Lalit. "The company is well positioned to meet the ever growing requirements for hosted and non-hosted, cross asset trading applications, allowing financial organisations to concentrate on their competitive differentiators, whilst reducing costs."
Before joining smartTrade, Lalit Nathwani was Global Sales Director for the Ultra Messaging Business Unit of Informatica Corporation. He spent over five years with Informatica and 29West building the high speed messaging business in Capital Markets. Prior to his role at Informatica, Lalit built up a network of partners and clients in the EMEA region for many organisations, such as Springsource (now part of EMC).
With a BSc in computer science, Lalit Nathwani has solid technical expertise, enabling him to understand and help clients with pressing challenges. He began his career as an apprentice in Electronics and Telecommunications for Marconi Instruments and worked with companies such as Hewlett Packard (Digital Equipment), Novell, Unisys, SEEC and Nortel Networks. He also served in technical sales and business development at IONA Technologies and Persistence Software (now Progress Software).
David Vincent, Chief Executive Officer of smartTrade, said "We are pleased to have Lalit join the team. Lalit has an in-depth understanding of customer needs and a solid technological background, which is key for dealing with the complex projects our clients have. Like all of us at smartTrade, he is customer centric and has an excellent track record of developing client projects."
About smartTrade Technologies
Founded in 1999, smartTrade provides sophisticated liquidity management systems, multi-asset dealing platforms that aggregate liquidity from dozens of sources to create a single order book, distribute customised pricing to clients, receive and manage client order flow, internalize liquidity and/or route it to external venues while managing state throughout the order lifecycle, implement smart order routing using proprietary algorithms, and connect electronically to any number of venues regardless of messaging protocols. The system handles multiple asset classes and is in production globally supporting foreign exchange, fixed income, equities, rates, and many other instrument types.
For more information, visit smart-trade.net.
Contact
Nathalie Negroni
nnegroni@smart-trade.net
Tel.: +33 442 900 397